David Bowie 1978-06-24 Stafford ,New Bingley Hall – That Plane Tonight –
Sound Quality Rating
101. Warszawa.flac
102. "Heroes".flac
103. What In The World.flac
104. Be My Wife.flac
105. The Jean Genie.flac
106. Blackout.flac
107. Sense Of Doubt.flac
108. Speed Of Life.flac
109. Breaking Glass.flac
110. Fame.flac
111. Beauty And The Beast.flac
201. Band introductions.flac
202. Five Years.flac
203. Soul Love.flac
204. Star.flac
205. Hang On To Yourself.flac
206. Ziggy Stardust.flac
207. Suffragette City.flac
208. Art Decade.flac
209. Alabama Song.flac
210. Station To Station.flac
Label : From The Hunky Geordie Tapes – HUG221CD
Audio Source : audience
Lineage : 2 x Agfa LNX 60 (Mike Jewell – first gen copy from Andy Barding's original) > Denon DRM-500 deck
Total running time : 1:31:44
Sound Quality : Much noise ,dull ,but still good listened to
Attendance : 7.800
Artwork : By steve23yh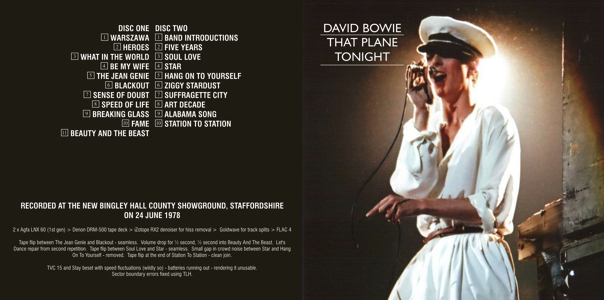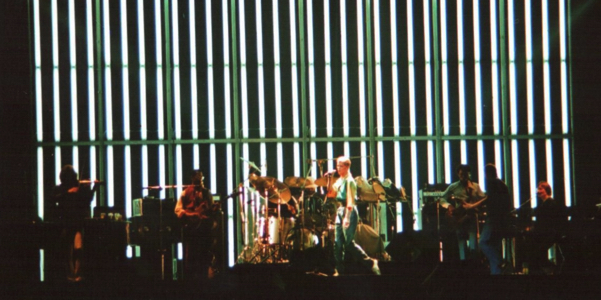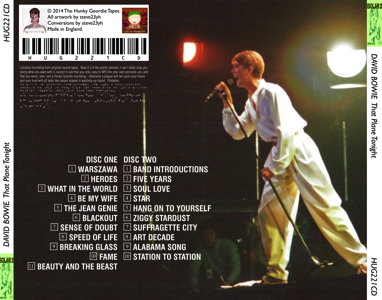 Tour band 1978 – The Low and Heroes World Tour :
David Bowie – vocals, chamberlain
Adrian Belew – lead guitar, backing vocals
Carlos Alomar – rhythm guitar, backing vocals (music director)
George Murray – bass guitar, backing vocals
Dennis Davis – drums, percussion
Roger Powell – keyboards, synthesizer ,Moog Taurus bass pedals ,backing vocals (except 11–14 November 1978)
Dennis Garcia – keyboards, synthesizer (11–14 November 1978 only)
Sean Mayes – piano, string ensemble, backing vocals Simon House – electric violin
Simon House – electric violin.
.
David Bowie – Stafford 1978

======================
Notes
Tape flip between The Jean Genie and Blackout – seamless.
Volume drop for Ω second, Ω second into Beauty And The Beast. Let's Dance repair from second repetition.
Tape flip between Soul Love and Star – seamless.
Small gap in crowd noise between Star and Hang On To Yourself – removed.
Tape flip at the end of Station To Station – clean join.
TVC 15 and Stay beset with speed fluctuations (wildly so) – batteries running out – omitted as simply unlistenable.
TLH to address sector boundary errors.
.
(Visited 1,991 times, 1 visits today)