David Bowie 1978-04-10 Dallas ,Convention Center – Chips Are Down –
Sound Quality Rating
101. Warszawa.flac
102. "Heroes".flac
103. What In The World.flac
104. Be My Wife.flac
105. The Jean Genie.flac
106. Blackout.flac
107. Sense Of Doubt.flac
108. Speed Of Life.flac
109. Breaking Glass.flac
110. Beauty And The Beast.flac
111. Fame.flac
201. band introductions.flac
202. Five Years.flac
203. Soul Love.flac
204. Star.flac
205. Hang On To Yourself.flac
206. Ziggy Stardust.flac
207. Suffragette City.flac
208. Rock'n'Roll Suicide.flac
209. Art Decade.flac
210. Station To Station.flac
Encores
211. Stay.flac
212. TVC 15.flac
213. Rebel Rebel.flac
Label: from The Hunky Geordie Tapes – HUG171CD
Audio Source: audience
Lineage: BASF High Dynamic 120 (M_B_F) > Denon DRM-500 deck
Total running time: 1:46:18
Sound Quality : Much noise ,dull ,but still good listened to
Attendance: 9.820
Artwork: by steve23yh.
An excellent concert.
Here,too,most of the people did nut yet Know which songs were going to be played,but Bowie gives some of it away by saying,when the first half of the show is over: "We'll see you in ten minutes time,with some very old songs". "I'd like very much to intro­duce you to the gentlemen of my band,I'm sure you'd like to mee t them!".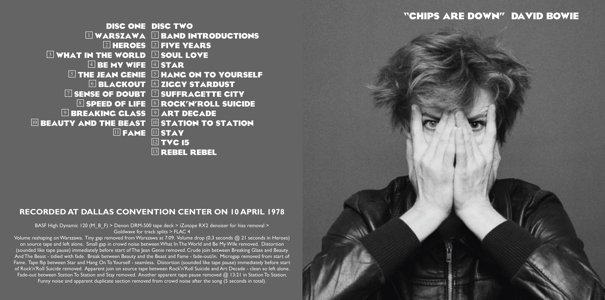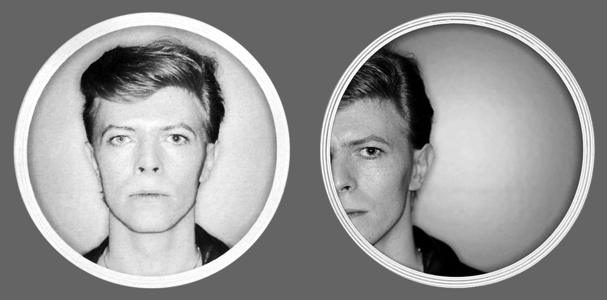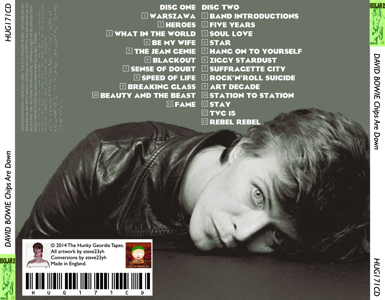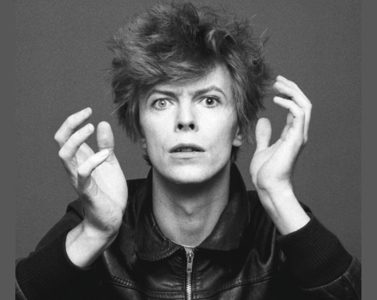 Tour band 1978 – The Low and Heroes World Tour :
David Bowie – vocals, chamberlain
Adrian Belew – lead guitar, backing vocals
Carlos Alomar – rhythm guitar, backing vocals (music director)
George Murray – bass guitar, backing vocals
Dennis Davis – drums, percussion
Roger Powell – keyboards, synthesizer ,Moog Taurus bass pedals ,backing vocals (except 11–14 November 1978)
Dennis Garcia – keyboards, synthesizer (11–14 November 1978 only)
Sean Mayes – piano, string ensemble, backing vocals Simon House – electric violin
Simon House – electric violin.
.
David Does Dallas. In 1978.
I have some notes from the weekend–something about "vote for Chris Bell, I guess," "look into the price of foreign steel" and "find out more about this Terrell Owens"–but before we get to all that, here's something from the archives worth opening your Monday with: David Bowie in 1978 at the Dallas Convention Center Arena. Among the selections is one of my favorite Bowie songs, "Hang on to Yourself" from the 1972 album The Rise and Fall of Ziggy Stardust and the Spiders from Mars–one of 23 songs he played that April 10 night on the Low tour. Was gonna show you just that one song–the clip was added over the weekend, which makes it brand-new…to you–but, hell, we'll just give you all of the clips we can find from the show, which apparently aired on network TV as David Bowie on Stage, with 21 minutes' worth of material and six songs, including "Speed of Life" and "Ziggy Stardust." All but one of them, organized in the order in which they were performed according to various set lists from that night, are after the jump; you can go here to see the broadcast's opener, "What in the World." If nothing else, Google's gonna pay $1.6 billion for stuff like this. We go get it for you at no additional charge. –Robert Wilonsky
David Bowie performs "Blackout" at the Dallas Convention Center Arena, April 10, 1978
ROBERT WILONSKY | OCTOBER 9, 2006 | 10:12AM
Notes
iZotope RX2 denoiser for light hiss removal
Volume reshaping on Warszawa.
Tiny gap removed from Warszawa at 7:09.
Volume drop (0.3 seconds @ 21 seconds in Heroes) on source tape and left alone.
Small gap in crowd noise between What In The World and Be My Wife removed.
Distortion (sounded like tape pause) immediately before start of The Jean Genie removed.
Crude join between Breaking Glass and Beauty And The Beast – tidied with fade.
Break between Beauty and the Beast and Fame – fade-out/in. Microgap removed from start of Fame.
Tape flip between Star and Hang On To Yourself – seamless.
Distortion (sounded like tape pause) immediately before start of Rock'n'Roll Suicide removed.
Apparent join on source tape between Rock'n'Roll Suicide and Art Decade – clean so left alone.
Fade-out between Station To Station and Stay removed.
Another apparent tape pause removed @ 13:21 in Station To Station.
Funny noise and apparent duplicate section removed from crowd noise after the song (5 seconds in total).
(Visited 776 times, 1 visits today)