David Bowie 1978-04-17 Chicago ,Arie Crown Theater – Standing On Our Feet –
Sound Quality Rating
Version 1:
101. Warszawa.flac
102. "Heroes".flac
103. What In The World.flac
104. Be My Wife.flac
105. The Jean Genie.flac
106. Blackout.flac
107. Sense Of Doubt.flac
108. Speed Of Life.flac
109. Breaking Glass.flac
110. Beauty And The Beast.flac
111. Fame.flac
201. band introductions.flac
202. Five Years.flac
203. Soul Love.flac
204 Star.flac
205. Hang On To Yourself.flac
206. Ziggy Stardust.flac
207. Suffragette City.flac
208. Rock'n'Roll Suicide.flac
209. Art Decade.flac
210. Alabama Song.flac
211. Station To Station.flac
212. Stay.flac
213. TVC 15.flac
214. Rebel Rebel.flac
Version 2:
301. Warszawa.flac
302. "Heroes".flac
303. What In The World.flac
304. Be My Wife.flac
305. The Jean Genie.flac
306. Blackout.flac
307. Sense Of Doubt.flac
308. Speed Of Life.flac
309. Breaking Glass.flac
310. Beauty And The Beast.flac
311. Fame.flac
401. band introductions.flac
402. Five Years.flac
403. Soul Love.flac
404. Star.flac
405. Hang On To Yourself.flac
406. Ziggy Stardust.flac
407. Suffragette City.flac
408. Rock'n'Roll Suicide.flac
409. Art Decade-fixed.flac
410. Alabama Song.flac
411. Station To Station.flac
412. Stay.flac
413. TVC 15.flac
414. Rebel Rebel.flac
Label: From The Hunky Geordie Tapes – HUG246CD
Audio Source: audience
Lineage (1): TDK S90 (Noggin) > Denon DRM-500 deck
Lineage (2): TDK S60 (nicmac) > Denon DRM-500 deck
Lineage (3): Sony CHF C60 x 2 (Mike Jewell) > Denon DRM-500 deck
Total running time: 3:23:05 Version 1 & 2:
Total running time: 1:35:22 Version 1:
Total running time: 1:47:42 Version 2:
Sound Quality : Much noise ,dull ,but still good listened to
Attendance: 4.500
Artwork: by steve23yh
Bowie comes on stage for the second part of the show and Say's: "Per­fectly honest,I'm having a lot of trouhle seeing you. I want some uhm … is the houseligh man here? Could you put the houselights on a little bit … a bit more … a bit more … ah, that's better. Hello!". During Five Years someone from the audience threw a red shirt onto the stage. It landed right on the edge,so Bowie had to come to die very front to take a look at it. He went down on hands and knees to scrutinize it,then got up,but returned to have another look at it! Bowie sounds quite happy and cracks a joke or two. He liked this hall; well,he would,since it is a small theatre with a capacity of 4,500 seats,a great contrast with the enormous arenas where he did most of the concerts of this Lour. He played in this hall for two nights,although he could easily have given one concert in an arena for 10,000 people.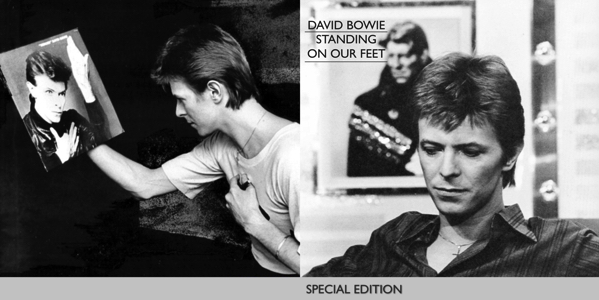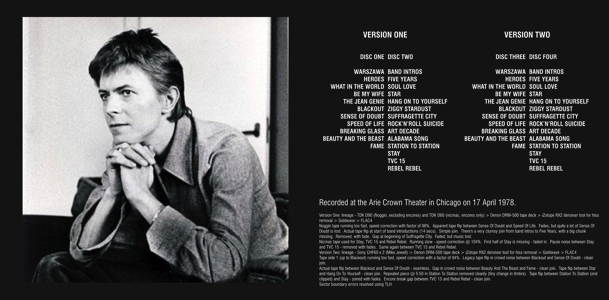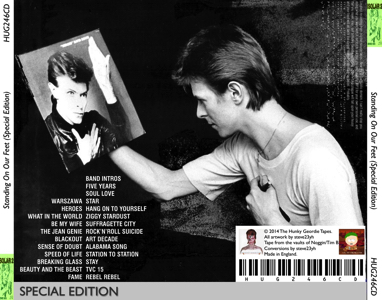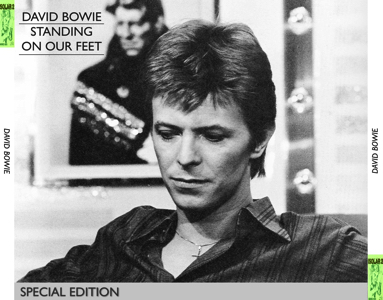 Tour band 1978 – The Low and Heroes World Tour :
David Bowie – vocals, chamberlain
Adrian Belew – lead guitar, backing vocals
Carlos Alomar – rhythm guitar, backing vocals (music director)
George Murray – bass guitar, backing vocals
Dennis Davis – drums, percussion
Roger Powell – keyboards, synthesizer ,Moog Taurus bass pedals ,backing vocals (except 11–14 November 1978)
Dennis Garcia – keyboards, synthesizer (11–14 November 1978 only)
Sean Mayes – piano, string ensemble, backing vocals Simon House – electric violin
Simon House – electric violin.
.
=======================
Notes
Version 1:CD 1 -2
Noggin version used (tracks 101-212).
Running too fast, speed correction with factor of 96%.
Apparent tape flip between Sense Of Doubt and Speed Of Life. Fades, but quite a lot of Sense Of Doubt is lost.
Actual tape flip at start of band introductions (14 secs). Simple join.
There's a very clumsy join from band intros to Five Years, with a big chunk missing. Removed, with fade.
Gap at beginning of Suffragette City. Faded, but music lost.
nicmac addition to disc 2 (tracks 213-215)
Running slow – speed correction @ 104%
First half of Stay is missing – faded in.
Pause noise between Stay and TVC 15 – removed with fades.
Same again between TVC 15 and Rebel Rebel.
Version 2: CD 3-4
Tape side 1 (up to Blackout) running too fast, speed correction with a factor of 94%.
Legacy tape flip in crowd noise between Blackout and Sense Of Doubt – clean join.
Actual tape flip between Blackout and Sense Of Doubt – seamless.
Gap in crowd noise between Beauty And The Beast and Fame – clean join.
Tape flip between Star and Hang On To Yourself – clean join.
Repeated piece @ 5:50 in Station To Station removed cleanly (tiny change in timbre).
Tape flip between Station To Station (end clipped) and Stay – joined with fades.
Encore break gap between TVC 15 and Rebel Rebel – clean join.
Sector boundary errors resolved using TLH.
(Visited 687 times, 1 visits today)