David Bowie 1978-06-15 Newcastle ,The City Hall – Beauty Before Outrage –
Sound Quality Rating
101. Warszawa.flac
102. "Heroes".flac
103. What In The World.flac
104. Be My Wife.flac
105. Jean Genie.flac
106. Blackout.flac
107. Sense Of Doubt.flac
108. Speed Of Life.flac
109. Breaking Glass.flac
110. Fame.flac
111. Beauty And The Beast.flac
201. Band Introductions – Five Years.flac
202. Soul Love.flac
203. Star.flac
204. Hang On To Yourself.flac
205. Ziggy Stardust.flac
206. Suffragette City.flac
207. Art Decade.flac
208. Alabama Song.flac
209. Station To Station.flac
210. Stay.flac
211. TVC 15.flac
212. Rebel Rebel.flac
Label : Who Cares Records – WCR-BBO001
Audio Source : audience
Lineage : Trade CDR
Total running time : 1:46:15
Sound Quality : Much noise ,dull ,but still good listened to
Attendance : 2,168
Artwork : Yes
An Enthusiastic crowd and a good concert
Alan Perry – Concert Photographs.
David Bowie Photographs click on button [button link="http://www.concertphotos.uk.com/davidbowie/davidbowie78n.htm"]
Newcastle 15th June 1978- David Bowie came to Newcastle City Hall. Photographs 0110f25ath and 0111f16cth were issued as posters by Personality Posters, the latter poster appearing on a bedroom wall in Coronation Street for some time! The band consisted of:
.
Tour band 1978 – The Low and Heroes World Tour :
David Bowie – vocals, chamberlain
Adrian Belew – lead guitar, backing vocals
Carlos Alomar – rhythm guitar, backing vocals (music director)
George Murray – bass guitar, backing vocals
Dennis Davis – drums, percussion
Roger Powell – keyboards, synthesizer ,Moog Taurus bass pedals ,backing vocals (except 11–14 November 1978)
Dennis Garcia – keyboards, synthesizer (11–14 November 1978 only)
Sean Mayes – piano, string ensemble, backing vocals Simon House – electric violin
Simon House – electric violin.
.
Remember When: David Bowie on Tyneside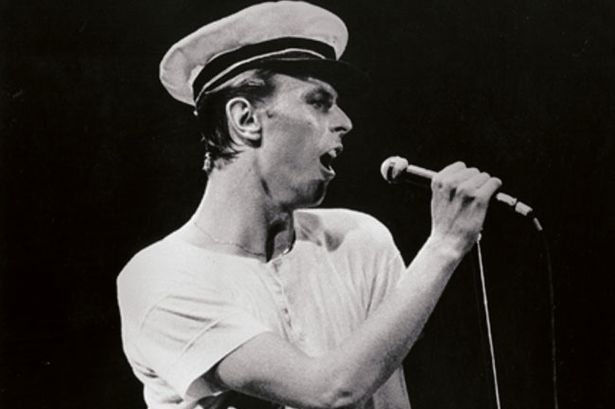 David Bowie on stage at Newcastle City Hall
Music icon David Bowie has been no stranger to controversy over his four-decade long career.
And it seems even in his autumn years, the charismatic superstar is still ruffling feathers.
Bowie, 66, made a surprise comeback in January after a decade in semi-retirement with his chart-topping album The Next Day.
He's been hitting the headlines again after the video for his new single, also called The Next Day, drew criticism.
The production is set in a pub-cum-church-cum-brothel and sees Bowie as a Christ-like singer performing in the corner of the bar as religious figures indulge in pleasures of the flesh.
Back in the 1970s, of course, the singer cut a colourful profile with his private life frequently earning him space in the gossip columns.
Thirty-five years ago, the region's music fans were gearing up for Bowie's three-night stint at Newcastle City Hall which would kick off his 1978 British tour.
Ahead of the shows, the Chronicle reported: "The demand to see Bowie was four times greater than the seats available.
"Only 7,000 fans will be able to see him when he appears in June. More than 30,000 postal applications were received."
The shows remain part of popular folklore among Bowie fans in the region, but received mix reviews in the local press.
The Journal referred to the "arrogance of genius" when reporting on the the first show.
The Chronicle said the star "had been transformed into a sandy-haired Bowie – slim, trim and almost conservativley dressed."
Although, looking at the picture on the left, surely there's not a lot "conservative" about Bowie's outfit.
The report went on: "Bowie seems to be playing a huge joke with the audience for every moment of his concert.
"He certainly isn't ripping anyone off, but he does appear now to be indulging himself.
The reporter did concede though: "But all the Bowie freaks in the audience loved it. They lapped up every nuance every gesture."
The three shows featured music from the star's classic Ziggy Bowie period, right up to the then newly-released album Heroes.
Jim Hannah, from Whitley Bay, now a 52-year-old school headteacher, was at one show as a 17-year-old fan.
"It was fantastic," he remembers. "After a subdued start, when Bowie seemed to just wander on stage, it turned into a classic gig.
"It was like a dream to see him in the flesh – although we did have to run the gauntlet of gangs of taunting punks outside the City Hall.
"It's hard to believe it was 35 years ago."
(Visited 752 times, 1 visits today)