David Bowie 1978-12-12 Tokyo ,Nihon Budokan Hall – Hoping For A Little Romance – (FM Recording).
Sound Quality Rating
01. Warszawa.flac
02. "Heroes".flac
03. Fame.flac
04. Beauty And The Beast.flac
05. Five Years.flac
06. Soul Love.flac
07. Star.flac
08. Hang Onto Yourself.flac
09. Ziggy Stardust.flac
10. Suffragette City.flac
11. Station To Station.flac
12. TVC15.flac
13. TV Interview Japanese TV or Radio.flac
Label : You ‎– J-002
Audio Source : Broadcast Recording
Lineage :
Total running time : 1:08:52
Sound Quality : very good. Equals record or radio apart from a slight noise and some dullness.
Attendance : 10.000
Artwork : yes
This concert – the very last of the '78 tour – was filmed com­pletely,but only half of it was broadcast on Japanese TV,in the programme 'The Young Music Show'. Most of the numbers are accompanied by simultaneous translations into Japanese of the words he is singing. Five Years is one of them – then Dennis Davis suddenly appears wearing some sort of gorilla mask,but after a couple of songs he takes it off again. The audience is barely heard or seen until after the speeding up in Station to Station. After Station to Station one can seen the audience shouting for an extra until Bowie comes back to release a cheerful version of TVCI5.
David Bowie completed an intense period of touring with the Low And Heroes tour, which ended with Bowie's second ever trip to Japan. The five shows were booked in Osaka and Tokyo, ending on December 12, 1978 at the NHK hall. An hour of this show was taped and broadcast on television and is the source for the Hoping For A Little Romance (YOU J-002). The general opinion is that the sound quality on Hoping For A Little Romance is very good .The nine-minute interview (Track 13) is from Japanese television.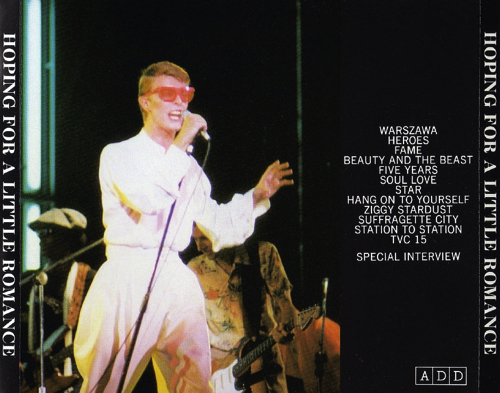 Tour band 1978 – The Low and Heroes World Tour :
David Bowie – vocals, chamberlain
Adrian Belew – lead guitar, backing vocals
Carlos Alomar – rhythm guitar, backing vocals (music director)
George Murray – bass guitar, backing vocals
Dennis Davis – drums, percussion
Roger Powell – keyboards, synthesizer ,Moog Taurus bass pedals ,backing vocals (except 11–14 November 1978)
Dennis Garcia – keyboards, synthesizer (11–14 November 1978 only)
Sean Mayes – piano, string ensemble, backing vocals Simon House – electric violin
Simon House – electric violin.
.
(Visited 962 times, 1 visits today)