David Bowie 1978-06-12 Brussels ,Vorst Nationaal – To The Cage –
Sound Quality Rating
01. "Heroes".flac
02. What In The World.flac
03. Be My Wife.flac
04. The Jean Genie.flac
05. Blackout.flac
06. Breaking Glass.flac
07. Fame.flac
08. Beauty And The Beast.flac
09. Band introductions.flac
10. Five Years.flac
11. Soul Love.flac
12. Star.flac
13. Hang On To Yourself.flac
14. Ziggy Stardust.flac
15. Suffragette City.flac
16. Alabama Song.flac
17. Station To Station.flac
18. TVC 15.flac
19. Rebel Rebel.flac
Label : From The Hunky Geordie Tapes – HUG262CD
Audio Source : audience
Lineage : TDK D90 > Denon DRM-500 deck
Total running time : 1:23:09
Sound Quality : Much noise ,dull ,but still good listened to
Attendance : 8.000
Artwork : by steve23yh
Note : Tape is not complete
Warszawa, Sence of Doubt ,Speed of Life and Art Decade are missing:
Blackout is quite bad
Rebel Rebel is half on this tape
David didn't say a word ,except for the band introduction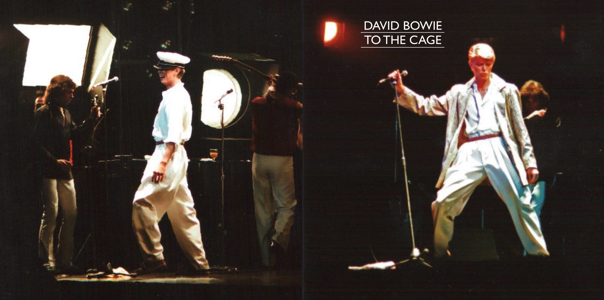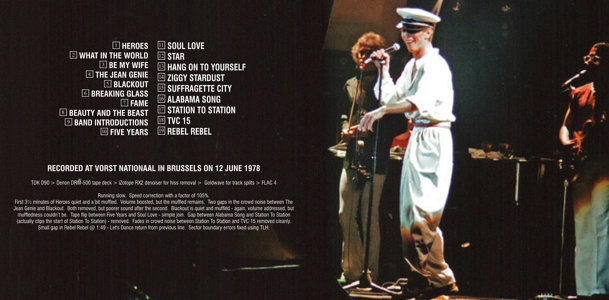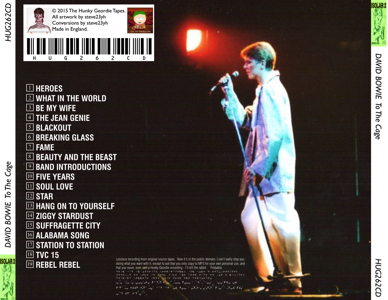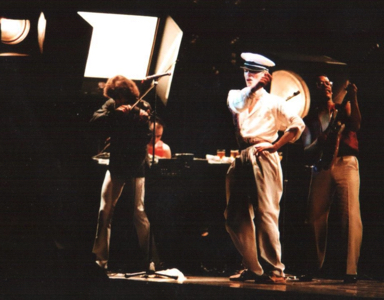 Tour band 1978 – The Low and Heroes World Tour :
David Bowie – vocals, chamberlain
Adrian Belew – lead guitar, backing vocals
Carlos Alomar – rhythm guitar, backing vocals (music director)
George Murray – bass guitar, backing vocals
Dennis Davis – drums, percussion
Roger Powell – keyboards, synthesizer ,Moog Taurus bass pedals ,backing vocals (except 11–14 November 1978)
Dennis Garcia – keyboards, synthesizer (11–14 November 1978 only)
Sean Mayes – piano, string ensemble, backing vocals Simon House – electric violin
Simon House – electric violin.
.
======================
Notes
Running slow. Speed correction with a factor of 105%.
First 3Ω minutes of Heroes quiet and a bit muffled. Volume boosted, but the muffled remains.
Two gaps in the crowd noise between The Jean Genie and Blackout. Both removed, but poorer sound after the second.
Blackout is quiet and muffled – again, volume addressed, but muffledness can't be.
Tape flip between Five Years and Soul Love – simple join.
Gap between Alabama Song and Station To Station (actually clips the start of Station To Station) – removed.
Fades in crowd noise between Station To Station and TVC 15 removed cleanly.
Small gap in Rebel Rebel @ 1:49 – Let's Dance return from previous line.
Sector boundary errors resolved using TLH.
(Visited 414 times, 1 visits today)