David Bowie 1976-02-26 Toronto ,Maple Leaf Gardens (Remaster).
Sound Quality Rating
01 – Station to Station.flac
02 – Suffragette City.flac
03 – Fame.flac
04 – Word on a Wing.flac
05 – Stay.flac
06 – I'm Waiting for the Man.flac
07 – TVC15.flac
08 – Life on Mars.flac
09 – Five Years.flac
10 – Panic in Detroit.flac
11 – Band Intro.flac
12 – Changes.flac
13 – Queen Bitch.flac
14 – Diamond Dogs.flac
Encore:
15 – Rebel Rebel.flac
16 – The Jean Genie.flac
17 – Sister Midnight.flac
18 – The Jean Genie reprise.flac
Label: No label
Audio Source: audience > David Thomas > TDK D90s Cassettes > Technics Deck >
Total running time: 1:42:12
Sound Quality: noise ,dull ,but still good listened to
Attendance: 15.760
Artwork And Complilation: By Portlandbill
Remake: by Learm Remaster
This is a good concert and Bowie does a great deal of talking.
During Waiting For the Man Bowie points at Stacy Heydon,saying "Do you know what he said to me? 'Yeah my buddy,my home town' – Stacy Heydon!", The audience cheer,and laughing Bowie sings on,not at all in character with The Thin White Duke!
The audience are wildly enthusiastic about the solo part Dennis Davis play's in Panic In Detroit: and after this song Bowie introduces the band. And himself: "This song is called Changes,and my name is David Bowie,good evening".
After Diamond Dogs Bowie cries out "Thank you very much,good goodnight" and when he returns for Rebel Rebel he waits an aw­fully long time before starting to sing. "It was called .. ,uhm, what's it called. What's it called?" Bowie asks,and it is not until after the band have sung "Rebel rebel" in reply that Bowie starts singing.
At the beginning of The Jean Genie Bowie talks to the audience again: the band have just struck up the song,when Bowie asks:
"Would you like me to tell you about Jean Genie?". Bowie and the band turn this into quite a hard-boiled version, and just when the band have produced the final tones Bowie says: "Hold it,hold it. Now,someone has thrown me a book that I've been trying to get for a long time. Just for that we'll do some number that we don't ever do. (cheering.) This is a song that I've written with a friend of mine called Iggy Pop,and he's bringing it out as his record this year some time,and it's called Sister Midnight and it's for you tonight". Sister Mid­night was often played during the US tour,but this is one of the few tapes that have it. Lots of fine guitar work! Immedi­ately after this song,part of Jean Genie again,preceded by Bowie calling out in rapid sequence "Monday,Tuesday,Wednesday, Thursday,Friday,Saturday,Sunday night!".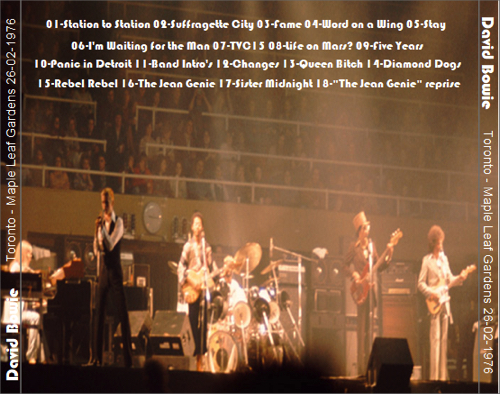 The Tour Band – The Station To Station Tour
• David Bowie – Vocals, saxophone
• Carlos Alomar – Rhythm guitar, music director,backing vocals
• Stacy Heydon – Lead guitar, backing vocals
• George Murray – Bass guitar, backing vocals
• Dennis Davis – Drums, percussion
• Tony Kaye – Keyboards
The band became known as "Raw Moon"
Crew
• Vern Moose Constan, Rob Joyce – Band technicians/personnel
• Lonnie McKenzie, Leroy Kerr, Lester Burton, Buddy Prewitt, Larry Sizemore – Lighting technicians/personnel
• Buford Jones, Scott Wadsworth – Sound technicians/personnel
.
.
(Visited 799 times, 1 visits today)