David Bowie 1976-03-03 Chicago ,International Amphitheatre – More Dead Than Alive –
Sound Quality Rating
01. Station To Station.flac
02. Suffragette City.flac
03. Fame.flac
04. Word On A Wing.flac
05. Stay.flac
06. Waiting For The Man.flac
07. Queen Bitch.flac
08. Life On Mars.flac
09. Five Years.flac
10. Panic In Detroit.flac
11. Band Introductions – Changes.flac
12. Diamond Dogs.flac
13. Rebel Rebel.flac
14. The Jean Genie.flac
Label: From The Hunky Geordie Tapes – HUG232CD
Audio Source: audience
Lineage: Bush TDK AD90 > JVC PC-X95 tape deck
Total running time: 1:16:035
Sound Quality: Not good ,much Noise ,very dull
Attendance: 11.956
Artwork: By steve23yh.
The beginning of this tape is a little distorted but not for long.
The audience is barely heard,probably because this is an open-air concert. Only when Bowie says "Good evening,I'm David Bowie and this one's called Changes" there is a short moment of massive screaming.
During Waiting For the Man there is a sudden bang which frightens you out of your wits when you're listening through earphones! It is firework,and throughout the rest of the concert firecrackers are being let off.
During Panic in Detroit and Diamond Dogs something happens to the tape: it sounds as though the original tape was folded or twisted during re-taping. By the way,the whole middle part including the drum solo is missing.
During Changes a large part of the audience got up from their chairs,for at the end of the song someone is heard shou­ ting "Hey,sit down!". Much screaming after Rebel Rebel too,and when the band has returned to the stage for Jean Genie,Stacy Heydon stops to tune his guitar for a moment. Towards the end of the song a stop during which Bowie rapidly names the days of the week; then they go on again.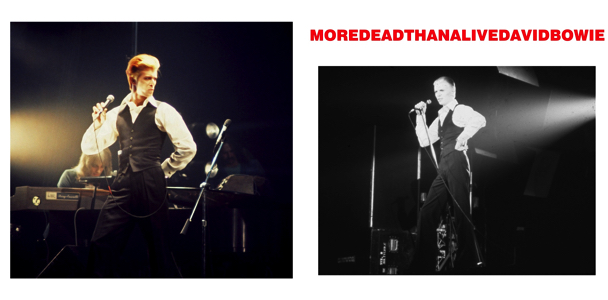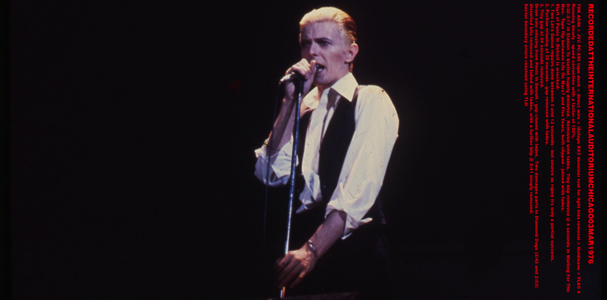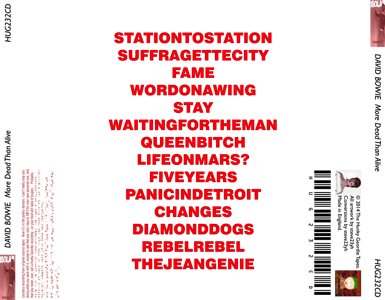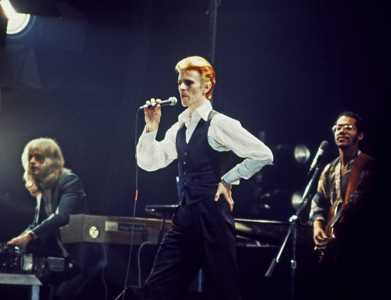 The Tour Band – The Station To Station Tour
• David Bowie – Vocals, saxophone
• Carlos Alomar – Rhythm guitar, music director,backing vocals
• Stacy Heydon – Lead guitar, backing vocals
• George Murray – Bass guitar, backing vocals
• Dennis Davis – Drums, percussion
• Tony Kaye – Keyboards
The band became known as "Raw Moon"
Crew
• Vern Moose Constan, Rob Joyce – Band technicians/personnel
• Lonnie McKenzie, Leroy Kerr, Lester Burton, Buddy Prewitt, Larry Sizemore – Lighting technicians/personnel
• Buford Jones, Scott Wadsworth – Sound technicians/personnel
.
zers
=======================
Notes
iZotope RX2 denoiser tool to remove hiss
Running slowly – speed correction with a factor of 103%.
0:32-3:17 in Station To Station hugely distorted. Removed with fades.
Tiny blip removed @ 4 seconds in Waiting For The Man.
Tape flip between Life On Mars? and Five Years, both clipped – joined with fades.
Start of Panic In Detroit is wrecked:
1. Two Let's Dance repairs done between 5 and 12 seconds – but source so ropey it's only a partial success.
2. Portion missing at 22 seconds – gap removed with fades.
3. Tiny gap at 24 seconds removed.
Drum solo missing from Panic In Detroit – gap closed with fades.
Two damages parts in Diamond Dogs (2:43 and 2:53) distorted bits removed and tidied with fades, with a further blip @ 2:41 simply removed.
Sector boundary errors tidied with TLH.
(Visited 469 times, 1 visits today)