David Bowie 1976-03-20 Rochester ,War Memorial Auditorium – In My Own Light –
Sound Quality Rating
01. Station To Station.flac
02. Suffragette City.flac
03. Fame.flac
04. Word On A Wing.flac
05. Stay.flac
06. Waiting For The Man.flac
07. Queen Bitch.flac
08. Life On Mars.flac
09. Five Years.flac
10. Panic In Detroit.flac
11. band introductions.flac
12. Changes.flac
13. TVC 15.flac
14. Diamond Dogs.flac
15. Rebel Rebel.flac
16. The Jean Genie.flac
Label: From The Hunky Geordie Tapes – HUG091CD
Audio Source: audience
Lineage: TDK SA90 tape (arcorman) > Denon DRM-500 tape deck
Total running time: 1:27:15
Sound Quality : Much noise ,dull ,but still good listened to
Attendance: 9.200
Artwork: By steve23yh.
This is a good concert and Bowie – who had a flu during this concert – sings splendidly.
The audience are also quite fanatical. At the end of Jean Genie Bowie says: "Thank you very much,we'll see you in about five months from now,thank you".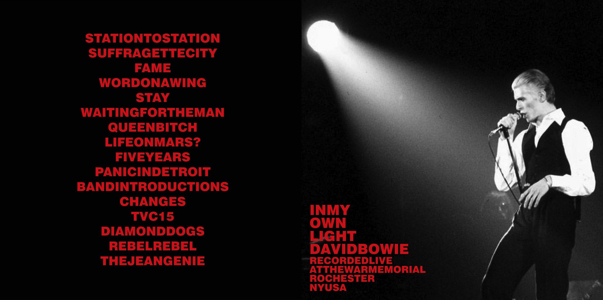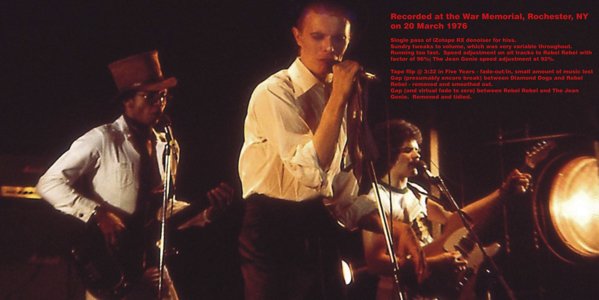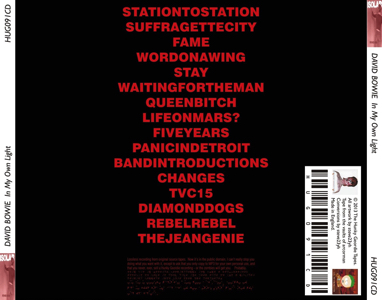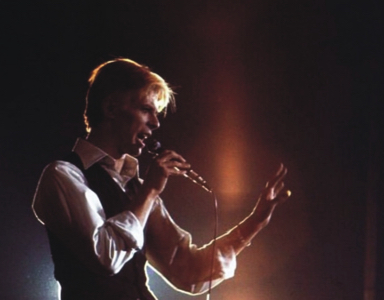 David Bowie arrest in Rochester, NY, 1976
March 21, 1976 did not start off as a particularly great day for David Bowie.
Around 3 a.m., four Rochester, New York, police detectives and a state police officer searched Bowie's three-room suite at the Americana Rochester Hotel, where they found a little more than six ounces of marijuana. Bowie and pal Iggy Pop, were taken to the Monroe County Jail, booked on fifth-degree criminal possession of marijuana, punishable by up to 15 years in prison, and released at about 7 a.m. on $2,000 bond.
Bowie was to be arraigned the next day, but his lawyer successfully argued for a delay until March 25, noting Bowie would face stiff penalties if he missed the gig at the Springfield Civic Center.
So, a little more than 12 hours after leaving the Monroe County Jail, Bowie was performing before 6,752 fans in the City of Homes.
The concert began with a showing of the 1928 surrealist film "Un Chien Andqalou" ("Mad Dog") before the music got underway.
Over the course of the next 90 minutes, Bowie, dressed as a dapper man-about-town, treated fans to hits like "Fame," "Changes" and "Life On Mars."
No mention was made of the arrest – and a grand jury later chose not to indict Bowie or Pop on drug charges.
The Tour Band – The Station To Station Tour
• David Bowie – Vocals, saxophone
• Carlos Alomar – Rhythm guitar, music director,backing vocals
• Stacy Heydon – Lead guitar, backing vocals
• George Murray – Bass guitar, backing vocals
• Dennis Davis – Drums, percussion
• Tony Kaye – Keyboards
The band became known as "Raw Moon"
Crew
• Vern Moose Constan, Rob Joyce – Band technicians/personnel
• Lonnie McKenzie, Leroy Kerr, Lester Burton, Buddy Prewitt, Larry Sizemore – Lighting technicians/personnel
• Buford Jones, Scott Wadsworth – Sound technicians/personnel
.
======================
Notes
Single pass of iZotope RX denoiser for hiss.
Sundry tweaks to volume, which was very variable throughout.
Running too fast. Speed adjustment on all tracks to Rebel Rebel with factor of 96%; The Jean Genie speed adjustment at 92%.
Tape flip @ 3:32 in Five Years – fade-out/in, small amount of music lost
Gap (presumably encore break) between Diamond Dogs and Rebel Rebel – removed and smoothed out.
Gap (and virtual fade to zero) between Rebel Rebel and The Jean Genie. Removed and tidied.
(Visited 1,124 times, 1 visits today)