David Bowie 1976-02-28 Cleveland ,Public Auditorium – Neo Expressionism – (Diedrich).
Sound Quality Rating
– 01. Intro Music.flac
– 02. Station To Station.flac
– 03. Suffragette City.flac
– 04. Fame.flac
– 05. Word On A Wing.flac
– 06. Stay.flac
– 07. Waiting For The Man.flac
– 08. Queen Bitch.flac
– 09. TVC-15 1.flac
– 10. LIFE ON MARS.flac
– 11. FIVE YEARS.flac
– 12. TVC15 2.flac
– 13. PANIC IN DETROIT.flac
– 14. BAND INTRODUCTION.flac
– 15. CHANGES.flac
– 16. TVC15 2.flac
– 17. DIAMOND DOGS.flac
– 18. REBEL REBEL.flac
– 19. THE JEAN GENIE.flac
Label: No label
Audio Source: audience
Lineage:
Total running time: 1:28:025
Sound Quality: noise ,dull ,but still good listened to
Attendance: 8.000
Artwork: yes.
Note: Issued in a mini-gatefold sleeve style case
Well here's another little gem out of my Bowie silver collection. The complete show from 1976-02-28 Public Auditorium
Cleveland.
The version of this listed on bassman is different to the one I have as mine is on the "Trademark of Quality".
Now as most of us are aware that is the slogan of "The Swingin Pig" label however there is no reference to "TSP" at all.
In fact the artwork is quite plain although what there is I've included it for you.
Not much I can say other than I bought this at a record fair in Manchester sometime in the 1990's and the price ticket still on the cd case indicates I paid £25
for it.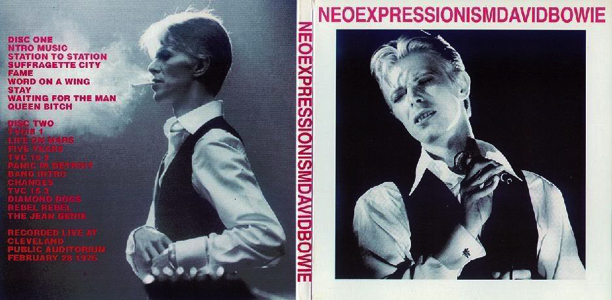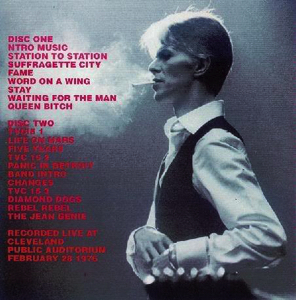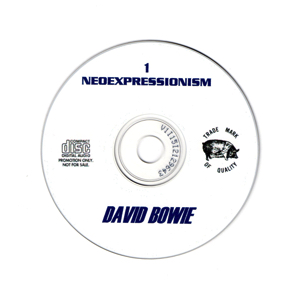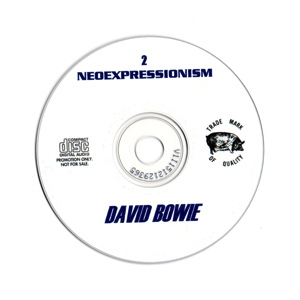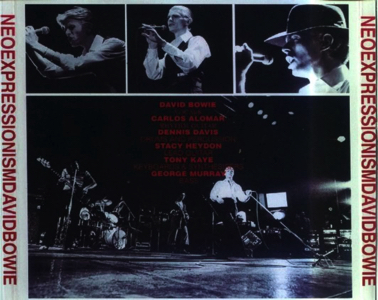 The Tour Band – The Station To Station Tour
• David Bowie – Vocals, saxophone
• Carlos Alomar – Rhythm guitar, music director,backing vocals
• Stacy Heydon – Lead guitar, backing vocals
• George Murray – Bass guitar, backing vocals
• Dennis Davis – Drums, percussion
• Tony Kaye – Keyboards
The band became known as "Raw Moon"
Crew
• Vern Moose Constan, Rob Joyce – Band technicians/personnel
• Lonnie McKenzie, Leroy Kerr, Lester Burton, Buddy Prewitt, Larry Sizemore – Lighting technicians/personnel
• Buford Jones, Scott Wadsworth – Sound technicians/personnel
.
.
(Visited 1,419 times, 1 visits today)