David Bowie 1974-10-16 Detroit ,Michigan Palace – Stuck In My Mind –
Sound Quality Rating
Information: The opening act was the Mike Garson band
You Keep Me Hanging On ,
I'm In The Mood For Love ,
Stormy Monday ,
Love Train
( tracks are not included )
101. Memory Of A Free Festival.flac
102. Space Oddity.flac
103. Rebel Rebel.flac
104. John I'm Only Dancing (Again).flac
105. Sorrow.flac
106. Changes.flac
107. 1984.flac
108. Moonage Daydream.flac
109. Rock'n'Roll With Me.flac
110. The Jean Genie-Love Me Do.flac
201. Diamond Dogs-fixed.flac
202. Young Americans-fixed.flac
203. Can You Hear Me-fixed.flac
204. It's Gonna Be Me-fixed.flac
205. Somebody Up There Likes Me-fixed.flac
206. Knock On Wood-fixed.flac
207. Suffragette City-fixed.flac
208. Rock'n'Roll Suicide-fixed.flac
Label: From The Hunky Geordie Tapes – HUG2856CD
Audio Source: audience
Lineage: TDK D90 (Noggin)
Total running time: 1:28:09
Sound Quality : Not good ,much Noise ,very dull
Attendance: ????
Artwork: By steve23yh.
During the lift-otf phase in Space Oddity the announcer calls:"Ziggy Stardust,Aladdin Sanc,The Diamond Dog from London,the star of our show, ladies and gentlemen,DAVID BOWIE!".
This is a great show! The audience are very enthusiastic and respond well to the new songs. "Good evening Detroit,it's a pleasure to be here" Bowie says during Rock & Roll With Me, and after­wards he plays part of Love Me Do on a Mouth-organ,sings two lines of it,and then proceeds to Jean Genie.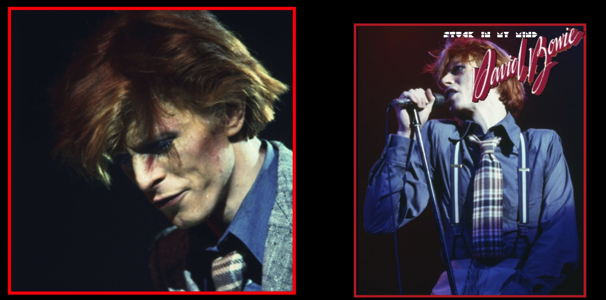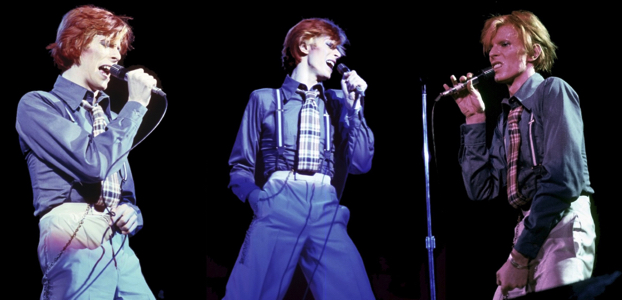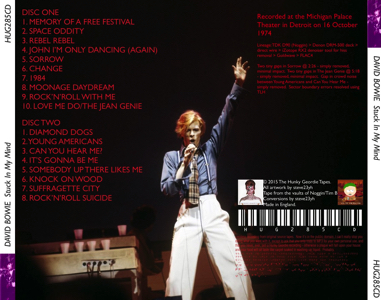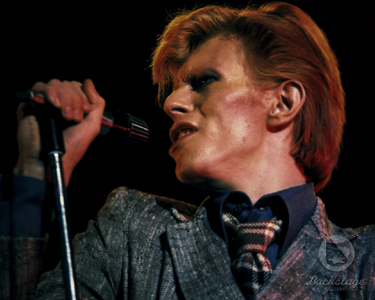 The Tour Band – The Soul/Philly Dogs Tour (October–December)
• David Bowie – vocals
• Mike Garson – piano, mellotron, music director
• Earl Slick – lead guitar
• Carlos Alomar – rhythm guitar
• David Sanborn – alto saxophone, flute
• Willie Weeks – bass
• Dennis Davis – drums
• Pablo Rosario – percussion
• Warren Peace – backing vocals
• Ava Cherry – backing vocals
• Robin Clark – backing vocals
• Anthony Hinton – backing vocals
• Diane Sumler – backing vocals
• Luther Vandross – backing vocals
======================
Notes
Two tiny gaps in Sorrow @ 2:26 – simply removed, minimal impact.
Two tiny gaps in The Jean Genie @ 5:18 – simply removed, minimal impact.
Gap in crowd noise between Young Americans and Can You Hear Me – simply removed.
Sector boundary errors resolved using TLH.
(Visited 878 times, 1 visits today)