David Bowie 1974-06-16 Toronto ,The o'Keefe Centre – A Hint Of Mayhem – (evening).
Sound Quality Rating
101. introduction.flac
102. 1984.flac
103. Rebel Rebel.flac
104. Moonage Daydream.flac
105. Sweet Thing.flac
106. Candidate.flac
107. Sweet Thing (Reprise).flac
108. Changes.flac
109. Suffragette City.flac
110. Aladdin Sane.flac
111. All The Young Dudes.flac
112. Cracked Actor.flac
113. Rock'n'Roll With Me.flac
201. Watch That Man.flac
202. Drive In Saturday.flac
203. Space Oddity.flac
204. Future Legend.flac
205. Diamond Dogs.flac
206. Panic In Detroit.flac
207. Big Brother.flac
208. Chant Of The Ever Circling Skeletal Family.flac
209. Time.flac
210. The Width Of A Circle.flac
211. The Jean Genie.flac
212. Rock'n'Roll Suicide.flac
Label: From The Hunky Geordy Tapes – HUG273CD
Audio Source: audience
Lineage: TDK D120 (Noggin) > Denon DRM-500 deck
Total running time: 1:35:50
Sound Quality : Much noise ,dull ,but still good listened to
Attendance: 1.750
Artwork: By steve23yh. / Photos courtesy of Pete Post ,thanks Pete for the use
Bowie had laryngitis that evening, but there are few indications of this in his performance. (Note that during "Aladdin Sane" he tries to avoid the high notes that gave him some problems during the early show.)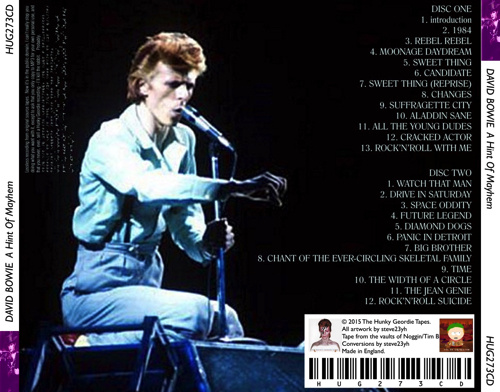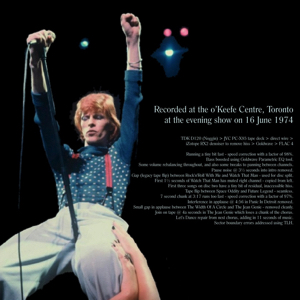 Photos courtesy of Pete Post ,thanks Pete for the use
review BRAD WHEELER – The Globe and Mail
June 16, 1974, at O'Keefe Centre (first of two shows):
"The most spectacular rock show I have ever seen," crowed The Globe's Robert Martin, who has seen a few. Mr. Bowie sang Big Brother from what looked to be a space capsule. For Space Oddity , he played the doomed Major Tom swung out from a tower on a cantilevered chair on a hydraulic boom. Virtually all of the songs in the 20-song set were, according to the reviewer, "mini-drama, three-to-five-minute stories told in song, dance, mime and special effect."
Tour band 1974 (June – July)
• David Bowie – vocals
• Michael Kamen – electric piano, Moog synthesizer, oboe, music director
• Earl Slick – guitar
• Mike Garson – piano, mellotron
• David Sanborn – alto saxophone, flute
• Richard Grando – baritone saxophone, flute
• Herbie Flowers – bass
• Tony Newman – drums
• Pablo Rosario – percussion
• Gui Andrisano – backing vocals
• Warren Peace – backing vocals
notes
Running a tiny bit fast – speed correction with a factor of 98%.
Bass boosted using Goldwave Parametric EQ tool.
Some volume rebalancing throughout, and also some tweaks to panning between channels.
Pause noise @ 3Ω seconds into intro removed.
Gap (legacy tape flip) between Rock'n'Roll With Me and Watch That Man – used for disc split.
First 1Ω seconds of Watch That Man has muted right channel – copied from left.
First three songs on disc two have a tiny bit of residual, inaccessible hiss.
Tape flip between Space Oddity and Future Legend – seamless.
7 second chunk at 3:17 runs too fast – speed correction with a factor of 97%.
Interference in applause @ 4:56 in Panic In Detroit removed.
Small gap in applause between The Width Of A Circle and The Jean Genie – removed cleanly.
Join on tape @ 4a seconds in The Jean Genie which loses a chunk of the chorus. Let's Dance repair from next chorus, adding in 11 seconds of music.
Sector boundary errors resolved using TLH.
.
(Visited 1,183 times, 1 visits today)