David Bowie 1974-07-20 New York ,Madison Square Garden (Diedrich).
Sound Quality Rating
– 01. 1984.flac
– 02. REBEL REBEL.flac
– 03. MOONAGE DAYDREAM.flac
– 04. SWEET THING.flac
– 05. CHANGES.flac
– 06. SUFFRAGETTE CITY.flac
– 07. ALADDIN SANE.flac
– 08. ALL THE YOUNG DUDES.flac
– 09. CRACKED ACTOR.flac
– 10. ROCK 'N' ROLL WITH ME.flac
– 11. WATCH THAT MAN.flac
– 12. KNOCK ON WOOD.flac
– 13. SPACE ODDITY.flac
– 14. FUTURE LEGEND.flac
– 15. DIAMOND DOGS.flac
– 16. PANIC IN DETROIT.flac
– 17. BIG BROTHER.flac
– 18. TIME.flac
– 19. THE WITH OF A CIRCLE – BONUS INTERVIEW SOUL TRAIN 1974.flac
Label: No label
Audio Source: audience
Lineage:
Total running time: 1:26:14
Sound Quality : Much noise ,dull ,but still good listened to
Attendance: 9.800
Artwork: Yes.
Note: The final show of the Diamond Dogs tour:
Same as Toronto ,but Drive in Saturday Bowie replaces by Knock on Wood; Rock & Roll Suicide is missing. This is the last concert of the tour, performed in this sold out Madison Square Garden. The two con­certs had originally been planned for Radio City Music Hall, but because of the overwhelming demand for tickets they had been moved to the Garden which is three times as big. For Bowie it was an important thing that these two concerts were booked up,because it placed him on a level with a couple of other very popular artists. The amount of money grossed for both shows was $260 and both shows were videotaped. "Good evening New York!" Bowie cries before All the Young Dudes, and the enthusiastic audience respond by cheering. "Thank you,we are pleased to be here. This is a song I wrote for some friends of mine called Mott the Hoople".
This is a great con­cert,and a great tape. Earl Slick's guitar dominates and at places it drowns the other instruments,but this sounds rather good,actually. Slick plays beautifully and songs like Sweet Thing,Time and Panic in Detroit are performed to perfection.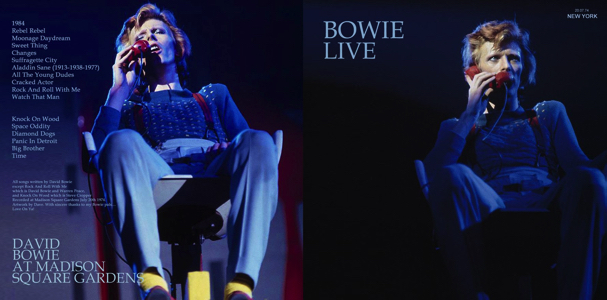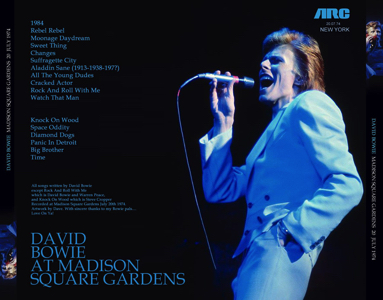 Tour band 1974 (June – July)
• David Bowie – vocals
• Michael Kamen – electric piano, Moog synthesizer, oboe, music director
• Earl Slick – guitar
• Mike Garson – piano, mellotron
• David Sanborn – alto saxophone, flute
• Richard Grando – baritone saxophone, flute
• Herbie Flowers – bass
• Tony Newman – drums
• Pablo Rosario – percussion
• Gui Andrisano – backing vocals
• Warren Peace – backing vocals
(Visited 1,038 times, 1 visits today)