1973-04-08 Tokyo ,Shinjuku Koseinenkin Kaikan – Live In Japan (Disc 1) – SQ 8
Sound Quality Rating
01. ODE TO JOY.wav
02. HANG ON TO YOURSELF.wav
03. ZIGGY STARDUST.wav
04. CHANGES.wav
05. MOONAGE DAYDREAM.wav
06. PANIC IN DETROIT.wav
07. ALADDIN SANE.wav
08. WIDTH OF A CIRCLE.wav
09. SPACE ODDITY.wav
10. THE JEAN GENIE.wav
11. TIME.wav
12. FIVE YEARS.wav
13. LET'S SPEND THE NIGHT TOGETHER.wav
14. STARMAN.wav
15. SUFFRAGETTE CITY.wav
16. ROCK 'N' ROLL SUICIDE.wav
Label: Hive – HIVEDB01
Audio Source: audience
Lineage:
Total running time: 1:08:37
Sound Quality : noise ,dull ,but still good listened to
Attendance: Sold out well in advance.
Artwork: yes.
"Musically he is the most exciting thing to have happened since the fragmentation of the Beatles, and theatrically he is perhaps the most interesting performer ever in the pop music genre." – Japan Times Review
The Live In Japan box set comprises seven of the concerts in Japan in April 1973. it's a premium item, in beautiful packaging, like a set of seven Japanese singles from the era. In some cases, however, the quality of the recording doesn't quite match the quality of the presentation.
Disc 1 is from Shinjuka Kosei Nenkin Kaikan in Tokyo on 8th April 1973 – already variously around as Miscellaneous Of Cats, First Landed Japan and so on (q.v.). This has beautiful sound from the band, but there's a bit of a whistly rattle on the vocals that gets worse and more intrusive as the concert progresses. Towards the end, the sound deteriorates significantly (hence the declining quality rating above). Probably the best of the recordings generally available, but still flawed.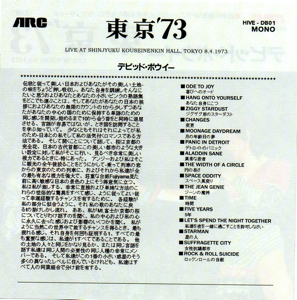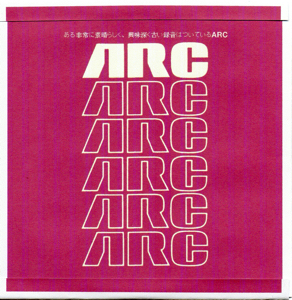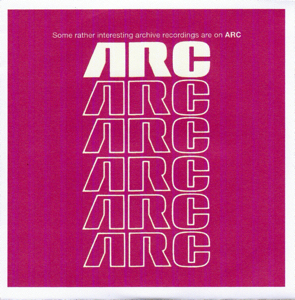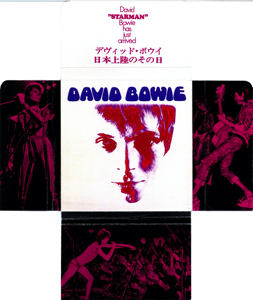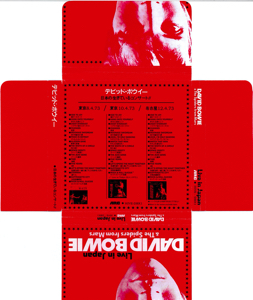 David Bowie Tour Band – The Ziggy Stardust Tour
David Bowie
– vocals, guitar, harmonica
Mick Ronson – guitar, vocals
Trevor Bolder – bass
Mick "Woody" Woodmansey – drums
Matthew Fisher – piano (20 Apr 1972 – 27 May 1972)
Robin Lumley – piano (2 Jun 1972 – 15 Jul 1972)
Nicky Graham – piano (1 Aug 1972 – 7 Sep 1972)
Mike Garson – piano, mellotron, organ (22 September 1972 – end of tour)
John Hutchinson – rhythm guitar, 12-string acoustic guitar (8 Apr 1973 – 20 Apr 1973 – 3 July 1973)
Aynsley Dunbar – additional drums (8 Apr 1973 – 20 Apr 1973)
Geoffrey A. MacCormack – backing vocals, percussion (19 January 1973 – end of tour)
Ken Fordham – saxophone (19 January 1973 – end of tour)
Brian Wilshaw – saxophone, flute (19 January 1973 – end of tour)
 
Crew
Robin Mayhew ,Will Palin ,Mick Hince ,Dean Heiser – Sound ,Ground Control ,Front of House Engineer ,Stage hands
Nigel Olliff, Nick Gilbey, Paul Normand and crew – Lights ,1972 Heavy Light ,1973 See Factor Industries NY Bob See ,Steve Hurston ,Mick Fussey
Peter Hunsley – Stage Equipment
Suzi Fussey – Wardrobe, Makeup and Hair
 
 
 

(Visited 1,032 times, 1 visits today)