David Bowie 1973-01-06 Edinburgh ,Empire Theatre – Will You Educate With Me? –

Sound Quality Rating
01. Intro – Lets Spend The Night Together.Flac
02. Hang On To Yourself.Flac
03. Ziggy Stardust.Flac
04. Changes.Flac
05. Superman.Flac
06. Five Years.Flac
07. Width Of A Circle.Flac
08. Live On Mars.Flac
09. John I'm Only Dancing.Flac
10. Moonage Daydream.Flac
11. The Jean Genie.Flac
12. Suffragette City.Flac
13. Encore – Rock & Roll Suicide.Flac
Label: Old Gold Records – OGCD019
Audio Source: audience
Lineage:
Total running time: 0:57:06
Sound Quality : Not good ,much Noise ,very dull
Attendance: ???
Artwork: Yes.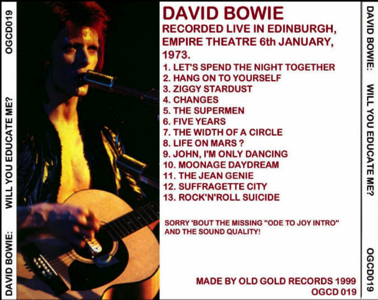 Same as London,but Bowie puts Life on Mars after width of a Circle. This time,during Let's Spend the Night together.
Bowie's act runs: "When I saw you walking down the street, I said what's your name and she said what's your name. I was just walking down the street. What's your game,have you got a name? What are you? Oh yeah,well I'm a capricorn. I dropped my handkerchied on the ground,I've been here rather ages. I said are you still at school? Yeah? I said do you believe in educa­tion? You do believe in education. will you educate me? ". This part of the show is more than appreciated by the audience! When Bowie reappears to give an extra he says: "This is our first time in Edinburgh,thank you very much,we'll be back soon!".
Pictures Edinburgh 1973-01-06 >>NOTE: These copyright photos are posted with permission of the photographer: sharing these photos is only possible with permission of the photographer ([email protected])
David Bowie Tour Band – The Ziggy Stardust Tour
David Bowie – vocals, guitar, harmonica
Mick Ronson – guitar, vocals
Trevor Bolder – bass
Mick "Woody" Woodmansey – drums
Matthew Fisher – piano (20 Apr 1972 – 27 May 1972)
Robin Lumley – piano (2 Jun 1972 – 15 Jul 1972)
Nicky Graham – piano (1 Aug 1972 – 7 Sep 1972)
Mike Garson – piano, mellotron, organ (22 September 1972 – end of tour)
John Hutchinson – rhythm guitar, 12-string acoustic guitar (8 Apr 1973 – 20 Apr 1973 – 3 July 1973)
Aynsley Dunbar – additional drums (8 Apr 1973 – 20 Apr 1973)
Geoffrey A. MacCormack – backing vocals, percussion (19 January 1973 – end of tour)
Ken Fordham – saxophone (19 January 1973 – end of tour)
Brian Wilshaw – saxophone, flute (19 January 1973 – end of tour)
Crew
Robin Mayhew ,Will Palin ,Mick Hince ,Dean Heiser – Sound ,Ground Control ,Front of House Engineer ,Stage hands
Nigel Olliff, Nick Gilbey, Paul Normand and crew – Lights ,1972 Heavy Light ,1973 See Factor Industries NY Bob See ,Steve Hurston ,Mick Fussey
Peter Hunsley – Stage Equipment
Suzi Fussey – Wardrobe, Makeup and Hair
.
(Visited 967 times, 1 visits today)