David Bowie 1973-01-05 Glasgow ,Greens Playhouse (jamesthecat low gen)

Sound Quality Rating
01. LET'S SPEND THE NIGHT TOGETHER.flac
02. HANG ON TO YOURSELF.flac
03. ZIGGY STARDUST.flac
04. CHANGES.flac
05. THE SUPERMAN.flac
06. FIVE YEARS.flac
07. THE WIDTH OF A CIRCLE.flac
08. LIFE ON MARS.flac
09. JOHN, I'M ONLY DANCING.flac
10. MOONAGE DAYDREAM.flac
11. THE JEAN GENIE.flac
12. SUFFRAGETTE CITY.flac
13. ROCK 'N' ROLL SUICIDE.flac
Label: No label
Audio Source: audience
Lineage: cassette
Total running time: 0:46:23
Sound Quality : Not good ,much Noise ,very dull
Attendance: 3.181
Artwork: Yes.
note: The Taper has paused between each song
Fumble on tour with David Bowie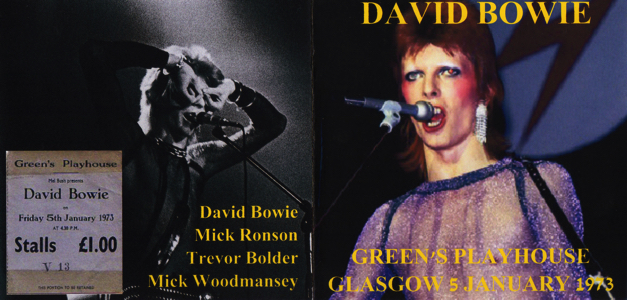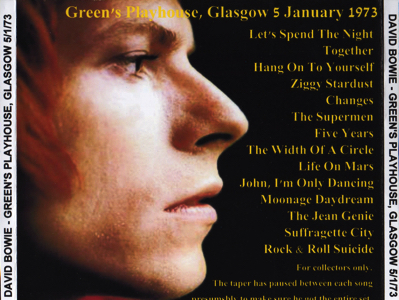 REVIEW:
Ian Pettigrew – 23/03/2004 23:27:07 GMT
Saw him twice in 71 (was it?) — one time supported by Stealers Wheel, another by "Stumble".
Both shows were pretty similar and it was just post (or pre?) Alladin Sane; certainly at the very UK height of the Ziggy mania.
Ken Anderson – 23/03/2004 23:27:07 GMT
January 1973
An afternoon at the Kelvin Hall Carnival & then off to see Bowie being Ziggy at Green's Playhouse.
Musical star of the night had to be Mick Ronson. Bowie's voice was a bit thin & nasal. Who cared,however, he was pretty enough to make the lassies scream and the band rocked enough to impress the lads. The Playhouse was heaving and the atmosphere was manic. Saw Bowie several times after that however that night was just a bit special.
Tom McGarry – 11/07/2005 16:21:59 GMT
I saw the early show and it was really pretty quiet. The later show seems to have been adifferent matter. However DB blew everyone away. None of the audience had quite seen anything like it. Lots of strobe lighting and almost everyrthing at breakneck speed.
Tom McGarry – 11/07/2005 16:25:15 GMT
Saw this one after being at The January show and Bowie mania had hit big time in between. Nothing could really have prepared anyone for this. The balcony was jumping up and down like something at a funfair and the show was something else. For sheer excitement the best one ever!
Special: Fumble on tour with David Bowie
Fumble supported David Bowie on his Ziggy Stardust tour on four UK dates and a tour of America in February / March 1973New Musial Express, January 1973
story: Bowie wants Fumble New Musical Express, 6 Feb 1973 – front page:
'BOWIE WANTS FUMBLE'
David Bowie has asked British rock'n'roll revivalists Fumble to join him on the rest of his current British tour.
Apparently Bowie's attention was first drawn to Fumble by the novel cover of their current EMI album – and liked what he'd seen.
line
UK-Tour 1972/73
Bowie had seen Fumble on the Old Grey Whistle Test on BBC TV. He was making preparations for his forthcoming tour of America and booked Fumble for a few UK dates.
US -Tour 1973
After it proved that Fumble could really rouse an audience fit for Ziggy Stardust, Fumble were finally booked for the US-tour.
Fumble scheduled for another UK Tour (cancelled)
Another UK-Tour was planned (Start May 12) but Fumble were dropped at the last minute to give Bowie the chance to extend his act and play two shows a night.
Bowie adores Fumble
"I adore them.
They're very unpretentious
about revamping that
whole era." (David Bowie about Fumble 1973)
Fumble & David Bowie UK tourdates 1972 / 1973
28 Dec 72 Manchester ,Hardrock
05 Jan 73 Glasgow ,Green's Playhouse
06 Jan 73 Edinburgh ,Empire Theatre
07 Jan 73 Newcastle ,City Hall
09 Jan 73 Preston ,Guildhall
Fumble & David Bowie US-tour dates 1973
16 Feb 73 Philadelphia ,Tower Theatre
17 Feb 73 Philadelphia ,Tower Theatre (2 shows)
18 Feb 73 Philadelphia ,Tower Theatre (2 shows)
19 Feb 73 Philadelphia ,Tower Theatre (2 shows)
23 Feb 73 Nashville ,War Memorial Auditorium
26 Feb 73 Memphis ,Ellis Auditorium (2 shows)
01 Mar 73 Detroit ,Masonic Auditorium
02 Mar 73 Detroit ,Masonic Auditorium
03 Mar 73 Chicago Aragon Ballroom
10 Mar 73 Los Angeles ,Long Beach Arena
12 Mar 73 Hollywood ,Hollywood Palladium
Press articles
RECORD MIRROR, 10 Feb 1973
Fumble join Bowie
Fumble have been asked by David Bowie to join him on his forthcoming tour of America. This news follows Fumble's success on Bowie's last British tour. The band will record tracks for a single which will be rushed released in America to coincide with the U.S. dates. The tour is scheduled to start in Philadelphia 16th, 17th & 18th February. Then Nashville 23rd, Memphis 25th, March 1st Detroit, 4th Chicago, 10th L.A.
Record Mirror, 14 April 1973
Fumble US tour
Fumble have been added to the massive David Bowie tour after touring with him in America – the third Bowie tour the band have played this year.
NME nationwide gig guide, 28 April 1973
David Bowie has been quoted as saying he adores Fumble, adding they are: "very unpretentious about revamping that whole era." The era" he refers to is late fifties/early sixties – from whence the majority of Fumble's material is taken. Mouldie oldies like "Oh Carol," "Hello Mary Lou" and "Ebony Eyes" are on the agenda. But it's not just a boring revival – for, since their american tour with Bowie Fumble have got that extra polish always needed if you wish to succeed. And as an added extra, there are a few original numbers included. This good time groping band are great – so go see em.
"The opener that week (Seven shows in five days) was a 1950s revival group called Fumble. I remember them opening with "Hello Mary Lou," and also doing "Ebony Eyes." In between songs, the audience kept yelling out "Fumble!" – Chuck Darrow …
Review from a Bowie fan about Fumble supporting Bowie at the Tower Theatre Philadelphia 1973. Found at: The Ziggy Stardust Companion – A David Bowie Site
Disc Magazine, 10 Feb 1973
Fumble with Bowie
Fumble invited to join David Bowie's US dates this month and next.
Melody Maker, 14 April 1973
Fumble join the David Bowie tour opening at Earls Court on May 12. Meanwhile, Fumble play Aberdeen University (April 18), College of Education, Dundee (19), Edinburgh University (20), Strathclyde University (21), Clouds Disco, Glasgow (22) and Regency Suite, Derby (27)
Disc Magazine, 5 May 1973
Bowie's back
David Bowie arrives Victoria Station 7.35 p.m. this Friday, May 4, marking the end of a 7,903 mile trans-European trip, and concert tours of the US and Japan. After resting at home for a week, he starts his British tour with the Earls Court concert, May 12, which is already sold out.
A spokesman for RCA commented that they are considering adding an extra week to the tour, and that Bowie will feature new stage apparel designed and built in Japan. He also states that Bowie wants to tour Russia and China next year. Fumble have been dropped as support group and Bowie's act has been extended to cover a whole evening.
Disc Magazine, 12 May 1973
Fumble treated sharply by the Bowie camp. It has been revealed to me that Bowie manager Tony DeFries cabled manager John Sherry from Japan informing him that his group would no longer be required as support band on Bowie's British tour. Bowie, it was decided, would double his money and play not one but two sets per night on most of his dates. Fumble are now wondering how to occupy themselves over the next two months and are resigned to the prospect of watching their upcoming single, "Million Seller," sink through lack of exposure. Nice one, Tony.
David Bowie Tour Band – The Ziggy Stardust Tour
David Bowie – vocals, guitar, harmonica
Mick Ronson – guitar, vocals
Trevor Bolder – bass
Mick "Woody" Woodmansey – drums
Matthew Fisher – piano (20 Apr 1972 – 27 May 1972)
Robin Lumley – piano (2 Jun 1972 – 15 Jul 1972)
Nicky Graham – piano (1 Aug 1972 – 7 Sep 1972)
Mike Garson – piano, mellotron, organ (22 September 1972 – end of tour)
John Hutchinson – rhythm guitar, 12-string acoustic guitar (8 Apr 1973 – 20 Apr 1973 – 3 July 1973)
Aynsley Dunbar – additional drums (8 Apr 1973 – 20 Apr 1973)
Geoffrey A. MacCormack – backing vocals, percussion (19 January 1973 – end of tour)
Ken Fordham – saxophone (19 January 1973 – end of tour)
Brian Wilshaw – saxophone, flute (19 January 1973 – end of tour)
Crew
Robin Mayhew ,Will Palin ,Mick Hince ,Dean Heiser – Sound ,Ground Control ,Front of House Engineer ,Stage hands
Nigel Olliff, Nick Gilbey, Paul Normand and crew – Lights ,1972 Heavy Light ,1973 See Factor Industries NY Bob See ,Steve Hurston ,Mick Fussey
Peter Hunsley – Stage Equipment
Suzi Fussey – Wardrobe, Makeup and Hair
.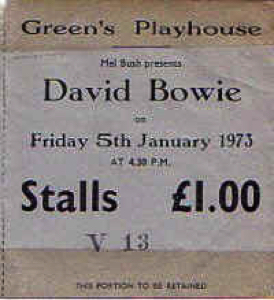 .
(Visited 875 times, 1 visits today)