David Bowie 1973-07-03 London ,Hammersmith Odeon – His Master's Voice – (CD).
Sound Quality Rating
01 – Hang On To Yourself.flac
02 – Wild Eyed Boy From Freecloud.flac
03 – All The Young Dudes.flac
04 – Oh You Pretty Things.flac
05 – Moonage Daydream.flac
06 – Changes.flac
07 – Space Oddity.flac
08 – Time.flac
09 – Suffragette City.flac
10 – The Jean Genie (David Bowie).flac
11 – Love Me Do.flac
12 – Rock'n Roll Suicide.flac
Label: Living Legend Record – LLRCD 116
Audio Source: audience
Lineage:
Total running time: 0:49:05
Sound Quality : very good. Equals record or radio apart from a slight noise and some dullness.
Attendance: 3.000
Artwork: Yes.
The 3rd Ziggy Stardust UK tour finishes at the Hammersmith Odeon Theatre, London. This concert comes to be known as the "Retirement Gig." Jeff Beck attends as special guest. Before this gig Bowie had announced that he would take a short holiday when the tour was over, before recording at the Chateau in France and then planned to return to the US for another tour.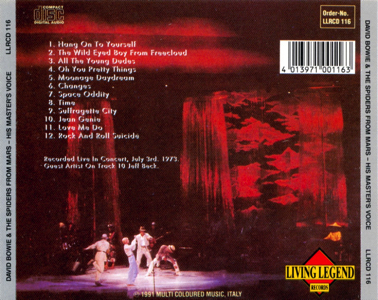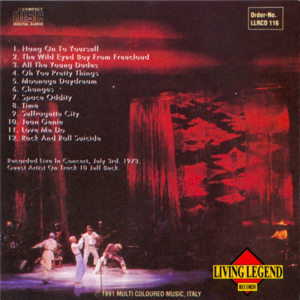 David Bowie – His Masters Voice (Bootleg Album)
The concert is filmed by D.A Pennebaker and recorded by RCA Mobile with the intention of releasing a live double album in February 1974 provisionally tilted BOWIE-ING OUT. This eventually becomes the 1983 soundtrack album, film and video ZIGGY STARDUST – THE MOTION PICTURE minus the live performances of "Jean Genie/Love Me Do" and "Round and Round." Just prior to the last encore number Bowie steps up to the mike and announces:
"Everybody…this has been one of the greatest tours of our lives. I would like to thank the band. I would like to thank our road crew. I would like to thank our lighting people. Of all of the shows on this tour, this particular show will remain with us the longest (cheers from the audience) because not only is it…not only is it the last show of the tour, but its the last show that we'll ever do. Thank you"
This shocks Ziggy fans who scream "No!" Bowie then launches into "Rock n Roll Suicide" and at the finish of the song concludes:
"Thank-you very much. Bye-bye. We love you."
Bowie's announcement is also a major shock for The Spiders From Mars who were unaware that Bowie had also decided to retire them from ever touring again. Only Tony DeFries and Mick Rock were aware of the announcement. That night Bowie and a handful of friends hold a small party at the Inn On the Park..
[sliderpro id="3″]
.
(Visited 653 times, 1 visits today)