David Bowie 1972-11-25 Cleveland ,Public Auditorium (Master Joe Ray Skrha and Remaster by Learm)
Sound Quality Rating
01. Ode To Joy.flac
02. Hang On to Yourself.flac
03. Ziggy Stardust.flac
04. Changes.flac
05. The Supermen.flac
06. Life On Mars.flac
07. Five Years.flac
08. Announcenent
09. Space Oddity.flac
10. Andy Warhol.flac
11. Drive In Saturday.flac
12. The Width Of A Circle.flac
13. John I'm Only Dancing.flac
14. Moonage Daydream.flac
15. Band Introductions.flac
16. [start cut] Waiting For The Man.flac
17. The Jean Genie.flac
18. Suffragette City.flac
19. Rock'n'Roll Suicide.flac
20. Ode To Joy Outro.flac
Label: No label
Audio Source: audience > Joe Ray MASTER 24/192
Lineage: cassette (Joe Ray Skrha – Master)
Total running time: 1:22:02
Sound Quality : noise ,dull ,but still good listened to
Attendance: 10.000 SOLD OUT
Artwork: by learm
Remaster : by learm (remaster of the 24/192 master recording from Joe Ray Skrha)
Prior to playing "Drive in Saturday," David asks all of the tapers to leave as he is about to play an unreleased song
"I'd been asked to ask the people who have …. good evening everybody ….Then I should ask if people who were standing could sit down.I'd appreciate it and a lot of other people would. Thank you . I'm sure you will."
uch is Bowie's popularity now that the Cleveland Public Hall is used for these two concerts rather than the smaller capacity Music Hall, which was used for the first Cleveland concert. Both the Music Hall and Public Hall shared the same back-to-back stage. Both halls are still being used today.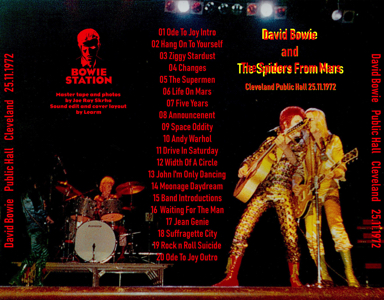 David Bowie Tour Band – The Ziggy Stardust Tour
David Bowie – vocals, guitar, harmonica
Mick Ronson – guitar, vocals
Trevor Bolder – bass
Mick "Woody" Woodmansey – drums
Matthew Fisher – piano (20 Apr 1972 – 27 May 1972)
Robin Lumley – piano (2 Jun 1972 – 15 Jul 1972)
Nicky Graham – piano (1 Aug 1972 – 7 Sep 1972)
Mike Garson – piano, mellotron, organ (22 September 1972 – end of tour)
John Hutchinson – rhythm guitar, 12-string acoustic guitar (8 Apr 1973 – 20 Apr 1973 – 3 July 1973)
Aynsley Dunbar – additional drums (8 Apr 1973 – 20 Apr 1973)
Geoffrey A. MacCormack – backing vocals, percussion (19 January 1973 – end of tour)
Ken Fordham – saxophone (19 January 1973 – end of tour)
Brian Wilshaw – saxophone, flute (19 January 1973 – end of tour)
Crew
Robin Mayhew ,Will Palin ,Mick Hince ,Dean Heiser – Sound ,Ground Control ,Front of House Engineer ,Stage hands
Nigel Olliff, Nick Gilbey, Paul Normand and crew – Lights ,1972 Heavy Light ,1973 See Factor Industries NY Bob See ,Steve Hurston ,Mick Fussey
Peter Hunsley – Stage Equipment
Suzi Fussey – Wardrobe, Makeup and Hair
.
=============================
In detail I did the following:
1. Frequencies around 1 kHz reduced, low frequencies around 60 Hz boosted
2. Sound level of quiet passages which I found too loud reduced and a number of other sound level fluctuations evened
3. A bit of hiss/rumble reduction (also at lower frequencies), always in mind that too much hiss reduction is resulting in a loss of some frequencies and thus sonority
4. Pseudo stereo effect generated
5. Smoothened the cuts as much as possible
I know that at the end what I did is all relating to my subjective sense of sound but nevertheless I hope that you will like the result.
At the end I tried to come a bit closer to the Santa Monica show sound while the show here is certainly the superior one apart from the sound.
There is still another remaster of the show on BowieStation made by Neil Wilkes which you may also like: https://www.bowiestation.com/torrents-details.php?id=2339
I made some cover layout which you can find attached. The photos are made by Joe Ray Skrha but they are from the Sept. 22 show.
(Visited 139 times, 1 visits today)