David Bowie 1973-05-29 Hanley ,Victoria Hall (master cassette – remastered VC). Sound Quality Rating
01. Ode to Joy.wav
02. Hang onto Yourself.wav
03. Ziggy Stardust.wav
04. Watch That Man.wav
05. Wild Eyed Boy From Freecloud.wav
06. All The Young Dudes.wav
07. Oh You Pretty Things.wav
08. Moonage Daydream.wav
09. Changes.wav
10. Space Oddity.wav
11. Jean Genie.wav
12. Time.wav
13. Width of a Circle.wav
14. Let's Spend the Night Together.wav
15. Suffragette City.wav
16. Cracked Actor.wav
17. Rock n Roll Suicide.wav
Label: No label
Audio Source: audience
Lineage: Remastered copy of mastertape of an audience recording
Total running time: 1:09:28
Sound Quality : Not good ,much Noise ,very dull
Attendance: 1.200
Artwork: Yes.
Same as Lewisham,minus Drive in Saturday. A very rare tape.
Soon after the person who made this tape had taken up the con­cert,something went wrong with the cassette. He hadn't touched the thing for many years until mid-1984 he had a go at reparing it. He managed to do it,so that now,some 11 years after the actual recording the tape can finally come into circula­tion. During Ziggy Stardust the sound falls off partly or wholly ,probably owing to damage during repare.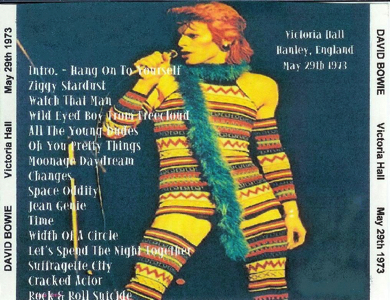 Bowie's singing is clear,considerably more so than on the Brighton tape. After Space Oddity the announcer says: "Ladies and gentlemen,there will now be a ten-minute intermission". After Width of a Circle the tape is interrupted, then continues with the end of Let's Spend the Night Together,starting with "But our love comes from above. So let's do it,let's make love". Bowie ends the concert with Rock & Roll Suicide,doing some improvisation during the act: "Don't le t anybody turn away the difference, 'cause you're wonderful. 'Cause you'll have to make it on your own!". There are some more impromptu lyrics ,which I cannot make out.




David Bowie Tour Band – The Ziggy Stardust Tour
David Bowie
– vocals, guitar, harmonica
Mick Ronson – guitar, vocals
Trevor Bolder – bass
Mick "Woody" Woodmansey – drums
Mike Garson – piano, mellotron, organ (22 September 1972 – end of tour)
John Hutchinson – rhythm guitar, 12-string acoustic guitar (8 Apr 1973 – 20 Apr 1973 – 3 July 1973)
Geoffrey A. MacCormack – backing vocals, percussion (19 January 1973 – end of tour)
Ken Fordham – saxophone (19 January 1973 – end of tour)
Brian Wilshaw – saxophone, flute (19 January 1973 – end of tour)

Crew
Robin Mayhew ,Will Palin ,Mick Hince ,Dean Heiser – Sound ,Ground Control ,Front of House Engineer ,Stage hands
Nigel Olliff, Nick Gilbey, Paul Normand and crew – Lights ,1972 Heavy Light ,1973 See Factor Industries NY Bob See ,Steve Hurston ,Mick Fussey
Peter Hunsley – Stage Equipment
Suzi Fussey – Wardrobe, Makeup and Hair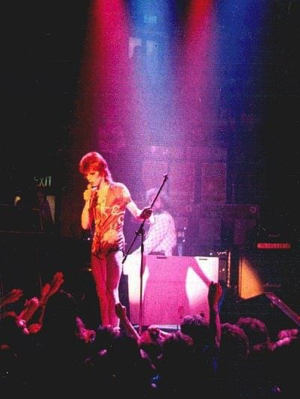 Info:
wav files from trade -> Free Audio Converter -> flac files (44,1 kHz, 16 Bit, Stereo) -> Mindwarppavilion
I would rate the recording partly as vg+ (overall vg). No EQ was done.
Generally the tape has a very clear sound but unfortunately the quality fluctuates more or less periodically to a duller sound as if
the tape had some distension or crumple. This is mostly present in Ziggy Stardust. The most of the first part of Let's Spend The Night Together is missing and only 26 seconds are left.
Even if there are some flaws in sound the recording is very enjoyable and reflects the great atmosphere of this concert of the late Ziggy phase.
It seems to be the complete show (pretty tight gig) as I could not make any other cut between the songs than the one before Let's Spend The Night Together.
And judging from other concerts around that time Width Of A Circle was always followed by Let's Spend The Night Together.
The sound remaster was not made by me as received the recording as you can find it here. So it is hard to say how good this remaster really is.
I tried to improve it even more but as the result was not much better I left it as it was.
(Visited 564 times, 1 visits today)