David Bowie Watching The Cruisers Below – 4x CDR set (Recorded Warfield Theatre, San Francisco 9th & 15th September 1997 + Bonus Slim's, San Francisco ,Live 105 FM broadcast ,September 9 ,1997).
Sound Quality Rating
Slim's, San Francisco ,Live 105 FM broadcast ,September 9 ,1997
101. Interview.flac
102. Always Crashing In The Same Car.flac
103. I Can't Read.flac
104. Interview.flac
105. Dead Man Walking.flac
106. Scary Monsters (And Super Creeps).flac
The Warfield ,San Francisco ,September 9th ,1997
107. Quicksand.flac
108. Waiting For The Man.flac
109. The Jean Genie.flac
110. Panic In Detroit.flac
111. I'm Afraid Of Americans.flac
112. Look Back In Anger [false start].flac
113. Look Back In Anger.flac
114. Battle For Britain (The Letter).flac
115. Fashion.flac
201. Seven Years In Tibet.flac
202. Stay.flac
203. Looking For Satellites.flac
204. Under Pressure.flac
205. The Hearts Filthy Lesson.flac
206. Hallo Spaceboy.flac
207. Scary Monsters (And Super Creeps).flac
208. Little Wonder.flac
209. Fame.flac
210. Dead Man Walking.flac
211. White Light White Heat.flac
212. O Superman.flac
213. All The Young Dudes.flac
The Warfield ,San FranciscoSeptember 15th ,1997
301. Quicksand.flac
302. Always Crashing In The Same Car.flac
303. I Can't Read.flac
304. Queen Bitch.flac
305. Can't Help Thinking About Me.flac
306. The Jean Genie.flac
307. Panic In Detroit.flac
308. I'm Afraid Of Americans.flac
309. Look Back In Anger.flac
310. Seven Years In Tibet.flac
311. Battle For Britain (The Letter).flac
312. The Man Who Sold The World.flac
313. Fashion.flac
314. Voyeur Of Utter Destruction (As Beauty).flac
315. Looking For Satellites.flac
401. Stay.flac
402. Under Pressure.flac
403. The Hearts Filthy Lesson.flac
404. Hallo Spaceboy.flac
405. Scary Monsters (And Super Creeps).flac
406. Little Wonder.flac
407. Dead Man Walking.flac
408. The Last Thing You Should Do.flac
409. V-2 Schneider.flac
410. White Light White Heat.flac
411. O Superman.flac
412. Moonage Daydream.flac
Label : B3 CD/004-007
Audio Source : Broadcast & Audience
Lineage : Unknown
Total running time : 4:43:55
Sound Quality : Excellent quality! Equals record or radio
Attendance : Unknown
Artwork : Artwork by Native!
Two out of three nights performed at The Warfield during the Earthling tour, opened by the radio broadcast of the morning before the first show.
The radio broadcast contains a couple wonderful interview segments and four acoustic numbers — including the "country" version of "Sacry Monsters (And Super Creeps)".
Also of note is that each of the concerts share a unique moment. During the first show, Bowie completely flubs the beginning of "Look Back In Anger" and has a funny cover before restarting the song.
During the second show, he ribs on himself and his earliest songs and then plays a few moments of "Can't Help Thinking About Me", transitioning this into "The Jean Genie".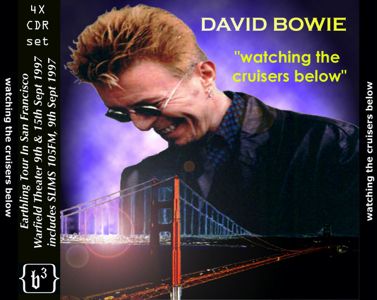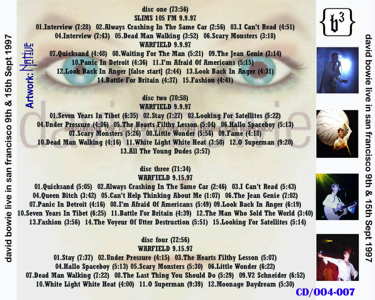 (Visited 540 times, 1 visits today)