David Bowie 2002-06-15 New York ,Music Studios (Soundboard) – Heathen in New York –
Sound Quality Rating
A & E live by request Sony Music Studios, New York, June 15, 2002
01. Fame.flac
02. Changes.flac
03. China Girl.flac
04. Slow Burn.flac
05. Starman.flac
06. Let´s Dance.flac
07. Slip Away.flac
08. Ziggy Stardust.flac
09. "Heroes".flac
10. 5:15 The Angels Have Gone.flac
11. Sound And Vision.flac
12. Ashes To Ashes.flac
13. I´m Afraid Of Americans.flac
live on David Letterman show, New York, June 10, 2002
14. Slow Burn.flac
live on the Today Show, New York, June 14, 2002
15. Fame.flac
16. Slow Burn.flac
17. Cactus.flac
Label : The Swingin' Pig (2) ‎– TSP-CD-282 – 2002
Audio Source : Soundboard recording
Lineage : Silver-CD
Total running time : 1:16:53
Sound Quality : Excellent quality! Equals record or Radio/TV
Attendance : Unknown
Artwork : Yes (artwork says "Made in Thailand")
Live by Request is a television show on the A&E Network
This was an amazing show with David in rare form – humorous, free loving and a ridiculous amount of talent. More words would be silly. Just watch/listening it when you have some time…
One of the favorite moments in this video would be when Bowie gets a request from a boy by the name of George to play "Ashes to ashes". But when Bowie wants to talk a little with the boy before playing he gets interrupted and he promises to call back later. It was a very sweet and funny moment.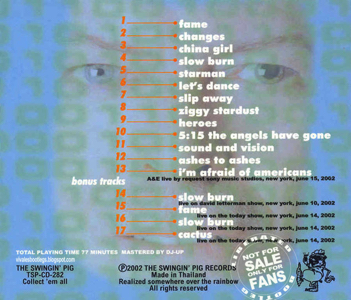 (Visited 545 times, 1 visits today)