David Bowie 1973-10-00 Live At The Marquee Club 1973 – The 1980-Floor Show – 18,19 and 20 october – The Midnight Special ,Broadcast 19 November 1973
Sound Quality Rating
Final Mixes:
01. 1984 – Dodo (Mix).flac
02. Sorrow (Mix).flac
03. Everything's Alright (Mix).flac
04. Space Oddity (Mix).flac
05. I Can't Explain (Take 2).flac
06. Time (Mix).flac
07. The Jean Genie (Mix).flac
08. I Got You Babe (Mix).flac
Rehearsals & Outtakes:
09. Dialogue (Bowie & Amanda Lear).flac
10. Time (Take 1).flac
11. Introduction Astronettes – Everything's Alright (Take 1).flac
12. Everything's Alright (Take 3).flac
13. Everything's Alright (Take 4).flac
14. Space Oddity (Take 2).flac
15. I Can't Explain (Take 1).flac
16. The Jean Genie (Take 2).flac
17. The Jean Genie (Take 3).flac
18. 1984 (Take 1).flac
19. 1984 (Take 2).flac
20. 1984 – Dodo (Take 3).flac
21. 1984 – Dodo (Take 4).flac
22. I Got You Babe (Take 2).flac
Label : Eye Of The Storm – EOS-426
Audio Source :
Lineage : Unknown
Taping Gear : Unknown
Taper: Unknown
Recording Location: Unknown
Total running time : 1:12:59
Sound Quality : very good. Equals record or radio apart from a slight noise and some dullness.
Attendance : Unknown
Artwork : Yes
Note : CD packaged in cardboard mini (LP-style) sleeve. Includes exclusive artwork, detailed inserts with pictures, texts & detachable promo strip.
About the event:
The 1980 Floorshow was staged in support of "Pin-ups", and, as always: featured a glimpse into David's
forthcoming masterpiece "Diamond Dogs".The reason so many takes were made was because the cameras had
to be repositioned to produce a multi-angled final product.It was performed for free at the Marquee because,
as it was a retro album; David wished to re-create the atmosphere of his early days. His band the Lower
third were regarded as so "freaky" that no-one would book them. Only the Marquee would let them play
on saturday afternoons (and prohibited them from charging admission).It was aired in the us on
Wolfman Jack's "In Concert".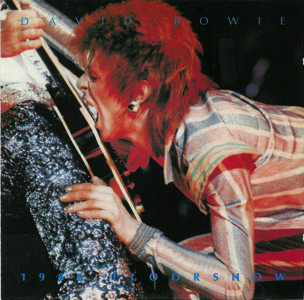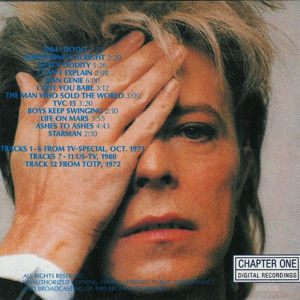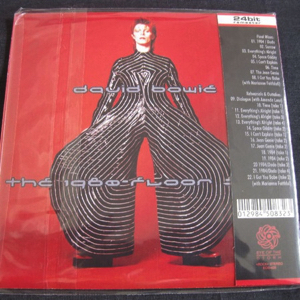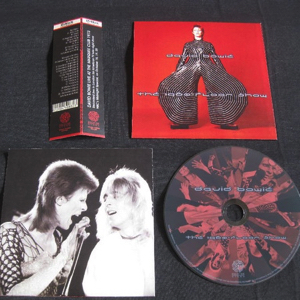 .
(Visited 729 times, 1 visits today)