David Bowie The Secret Songs – Various Dates & Locations (1968-2006) – 10
01. Mother
(cover of a John Lennon Song, 2002, unreleased version )
02. Life On Mars?
(Fashion Awards 2005, NYC, Radio Music Hall)
03. Five Years
(duet with Arcade Fire, Fashion Awards 2005, NYC, Radio Music Hall )
04. Wake Up
(duet with Arcade Fire, Fashion Awards 2005, NYC, Radio Music Hall )
05. Trying To Get To Heaven
(Hours Outtake 1999)
06. The Cynic
(Duet with Kasmir, No Balance Palace Album. 2006)
07. Isn't It Evening
(Duet with Earl Slick, Collaborations. 2003)
08. Waterloo Sunset
(Kinks Cover, Reality Edition, Tour Edition. 2003)
09. Space Oddity
(Press Conference London 1990)
10. My Death
(Unplugged Toronto 1997)
11. Drive In Saturday
(BBC Radio One 1997)
12. Can't Help Thinking About Me
(BBC Radio One 1997)
13. Social Girl
(only released as acetat in 1968. Never been avaiable before)
14. Everything Is You
(only released as acetat in 1968. Never been avaiable before)
15. Always Crashing In The Same Car
(San Francisco Unplugged Version)
Notes 2:
It is now confirmed in my mind. I am now of a 'certain' age. I have begun to murmur a satisfied 'Ahh' when I sit on a comfortable couch. Within minutes I can fall asleep. I wouldn't be surprised to discover I drool. I am happy to discuss my various aches and pains and even happier to listen to the woes of others. I can have my friends around for a party without disturbing the neighbours. I am in fact middle-aged. So when a compilation CD is offered to me such as the 'The Secret Songs' I tend to think of it as a labour-saving device. It does away with the need to search for multiple CDs in order to play my favourite tracks. Hell, it gives me more 'couch time'. Even better when that CD seems to have compiled some genuine rarities……
The CD kicks off with a fascinating unreleased cover of the angry and anguished Lennon track 'Mother'. Bowie recorded this in 1998 and not 2002 as stated on the CD. This track was destined for a Lennon tribute album compiled by Yoko Ono that is yet to see the light of day. In 2006 this track appeared on the internet for a very brief time as a podcast and it's likely that this is the source used on the CD as the quality, whilst good, is a little compressed. Bowie's cover is very much in the spirit of the original but adds a more commercial sheen.
Next up is 'Life On Mars? This wonderfully atmospheric version, featuring just piano and vocals, was recorded at New York's Radio City Music Hall during Fashion Rocks 2005 in aid of the Hurricane Katrina appeal. Unfortunately, Alicia Keys' (I think it's her?) gushing introduction to the song is something I would prefer not to have to listen to each time I choose to play this track.
The next two tracks, 'Five Years' and 'Wake Up' feature Bowie backed by the critic's favourite band, Arcade Fire, also recorded at Fashion Rocks. Now it's Lisa Marie Presley's turn to give an over the top introduction. Please, no more! Bowie's 'Five Years' benefits from the addition of swirls of accordion and the song finishes with crazed strings from the violins of the Fire, whilst 'Wake Up' builds from an ominous drone into a wild celebratory sing-a-long.
'Tryin' to get to heaven' sees Bowie covering Bob Dylan. This was recorded in 1998 as a potential bonus track for the never-to-be-released Earthling Tour Live album (not an 'Hours' outtake as claimed on the cover). It's an enjoyable but somewhat plodding version. This is sourced from a single airing on a Spanish radio station as indicated by the annoying spoiler that appears twice during the track. There is a better source available via a very rare Virgin promo CDR and I'm surprised this wasn't used instead.
'The Cynic' is another duet, this time with lead singer Kasper Eistrup of the little known Danish Band Kashmir. It's taken from their 2005 album 'No Balance Palace' and well worth checking out if you like moody atmospheric rock.
'Isn't it evening (the revolutionary)' is ripped directly from the Bowie Guitar man Earl Slicks' 2003 album 'Zig Zag'. Bowie co-wrote this song and his fingerprints are all over it.
'Waterloo sunset' is a modern update on, though still faithful to, the original Kinks song. It's a wonderful version simultaneously retro and modern. It has been purloined from the Tour Edition of Bowie's 'Reality' album where it featured as a bonus track.
At a 1990 press conference, Bowie surprised journalists by strumming a 12-string and playing 'Space Oddity'. It's a unique version with the journalists, encouraged by Bowie, making the 'lift off' sounds. The version harks way back to the solo shows Bowie once performed in the late 60's and the acoustic interludes in early Ziggy shows. The quality dips a little on this track but still bears repeated listening.
'My Death' is a Jacques Brel/Shuman/Blau song recorded live in Toronto during 1997. The CD doesn't give the date but I'm sure it's from the show at the Warehouse on the 28th September 1997 also available on the boot 'The Chaos Girls' (Montserrat Records BRCD 2900/2901). This is a wonderful rendition delivered as a full blown torch song that really sends tingles down the spine.
'Drive in Saturday' is a fantastic, though rarely performed track, and this fine version originates from a session for BBC radio in 1999 and not 1997 as stated on the cover. Also recorded live at the same session was 'Can't help thinking about me'. This song, dating from 1965 was unexpectedly revived to great effect during the 'Hours' album promotional tour and the version captured here is delivered with great energy. The track segues directly into the last track from the session 'Repetition' but this isn't mentioned on the cover! So a bonus track buried in the middle of the CD!!
'Social Girl' and 'Everything is you' are real collectors' items. Bowie wrote 'Everything is you' in 1967 and offered it unsuccessfully to Manfred Mann. It was generally accepted that Bowie never recorded this song but an acetate that sold online for an unbelievable sum, put paid to that theory and this is where this recording probably originated from as does 'Social Girl' which was on the flip side. These two tracks alone justify the price of this CD to the serious collector.
The CD's final track is a stripped down acoustic rendition of 'Always crashing in the same car' performed for an American Radio station.
The CD is presented in a tri-fold digi-pack with high quality artwork showing carefully selected images of Bowie that can be associated with whispers and secrets. The CD is a very nice duo-tone picture disc.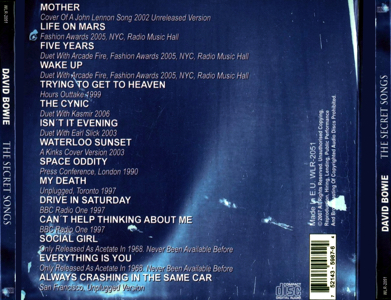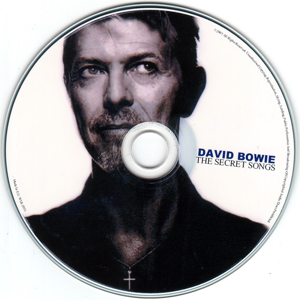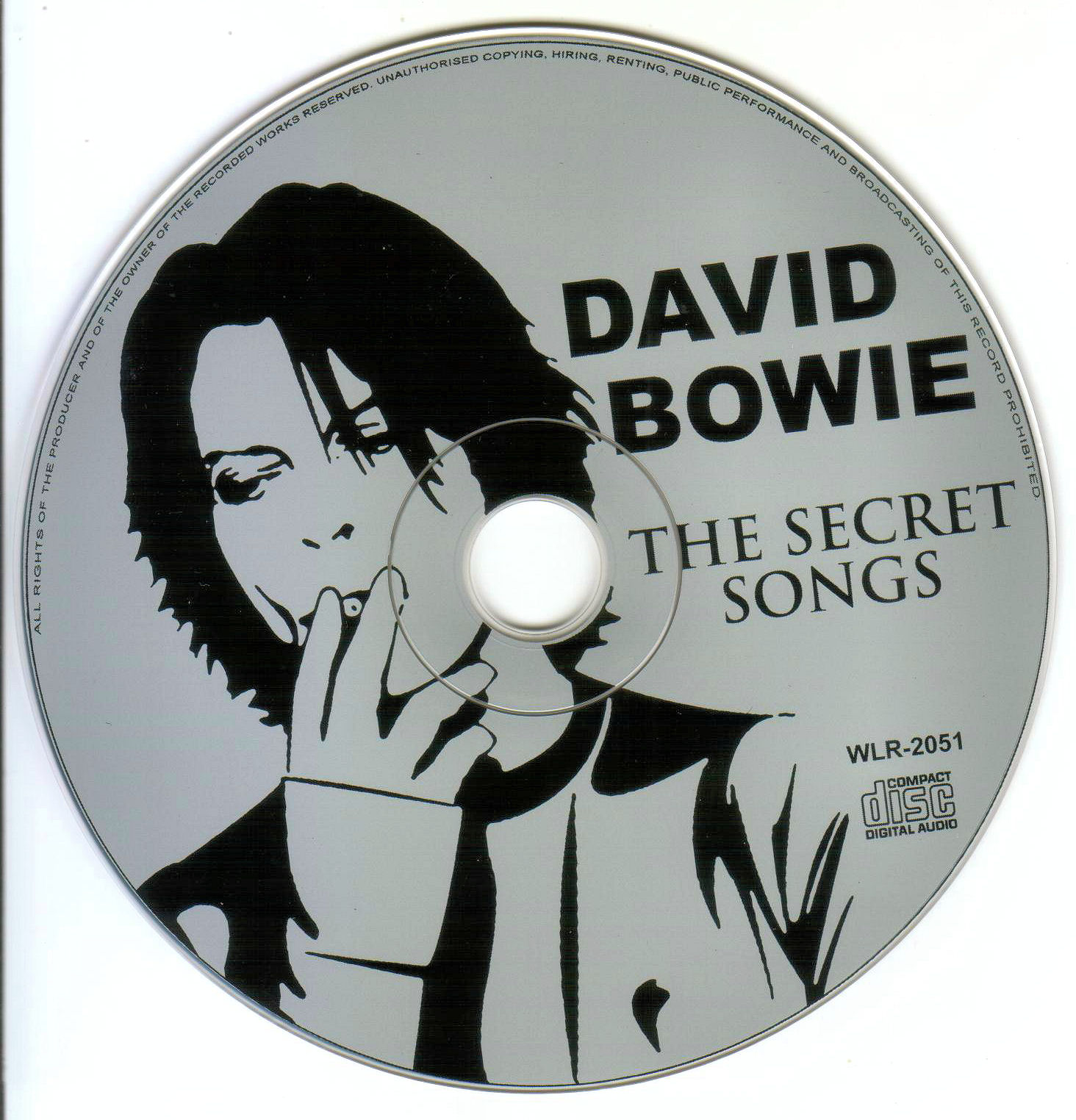 This release is an odd assortment of songs with some being genuinely rare. Of course the official tracks really shouldn't be here especially considering the vast number of genuinely rare tracks coveted by Bowie fanatics that could have been used instead. The quality, however, is excellent marred only by poor song separation with abrupt endings and a two second gap between 'Five Years' and 'Wake Up' despite it being a single performance. And of course the track 'repetition' not being mentioned at all.
.
(Visited 4,260 times, 1 visits today)