David Bowie To Have And Not Have (Various Live & Studio tracks)
Sound Quality Rating
01. Five Years
(Unreleased Studio Version 1972)
02. Waiting For The Man
(New York '76)
03. "Heroes"
(Earls Court, London 1978)
04. What In The World
(Earls Court, London 1978)
05. Space Oddity
(Marquee Club, London 1973)
06. Spirits In The Night
(Trident Studios 1973)
07. Rupert The Riley Version 2
(Unused Ryko Bonus Track)
08. How Lucky You Are (Miss Perculiar)
(Mastered in the early 90'for EMI/Ryko's re-issues but rejected)
09. Life On Mars?
(Unreleased Peter Noone Acetate)
10. Untitled
(Instrumental outtake from the Black Tie White Noise sessions)
Label : DB – THANH001
Audio Source :
Lineage : Unknown
Taping Gear : Unknown
Taper: Unknown
Recording Location: Unknown
Total running time : 0:43:50
Sound Quality : very good. Equals record or radio apart from a slight noise and some dullness.
Attendance : Unknown
Artwork : Yes
Track 2 : was ommited from the original FM broadcast as there is a minor tape glitch on this track at around 0:29 but despite this it's an amazing version.
Tracks 3 & 4 : were originally short-listed for use on the Trident/NMC compilation "RarestOneBowie" but not used.
Track 6 : is performed by The Astronettes. It's an alternate mix to the finished version that appeared on "People From Bad Homes". It has some nice Bowie bits, especially around 3:01 when Bowie can be heard telling the band what parts to sing.
Tracks 7 & 8 : were mastered in the early 90'for EMI/Ryko's re-issues but were rejected.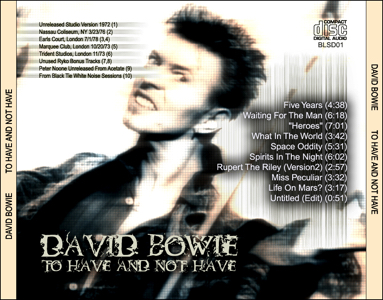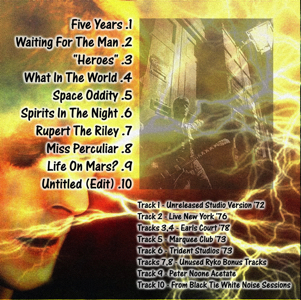 (Visited 1,313 times, 1 visits today)