David Bowie 2000-06-25 Gladstonbury ,Worthy Farm ,Glastonbury Festival –Glastonbury Messiah –
Sound Quality Rating
Glastonbury 2000 at Worthy Farm, Pilton, Somerset, June 25, 2000:
01. Wild Is the Wind
02. China Girl
03. Changes
04. Stay
05. Life On Mars?
06. Ziggy Stardust
07. "Heroes"
TFI Friday, CH4 UKTV in June 2000:
08. Wild Is the Wind
09. Starman
Remixed by Danny Saber:
10. Funhouse No2 – Clownboy Mix
11. Funhouse No3 – Clownboy Mutant Mix
12. Funhouse No5 – Clownboy Vocal Up
13. Funhouse No7 – Clownboy Instrumental
Hours outtake:
14. Trying To Get To Heaven
Label : BOW 2000
Audio Source :
Lineage : Unknown
Taping Gear : Unknown
Taper: Unknown
Recording Location: Unknown
Total running time : 1:01:13
Sound Quality : Excellent quality! Equals record or radio
Attendance : Unknown
Artwork : Yes
Cover : printed full colour cover Records: 1 CD Released: 2000
Bonus : 4 page front cover
The Hours… touring schedule ended in spectacular style with David headlining the closing night of the 2000 Glastonbury festival in front of an estimated 150,000 people. Reportedly the largest attendance at the event ever and a far cry from an earlier appearance at the inaugural Glastonbury with Hawkwind in front of a couple of thousand people.
Backstage catering consisted of milk and cheese in Michael Eavis kitchen then. This time, the banners fluttered in the wind and the crowd stretched as far as the eye could see. A 21 song set saw David open with Wild is the Wind and finished with the ambiguously titled I'm afraid of Americans. A fitting close to what was a spectacular year.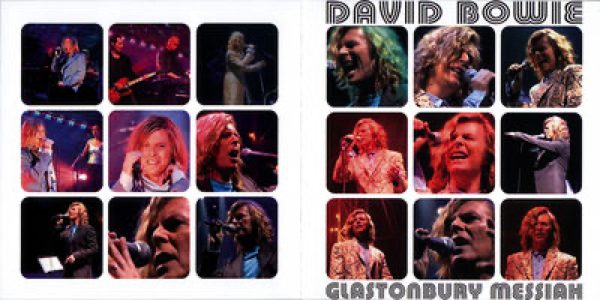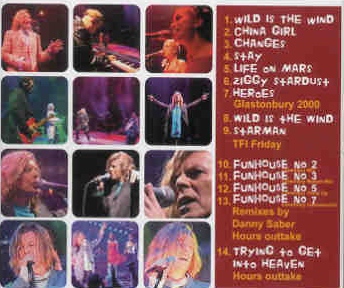 David Bowie Tour band 2000 Mini -Tour
The Mini Tour was a small-scale concert tour by David Bowie including his performance at the Glastonbury Festival on 25 June 2000 and a concert at the BBC Radio Theatre, BBC Broadcasting House, London, on 27 June. It is considered by some to be part of the Hours Tour.
The live recording made on 27 June 2000 for the BBC was documented on a bonus CD included with the first edition of Bowie at the Beeb (2000). The full performance from the Glastonbury show was released as Glastonbury 2000 on 30 November 2018.
Start date: 16 June 2000
End date: 27 June 2000
The Tour band
• David Bowie – vocals, acoustic guitar, harmonica
• Earl Slick – lead guitar
• Mark Plati – rhythm guitar, acoustic guitar, bass guitar, backing vocals
• Gail Ann Dorsey – bass guitar, rhythm guitar, clarinet, vocals
• Sterling Campbell – drums, percussion
• Mike Garson – keyboards, piano
• Holly Palmer – percussion, vocals
• Emm Gryner – keyboard, clarinet, vocals



(Visited 1,274 times, 1 visits today)