David Bowie Something In the Airwaves (A collection of TV & Radio performances 1999).      
Sound Quality Rating
London ,Later With Jools Holland ,recorded 2nd December 1999 ,broadcast 4th December 1999   
01. Ashes To Ashes
02. Something In The Air
03. Survive
04. Cracked Actor
Rosie O Donnell Show ,broadcast 17th November 1999  
05. Thursday's Child
06. China Girl
TFI Friday (UK TV) recorded 8th November 1999 ,broadcast 26th November 1999  
07. Rebel Rebel
Nuille Part Ailleurs (Canal + TV) broadcast 26th November 1999 – (claimed to be from Nulle Part Ailleurs, but wasn't played for that show. Perhaps from Elysée Montmartre on 14th October)  
08. Survive
09. Repetition
10. Something In The Air
11. Seven
12. Thursday's Child
13. China Girl
14. The Pretty Things Are Going To Hell
London ,Mark & Lard (BBC Radio) broadcast 25th October 1999  
15. Drive In Saturday
16. Can't Help Thinking About Me
Label : No label > DB 99/00
Audio Source : Unknown
Lineage : Unknown
Taping Gear : Unknown
Taper: Unknown
Recording Location: Unknown
Total running time : 1:08:05
Sound Quality : Excellent quality! Equals record or radio
Attendance : Unknown
Artwork : Yes
A refreshing 'compilation' bootleg covering five appliances promoting the period Hours… album which has been recorded in typically excellent audio quality. Kicking off the set we get a nice version of the 80's hit Ashes to Ashes and it's good to finally hear a version of Rebel Rebel with out the cheesy 'sha la la la la la' soul backing bollocks on it. Also good to hear is Repetition which Bowie resurrected during the Hours period, it was an odd sort of track about wife beating which was by far the best track on the sloppy Lodger album, and a fairly good track in its own right. Gail Ann Dorsey played bass during these performances but didn't provide vocals, which were left to another two performers who did a very solid job, and their softer and more 'typically feminine'voices helped to create a sound which was more akin to the Hours album.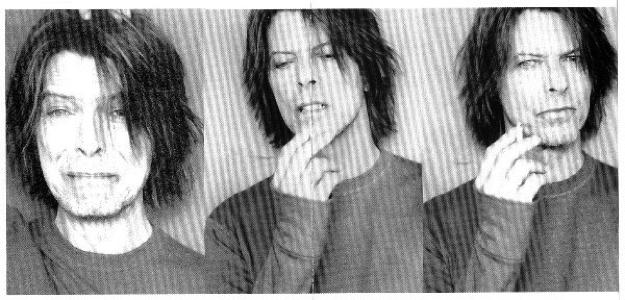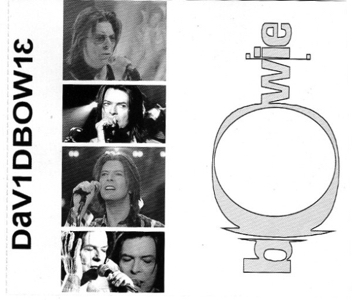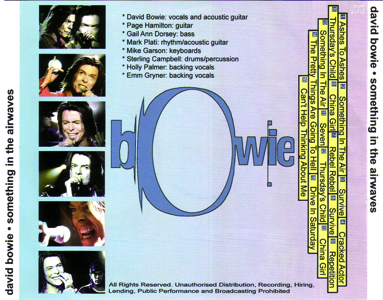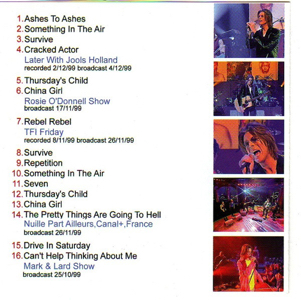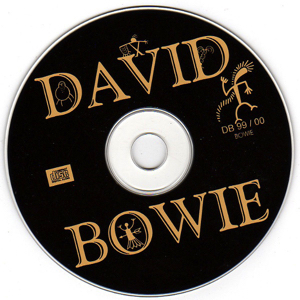 David Bowie Tour band 1999 Hours Tour
The Hours Tour was a small-scale promotional concert tour by David Bowie comprising eight live performances and numerous television appearances in support of the album Hours. Guitarist Page Hamilton, founding member of Helmet, was drafted to replace Reeves Gabrels whose final performance and association with Bowie ended at the VH1 Storytellers performance on 23 August 1999. Rumours of a split were denied by both parties, until a few months later the story changed as the guitarist admitted that he and Bowie had drifted apart.
The Tour band
• David Bowie: vocals
• Page Hamilton – lead and rhythm guitar
• Gail Ann Dorsey: bass guitar, vocal
• Sterling Campbell – drums, percussion
• Holly Palmer – backing vocals, percussion
• Mark Plati – lead and rhythm guitar, acoustic guitar, bass guitar, backing vocals, Music_director
• Mike Garson: keyboards, backing vocals
• Emm Gryner – backing vocals



(Visited 670 times, 1 visits today)