Culture.pl takes a walk in Warsaw along the route David Bowie took during the mythical train stopover that led to his classic song Warszawa, a fan favourite from his 1977 album Low
On the gloomy morning of 11th January 2016, media around the globe reported the death of David Bowie, one of the most original music stars in history. At Culture.pl, we would like to pay tribute to him by telling you the story of his song Warszawa, inspired by his short visit to Poland's capital.
David Bowie visited Warsaw only twice: in 1973 and 1976. Both visits were simple train stopovers during his journeys between Western Europe and Moscow . Bowie biography diggers are not unanimous which of these visits resulted in the titling of the songWarszawa, so we'll indulge them and give this story two alternative introductions.
David Bowie did not fly
In the early 1970s, David Bowie had a severe fear of flying:
I won't fly because I've had a premonition I'll be killed in a plane crash if I do. If nothing happens by 1976 I'll start to fly again.
Introduction A
Between February and May 1973, Bowie completed an entire circuit of the Earth, crossing the Atlantic by ship, then making his way across the USA by van and train, before crossing the Pacific by ship to perform in Japan. After finishing his concert tour in Japan in April 1973, he decided to go back to London by train, going across the entire width of the Soviet Union. He took the almost 10,000-kilometre-long Trans-Siberian Railway to get to Moscow and there changed for the legendary Ost-West Express that used to link Moscow with Paris. The latter always stopped in Warsaw for technical reasons, usually for about an hour.
Introduction B
Other Bowie experts say that during that first visit to Warsaw, he  spent most of the stopover being held up on the train by a rigorous passport control officer. That would mean he could only have seen glimpses of the city through the window of his compartment. However, the Thin White Duke came back to Warsaw in 1976, this time accompanied by Iggy Pop. During this brief visit, the train was kept at the station for a few hours while they were free to stroll around.
Warsaw stopover
No matter if it was in 1973 or 1976, David Bowie used the occasion to leave the train and take a short walk around Warszawa Gdańska station. He went north and reached Paris Commune Square (present-day Wilson Square) and popped into a nearby record shop. Reportedly, upon entering, he saw the shop assistant showing a record by the Śląsk Polish National Song and Dance Ensemble to one of his customers. Bowie heard the music, bought the record and went back to Warszawa Gdańska to catch his train before it continued its journey. No one would ever have known about his short stay in Warsaw if it hadn't been for that one, seemingly insignificant, vinyl record.
The Berlin Trilogy starts
In 1976, Bowie temporarily moved to Berlin to get out of 'the cocaine centre of the world' (as he used to refer to Los Angeles),  because he was recovering from addiction. There, he started recording his eleventh album, Low, which would eventually go down in history as the first of the Berlin Trilogy and one of his most influential and celebrated releases. Bowie worked on the album with two renowned figures: composer Brian Eno and producer Tony Visconti.
Warszawa's instrumental part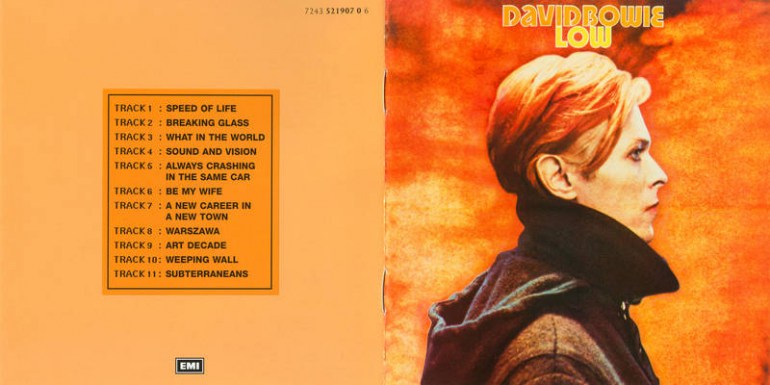 One day, when David Bowie was away in France attending court hearings against his former manager, Visconti's 4-year-old son started playing a few notes looped on the studio piano. Eno loved it so much that he started developing the loop into a longer melody and then, together with Visconti, they experimented with synthesizers over the theme. Using this method, they created the first two movements of a song – a few minutes of very dramatic, monumental and dark instrumental music. They presented it to Bowie immediately upon his return
Warszawa's vocal part
According to Visconti's recollections, Bowie was very impressed with the mood and sound texture of the piece. Looking for inspiration for the vocal part, he turned to his memories of a journey across the communist side of the Iron Curtain. In an interview with Polish magazine Tylko Rock, Bowie recalled:
In that tune [Warszawa], I wanted to express the feelings of people who yearn to be free, they can smell the scent of freedom… but they can't reach it.
He turned to the record he bought in Warsaw and, inspired by the song Helokanie, began recording Warszawa's choral parts, vocal layer by vocal layer, on his own.
The lyrics he came up with, sometimes believed to be in Polish, were actually invented by him and do not mean anything in any language known to humankind:
Mmmm-mm-mm-ommm

Sula vie dilejo

Mmmm-mm-mm-ommm

Sula vie milejo

Mmm-omm

 

Cheli venco deho

Cheli venco deho

Malio

 

Mmmm-mm-mm-ommm

Helibo seyoman

Cheli venco raero

 

Malio

Malio
In the previously-mentioned interview, Bowie said that he believed that the phonetics of the lyrics could express the emotions and convey the message even if they didn't really mean anything. Warszawa proves him right. The choral part, perfectly fitting the solemn but gloomy character of the music, has become one of the best illustrations of longing for freedom ever recorded in popular music.
Legacy
The song itself was widely acclaimed as the best on the album and became Bowie's concert opener for tours in 1978 and 2002.
Ian Curtis of Joy Division was so obsessed with Warszawa that he initially named his band Warsaw, changing the name to Joy Division only to avoid confusion with a London-based band called The Warsaw Pact.
.
(Visited 1,179 times, 1 visits today)