A thrilling, unconventional hymn to the chameleon who reshaped music time and again
"Everyone has their own Bowie," Paul Morley writes in this discursive, free-associating ride across the life and work of the Starman Who Changed the World. More accurately, perhaps, we all have our own Bowies, since there were – there are – so many of them, from mod opportunist to free-festival minstrel to "leper messiah" to Thin White Duke to… well, where does it end?
Morley presents Bowie as a personal pop hero, the Bromley chancer and all-devouring dilettante who remade a world where difference becomes everything. Readers recalling – fondly or otherwise – the author's style in the NME of the late 70s and 80s will know not to expect anything but a different kind of "biography" of the man whose death in January plunged many of us into mass grief. (One of my Bowies is simply the sweet-natured man who found middle-aged happiness with Iman and, later, their daughter Lexi.)
Whether or not one entirely accepts Morley's claim that he wrote these 450 pages in 10 weeks, The Age of Bowie does feel like an outpouring of the sincerest love for its subject, the fruit of an obsessive immersion in everything Bowie meant to him and to us. Eschewing the conventionally dry biographical voice, Morley's expansive present-tense prose flows from the loosening of the superego, his id let out to play in a style that's at times neo-gonzo, at others like an inspired hybrid of Nik Cohn and the Julian Cope of Krautrocksampler. I hold him to be one of the great pop writers. You might even call him the Bowie of rock journalism.
Ten weeks or no, Morley had already given Bowie much thought in the years prior to that shockingly sudden death: he was, after all, part of the team that put together the V&A's sensationally successful exhibition David Bowie Is (which inevitably becomes a meta-textual element of The Age of Bowie). One of the book's strengths is its willingness to skate across Bowie's timeline as if it's not linear at all but part of the same grand pop design. If the auteurist approach sometimes borders on the implausibly teleological, it makes for a read that's never cliched or dutifully plodding; that's always feeling its instinctive way to saying what actually matters about Bowie's art.
Stick with Morley's streaming pop consciousness and you'll surely delight in such sentences as "a great pop song is the future that already sounds like the past: a kind of instant heaven on earth", or his sketch for 1975's Young Americans as "soul music without a soul… detached and intimate at the same time, deluxe and ascetic, generic and avant garde, coolly frantic, a nicely ironic commentary on the unbearable lightness of fame".
This is a book for those who know their Bowie basics, meaning that Morley is not required to overegg the decisive moments in the career. His Bowie begins, as mine did, in 1972 with the space invasion of our transistor radios by Ziggy Stardust and his well-drilled Spiders. Never truly finding his footing in the 60s, Bowie almost seems to await the explosive 70s moment when Ziggymania grips legions of morose teen misfits from every point along the British class spectrum. "He sang about dismay and despair," Morley writes, "[…] but it sounded at first as though he was spreading light and delight." Who of my generation could forget the endearing bisexual chumminess of Bowie and lead guitarist Mick Ronson?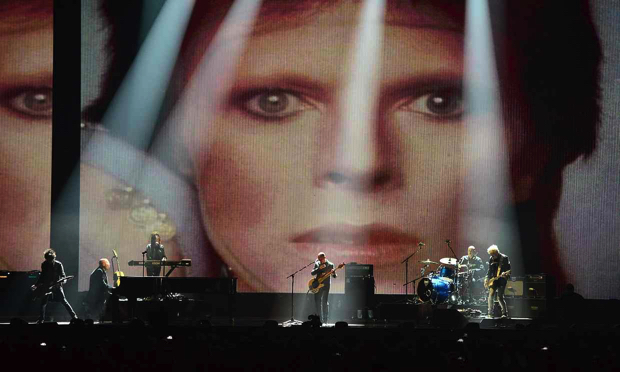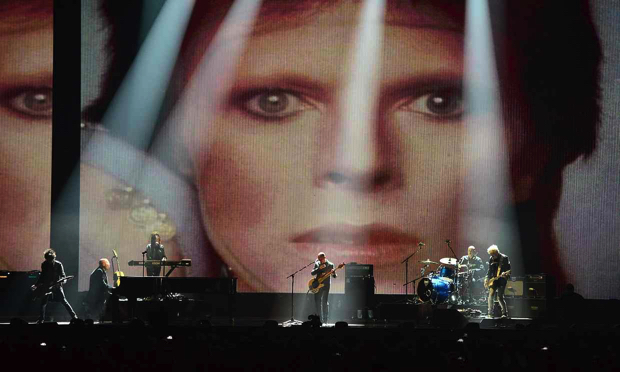 Unsurprisingly the 70s consume most of Morley's attention; not even Bowie himself could have taken offence at the short shrift given to Tonight or Tin Machine (though I'd have liked more on 2002's underrated Heathen, which reunited him after 22 years with producer Tony Visconti). It remains miraculous that the glacial balladry and thundering funk-rock of 1976's Station to Station emerged from the darkest period of Bowie's life, when the skeletal White Duke was lost to a cocaine whiteout in Hollywood Babylon; less so that the "stark, pulsating post-pop" and Eno-assisted electronica of the Berlin albums Low and "Heroes" were partly the sound of Bowie's soul healing. Afforded honorary exemption from punk's purging putsch, these magnificent records were wholly in tune and synch with the emerging sound of Joy Division.
If fans of Low's Warszawa and "Heroes"' Neuköln balked at the glossy blond funk of 1983's Let's Dance, Morley seems to begrudge Bowie nothing in the long impasse before he returned to Potsdamer Platz on 2013's wholly unexpected The Next Day. Indeed, he itemises the countless cameo activities that kept Bowie engaged with pop culture, even if it's a bit far fetched to suggest that the issuing of the infamous Bowie bonds in 1997 was "as much a work of art as anything he did".
As it draws to its close, The Age of Bowie becomes mildly repetitive in its contention that Bowie was in total control of everything he did, as if even his bad music was made deliberately. When Morley argues that "those looking for a new, groundbreaking and conceptual Bowie" in his later years were "looking in the wrong place", one suspects he was one of the many looking there.
None of which detracts from what is a thrilling hymn to a brilliant and beloved "song and dance man" – the missing link, as the book wryly suggests, between Sammy Davis Jr and Samuel Beckett. David Bowie did make a world of difference, and Paul Morley explains why.
The Age of Bowie is published by Simon & Schuster (£20). Click here to buy it for £16.40
.
(Visited 226 times, 1 visits today)