Robin Mayhew who was the sound mixer on the Ziggy Stardust tour has released his version of the famous last Ziggy concert. The recording is complete including Jeff Beck and is straight from the soundboard.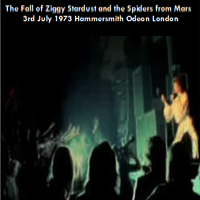 Recorded directly from the sound console. This recording was made on a portable cassette machine on the night of the show , transferred to reel to reel in 1976 and to CD in 2008 .The only studio engineering done on Robin Mayhew recording is the first part of Wendy Carlo's March from Clockwork Orange because the orginal tape was slightly stretched (note:you can hear Ronno join in with a couple of shorts at the end) and the attenuation of a feedback howl during the opening song Hang on To Yourself
No one knew this would be the last show ever so no special recording arrangement was made by me. In other words what you hear is just how it was with no mastering or modifications. This is what happened on stage that night and though the poor cassette is a little worn ,
Robin Mayhew do hope you enjoy what was heard that momentous night in London in July 1973.
The 3rd Ziggy Stardust UK tour finishes at the Hammersmith Odeon Theatre, London. This concert comes to be known as the "Retirement Gig." Jeff Beck attends as special guest. Before this gig Bowie had announced that he would take a short holiday when the tour was over, before recording at the Chateau in France and then planned to return to the US for another tour.
Disc 1 53:49          Disc 2 56:01
SOUND SAMPLE  !!!!!!!!!

Robin Mayhew is selling selfmade CDRs for £10 (UK) and £15 (International) at his website. 20% goes to charity.
You can buy the 2 CDR-set from:
http://www.robinmayhew.co.uk/pages/rmshop.htm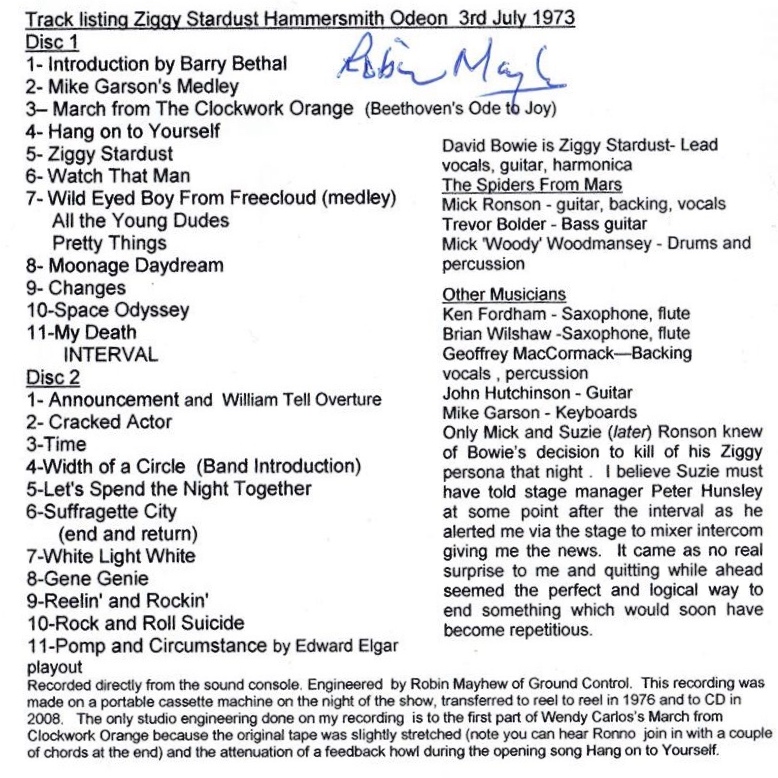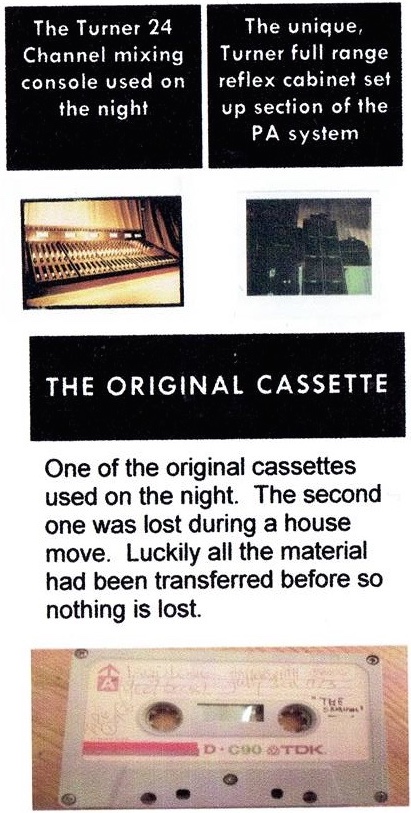 Songwriter/Composer/Producer,
Barnham, West Sussex
www.robinmayhew.co.uk
The concert is filmed by D.A Pennebaker and recorded by RCA Mobile with the intention of releasing a live double album in February 1974 provisionally tilted BOWIE-ING OUT. This eventually becomes the 1983 soundtrack album, film and video ZIGGY STARDUST – THE MOTION PICTURE minus the live performances of "Jean Genie/Love Me Do" and "Round and Round." Just prior to the last encore number Bowie steps up to the mike and announces:
"Everybody…this has been one of the greatest tours of our lives. I would like to thank the band. I would like to thank our road crew. I would like to thank our lighting people. Of all of the shows on this tour, this particular show will remain with us the longest (cheers from the audience) because not only is it…not only is it the last show of the tour, but its the last show that we'll ever do. Thank you"
Illustration by Mike Allred (Red Rocket 7 #4 November 1997)
This shocks Ziggy fans who scream "No!" Bowie then launches into "Rock n Roll Suicide" and at the finish of the song concludes:
"Thank-you very much. Bye-bye. We love you."
Bowie's announcement is also a major shock for The Spiders From Mars who were unaware that Bowie had also decided to retire them from ever touring again. Only Tony DeFries and Mick Rock were aware of the announcement. That night Bowie and a handful of friends hold a small party at the Inn On the Park..
Note Robin
Please – if you ever visit You Tube have a listen to one of my songs which will be a bonus track on my forthcoming album Shallow and Deeper. The song is called Together (A Song for Isobel) sung by Charlotte Howard. If you are a parent or perhaps a grandparent you may enjoy the sentiment. Please spread the word.  Simply search with my name in YouTube and you will find it.
(Visited 1,437 times, 1 visits today)