David Bowie Best of Bowie (2002) is a career-spanning greatest hits album by multi-platinum recording artist David Bowie. The songs range from his second album (1969) to 2002. It was released 35 years after his first album, David Bowie.
(5/5)
In each of the 21 territories that the album was released, it was given its own track listing, based upon which songs were most popular locally. In a number of countries, there were two versions – a single disc version, and a double disc version. All in all 63 tracks appear in at least one of the 20 different versions. The country the edition came from can be identified by a small national flag on the spine, except for the Argentine/Mexican, Eastern European and UK editions, which are "flag-less".
All the tracks are digitally remastered either from 1999, or, for the single edits from 2002, with the exception of "Under Pressure", which is also at a lower volume than the rest of the disc.
A DVD version of the compilation was also released, containing 47 videos and live performances as well as alternate versions as easter eggs. Some of the videos on this collection, notably China Girl," Loving the Alien" and Day-In Day-Out" are the censored versions of the original videos
DVD 1:
01. David Bowie – Oh! You Pretty Things (Take 2)
02. David Bowie – Oh! You Pretty Things (Take 1)
03. David Bowie – Queen Bitch
04. David Bowie – Five Years
05. David Bowie – Starman
06. David Bowie – John, I'm Only Dancing
07. David Bowie – The Jean Genie
08. David Bowie – Space Oddity
09. David Bowie – Drive-In Saturday
10. David Bowie – Interview With Russell Harty
11. David Bowie – Life On Mars?
12. David Bowie – Ziggy Stardust
13. David Bowie – Rebel Rebel
14. David Bowie – Young Americans
15. David Bowie – Be My Wife
16. David Bowie – "Heroes"
17. David Bowie – Boys Keep Swinging
18. David Bowie – D.J.
19. David Bowie – Look Back In Anger
20. David Bowie – Ashes To Ashes
21. David Bowie – Fashion
22. David Bowie – Wild Is The Wind
23. David Bowie – Let's Dance
24. David Bowie – China Girl
25. David Bowie – Modern Love
26. David Bowie – Cat People (Putting Out Fire)
27. David Bowie – Blue Jean
28. David Bowie – Jazzin' For Blue Jean
29. David Bowie – Blue Jean (Alternate Version For MTV)
30. David Bowie – Loving The Alien
31. David Bowie & Mick Jagger – Dancing In The Street
DVD 2
01. David Bowie – Absolute Beginners
02. David Bowie – Underground (DVD)
03. David Bowie – As The World Falls Down (DVD)
04. David Bowie – Day-In Day-Out
05. David Bowie – Day-In Day-Out (Extended Dance Mix)
06. David Bowie – Time Will Crawl
07. David Bowie – Never Let Me Down
08. David Bowie – Fame 90
09. David Bowie – Jump They Say
10. David Bowie – Black Tie White Noise
11. David Bowie – Miracle Goodnight
12. David Bowie – Miracle Goodnight (Remix Version)
13. David Bowie – Buddha Of Suburbia
14. David Bowie – The Hearts Filthy Lesson
15. David Bowie – Strangers When We Meet
16. David Bowie – Hallo Spaceboy
17. David Bowie – Little Wonder
18. David Bowie – Dead Man Walking
19. David Bowie – Seven Years In Tibet
20. David Bowie – Seven Years In Tibet (Mandarin Version)
21. David Bowie – I'm Afraid Of Americans
22. David Bowie – Thursday's Child
23. David Bowie – Survive
24. David Bowie – Survive (Live)
Label: Virgin – 07243 4 90106 9 7, EMI – 07243 4 90106 9 7
Format Video: 2 x DVD, DVD-Video, NTSC
Format Audio:
Language: English
Audio: Stereo
Region: All Regions
Country:
Released: 2002
Time: min
Artwork: Yes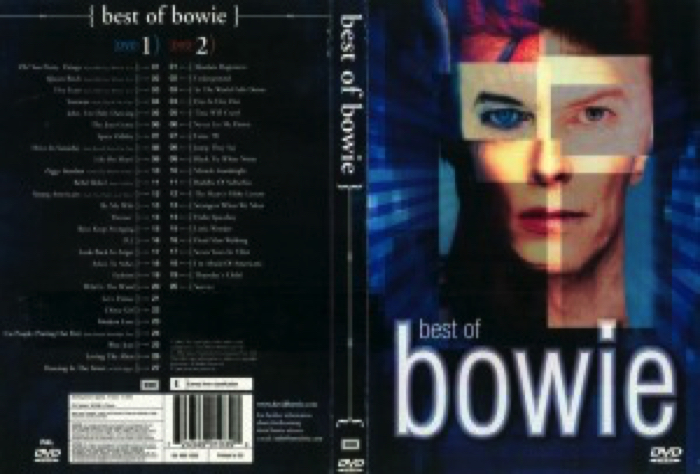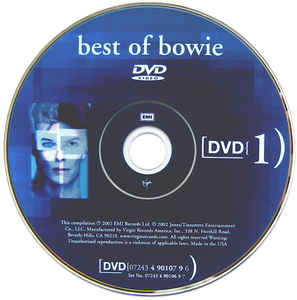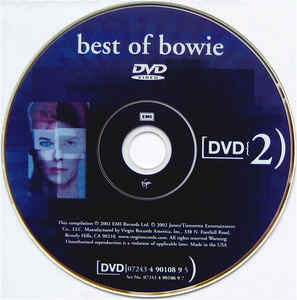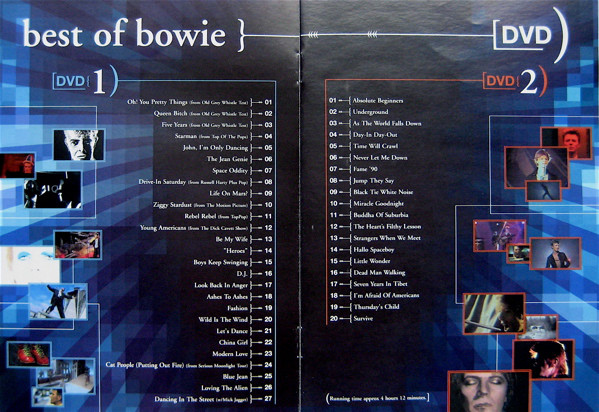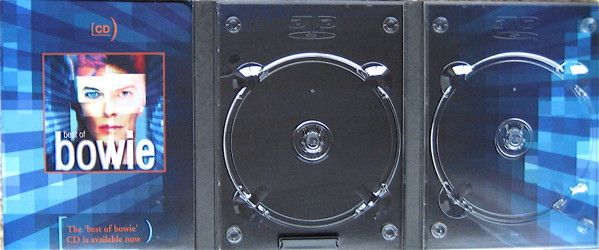 (Visited 2,782 times, 1 visits today)