A Reality Tour is a DVD released in 2004 of David Bowie's performance at Point Theatre in Dublin, Ireland in 2003 during the Reality Tour.
The set list includes tracks spanning Bowie's 30 plus years in the music business, from The Man Who Sold the World (1970) all the way to Reality (2003), along with collaborations such as "Sister Midnight" (with Iggy Pop) and "Under Pressure" (with Queen). There is a bit more focus, however, on tracks from the albums released since the Earthling World Tour in 1997, Heathen (2002), and Reality, whose tracks constitute 10 of the 30 songs performed.
The only exception from his latest albums is 'hours…' (1999); no tracks from this album were included on this DVD, possibly due to poor reception of the album, and no songs from the album were included in his touring repertoire. Other albums with no appearance included the cover album Pinups (1973), the ill-received Never Let Me Down (1987), the albums produced with the band Tin Machine, and Black Tie White Noise (1993). Aladdin Sane (1973) also made no concert appearance in the video, although songs from the album appeared on the tour.
A notable inclusion into the performance was the set of three songs from The Rise and Fall of Ziggy Stardust as the final encore. Though Bowie had performed the pieces many times through his career, the pieces had not been toured since 1978 when the live interpretations were featured on the Stage album.
The interpretations presented often a heavier and more complex sound than those of the album releases to suit the band for which the Reality album had been written; a more dynamic "Rebel Rebel" which later saw a release as a bonus track was arranged as an opener which included notably some audience participation and Bowie finishing his performance with the Irish phrase "Tiocfaidh ár lá", which means "Our day will come". Use of audience vocals appear in a number of tunes, including "All the Young Dudes", in which Bowie's voice was somewhat out of range to sing the chorus, and "Life on Mars?", which the audience faithfully sang along to.
Concert Introduction – 2:42
01. Rebel Rebel (from Diamond Dogs) – 3:25
02. New Killer Star" (from Reality) – 4:55
03. Reality (from Reality) – 4:21
04. Fame (from Young Americans) – 4:11
05. Cactus (from Heathen) – 2:34
06. Sister Midnight (originally from The Idiot by Iggy Pop) – 4:37
07. Afraid (from Heathen) – 3:26
08. All the Young Dudes (from Ziggy Stardust: The Motion Picture) – 3:25
09. Be My Wife (from Low) – 3:12
10. The Loneliest Guy (from Reality) – 4:00
11. The Man Who Sold the World (from The Man Who Sold the World) – 4:04
12. Fantastic Voyage (from Lodger) – 3:06
13. Hallo Spaceboy" (from Outside) – 5:27
14. Sunday (from Heathen) – 5:49
15. Under Pressure (a single by Bowie and Queen from Queen's Hot Space) – 4:17
16. Life on Mars (from Hunky Dory) – 4:47
17. Battle for Britain (The Letter) (from Earthling) – 4:40
18. Ashes to Ashes (from Scary Monsters (and Super Creeps) – 5:29
19. The Motel (from Outside) – 6:00
20. Loving the Alien (from Tonight) – 5:16
21. Never Get Old (from Reality) – 4:18
22. Changes (from Hunky Dory) – 3:48
23. I'm Afraid of Americans (from Earthling) – 5:19
24. "Heroes" (from "Heroes") – 7:25
25. Bring Me the Disco King (from Reality) – 8:03
26. Slip Away (from Heathen) – 6:23
27. Heathen (The Rays) (from Heathen) – 6:01
28. Five Years (from The Rise and Fall of Ziggy Stardust and the Spiders from Mars) – 4:40
29. Hang on to Yourself (from The Rise and Fall of Ziggy Stardust and the Spiders from Mars) – 2:59
30. Ziggy Stardust (from The Rise and Fall of Ziggy Stardust and the Spiders from Mars) – 4:40
21. Concert Exit and Credits – 2:09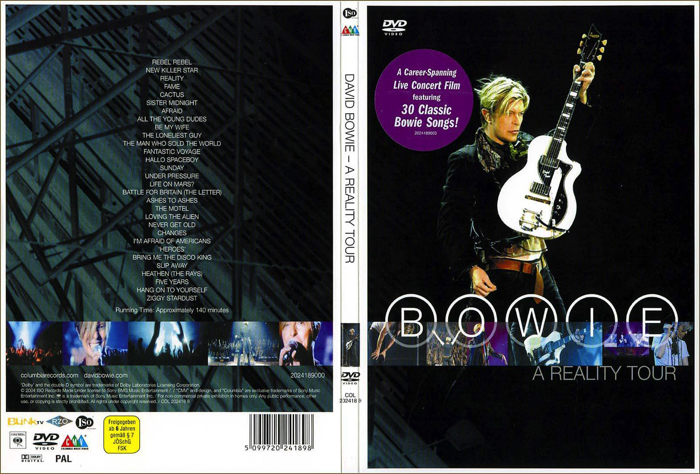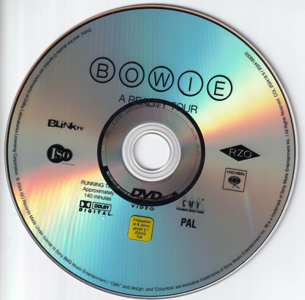 (Visited 722 times, 1 visits today)