David Bowie 1990-04-22 Dortmund ,Westfalenhalle – "Nur Fur Einen Tag…" –
(2/5)
DVD contents:
00. Intro: Ode To Joy
01. Space Oddity
02. Changes
03. TVC 15
04. Rebel Rebel
05. Be My Wife
06. Ashes To Ashes
07. Fashion
08. Life On Mars
09. Blue Jean
10. Letís Dance
11. Stay
12. China Girl
13. Sound And Vision
14. Ziggy Stardust
15. Station To Station
16. Young Americans
17. Suffragette City
18. Fame
19. "Heroes"
encores:
20. Panic in Detroit
21. Pretty Pink Rose
22. The Jean Genie
Label: None
Lineage: I bought the VHS from the original taper Gamal in 2002 => Panasonic standalone recorder harddisc => DBW
Author: Panasonic standalone recorder / VHS transfer:
Menu: yes / basic
Chapters: yes / auto-chapters
Transfer Rate: 5260 kbps/s
Format: PAL / 25fps
Audio: AC3 / 256 Kbps stereo
Aspect Ratio: 4:3
Number of Discs: 1
Disc Type: DVD5
Total Running Time: 1h 47m 44s
Artwork: by TMWSTW33
Notes:
> The VHS showed very little signs of aging. Video is good quality but shot from the distance – Bowie looks very small, and often fuzzy because of that.
> The taper was sitting opposite the stage, in this quite large, arena-type venue. The sound is slightly distorted but listenable.
> During "Heroes", Bowie sings a couple of lines in German: "Nur f¸r einen Tag" (Just for one day") "Wir sind dann Helden" (Then we will be heroes).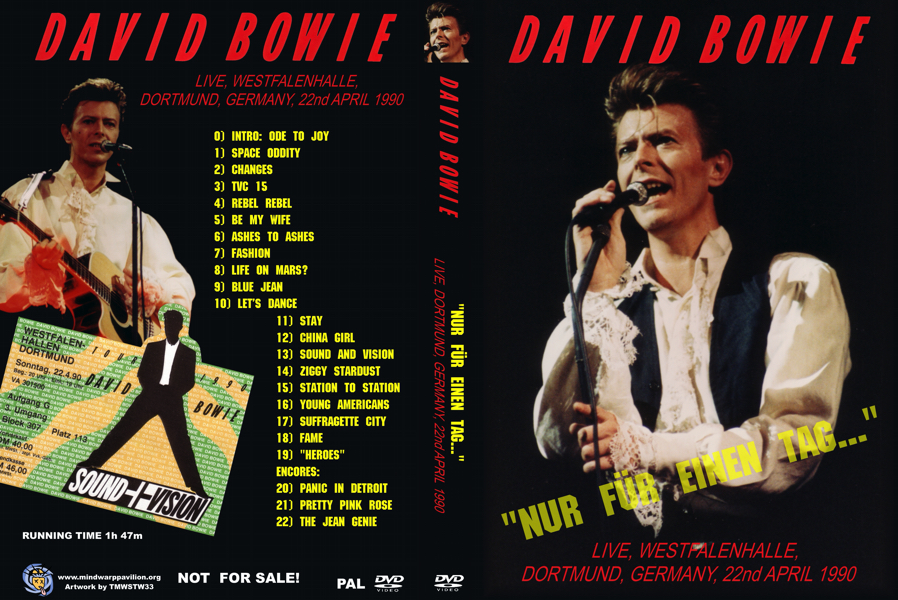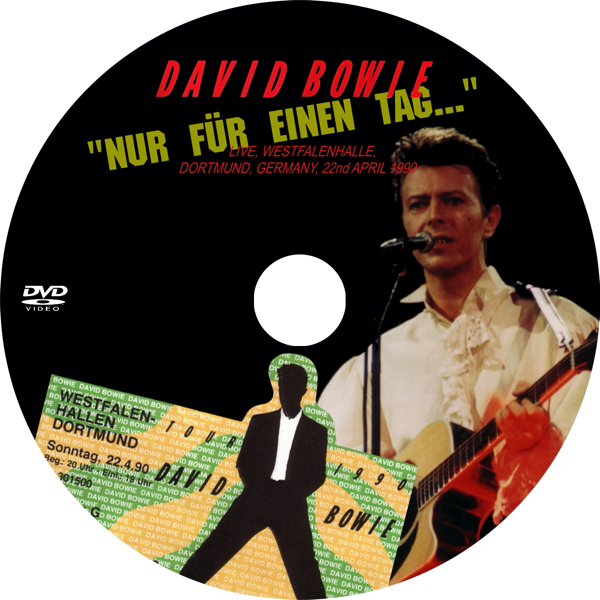 David Bowie Tour band 1990 – Sound+Vision Tour
Bowie specifically chose a smaller band for the tour, saying in a contemporary interview that "It's a much smaller sound. It's not quite as orchestrated as any of the other tours. The plus of that is that there is a certain kind of drive and tightness that you get with that embryonic line-up, where everybody is totally reliant on the other two or three guys, so everybody gives a lot more"
• David Bowie – vocals, guitar, saxophone[
• Adrian Belew – guitar, backing vocals, music director
• Erdal Kızılçay – bass guitar, backing vocals
• Rick Fox – keyboards, backing vocals
• Michael Hodges – drums
[real3dflipbook id="3″]

.
.
.
(Visited 37 times, 1 visits today)