David Bowie The Year Of The Diamond Dogs – David Bowie 1974 – rare silent footage of the Diamond Dogs Tour dubbed to live audio from this tour (50 minutes),
songs are:
Future Legend/Diamond Dogs, Moonage Daydream, Sweet Thing/Candidate/Sweet Thing (reprise),Time, Cracked Actor, Panic In Detroit, Aladdin Sane, Big Brother, Space Oddity, Rock n' Roll Suicide.
PLUS BONUS FOOTAGE (45 minutes):
11. Credits for live footage/Slide Show accompanied by the song 'It's Gotta Be Me' (7 minutes).
12. A & E Biography documentary clip 2002 about Diamond Dogs (10 minutes).
13. Cracked Actor clip (35 seconds).
14. Dancing In The Streets documentary clip 1990 about Diamond Dogs (7 minutes).
15. David Bowie television advertisements from the 1970's (3 minutes).
16. 1984/Dodo from the 1980 Floor Show (5 minutes).
17. The 17th Annual Grammy Awards 01/03/1975 (5 minutes).
18. Philly Dogs clip (1 minute).
19. VH1 Legends documentary clip 1999 about Diamond Dogs (4 minutes).
20. Credits for bonus footage accompanied by the song 'Zion' (2 minutes).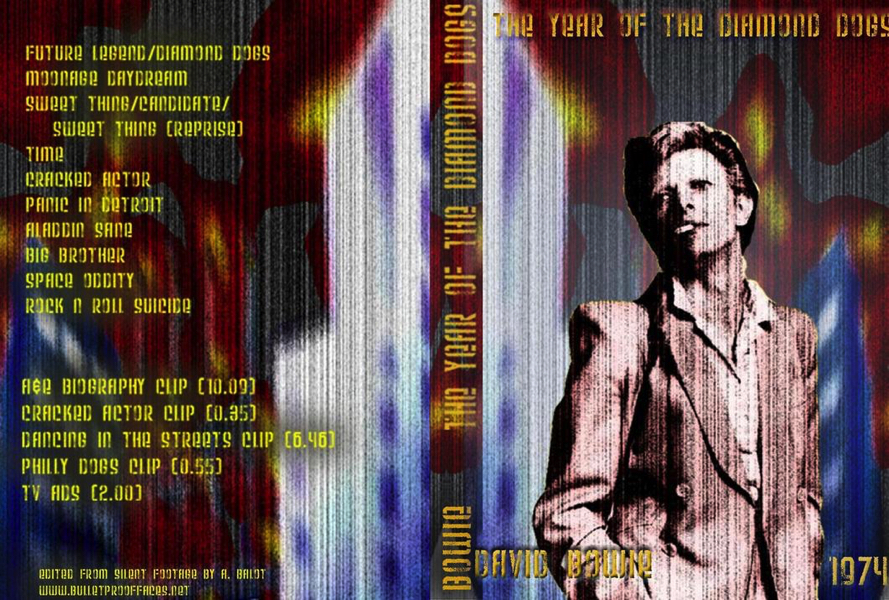 (Visited 653 times, 1 visits today)