David Bowie & The Astronettes – Having a Good Time (Trident Sessions with David Bowie 1973)
Sound Quality Rating
A complete session by The Astronettes at Trident Studios. Produced by David Bowie
01. Seven Days – Astronettes .flac
02. Highway Blues – Astronettes .flac
03. How Could I Be Such A Fool – Astronettes .flac
04. Having A Good Time – Astronettes.flac
05. Only Me – Astronettes .flac
06. I am A Laser- Astronettes .flac
07. Things To Do – Astronettes .flac
08. God Only Knows – Astronettes.flac
09. People From Bad Homes – Astronettes.flac
10. In The Mood For Love – Astronettes.flac
11. Spirits In The Night – Astronettes.flac
12. A mega-rare interview with David recorded in Philadelphia in February 1971. The highlight of the interview is David doing an ad for ski-boots!.flac
Label : No label
Audio Source : This is a "working copy" of the session and different from the album mix that was released by NMC
Lineage : Unknown
Total running time : 0:51:44
Sound Quality : very good. Equals record or radio/TV apart from a slight noise and some dullness.
Artwork : By Varhol
A complete session by The Astronettes at Trident Studios. Produced by David Bowie (who wrote some of the songs and can also be heard throughout the session). This is a "working copy" of the session and different from the album mix that was released by NMC."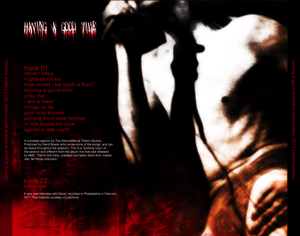 Before Bowie recorded the bulk of Diamond Dogs over three days in January 1974, he had been trying to get a "soul'" vocal trio off the ground. This was the Astronettes, who consisted of Bowie's new girlfriend Ava Cherry, his longtime friend Geoff MacCormack (aka "Warren Peace") and the unaffiliated Jason Guess.
Bowie abandoned the project once Diamond Dogs took on steam, though he kept the Astronettes as his backing singers. He scrapped the proposed Astronettes record in part because of management-related shenanigans, but it was also obvious that the patchy material wasn't commercially viable. It was sketchwork, but necessary sketchwork, as it turned out: Bowie couldn't have gotten to Young Americans or arguably Station to Station without these first false starts.
Some of the surviving tracks were issued decades later and merit a listen if only out of curiosity, as some of Bowie's Astronettes compositions are ancestors to his later songs. The promising (rhythmically, at least) "I Am Divine" is the first draft of Young Americans' "Somebody Up There Likes Me." "People From Bad Homes," with a needling keyboard whistle for its main hook, seems bottom-drawer material. Bowie liked the title enough to use it in a later lyric, but seems to have discarded the rest of the song.
"Things To Do" is in woeful debt to Santana, while the Astronettes, in what one can only hope was a scratch vocal, manage to sound off-key and clumsy, with Cherry colliding with her partners.
The best of the lot was "I Am a Laser," which Bowie would rewrite a half-decade later as "Scream Like a Baby." It's Cherry's best vocal of the sessions—she manages to find dignity and power in a lyric that has her promise "you'll feel my golden shower" and call herself the "black Barbarella." Cherry would have a frustrating career. She was a talented, adventurous singer who was relegated to the margins (both with Bowie and later with Luther Vandross); she seemed destined to make a breakthrough record, and never did.
All tracks were recorded in London from 3 December 1973 to 15 January 1974, and were finally released on the semi-official bootleg People From Bad Homes in 1995
Comments
See also People From Bad Homes with background to the Astronettes and their only album.
Having A Good Time is purported to be lifted directly from one of the sessions (according to the art, at Trident Studios, but actually from Olympic Studios) in late 1973. It would be surprising if the band simply played all eleven tracks straight through with not a great deal of comment between, but it's certainly the case that these are different versions from those finally released, so they are at the very least a document of work in progress.
The sound is good, perhaps a little bassy, so perhaps not first gen.
(Visited 1,439 times, 1 visits today)