David Bowie 1996-07-18 Phoenix ,Stratford-On-Avon ,Long Marston Airfield (Phoenix Festival) – Phoenix Festival 1996 – .
Sound Quality Rating
Live At the Phoenix Festival ,Long Airfield ,Stratford-Upon-Avon ,UK 18th July 1996
101. Introduction.flac
102. Look Back In Anger.flac
103. Scary Monsters (and super creeps).flac
104. The Heart's Filthy Lesson.flac
105. Outside.flac
106. Aladdin Sane (1913-1938-197).flac
107. The Voyeur Of Utter Destruction (as beauty).flac
108. The Man Who Sold The World.flac
109. Hallo Spaceboy.flac
110. Breaking Glass.flac
111. Telling Lies.flac
112. Jump They Say.flac
113. Under Pressure.flac
114. "Heroes".flac
115. Strangers When We Meet.flac
116. Lust For Life.flac
117. All The Young Dudes.flac
201. Encore Intro.flac
202. White Light White Heat.flac
203. Moonage Daydream.flac
Live Link Festival, Curva Sud, Stadio Olympico, Rome, Italy 9th July 1996 ,RAI Radio 2 Broadcast. .
204. Look Back In Anger.flac
205. Scary Monsters (and super creeps).flac
206. The Heart's Filthy Lesson.flac
207. Outside.flac
208. Aladdin Sane.flac
209. The Voyeur Of Utter Destruction (as beauty).flac
210. The Man Who Sold The World.flac
211. Hallo Spaceboy.flac
212. Breaking Glass.flac
213. Telling Lies.flac
214. Jump They Say.flac
215. Under Pressure.flac
216. "Heroes".flac
217. (Closing DJ Comments).flac
Extra DVD (DVD Broadcast version from ITV)
Label : wardour – 379
Audio Source : Stereo Soundboard recording
Lineage : Factory Silvers
Total running time : 2:27:54 (Exclusive DVD)
Sound Quality : very good. Equals record or radio apart from a slight noise and some dullness.
Attendance : 35.000
Artwork : Yes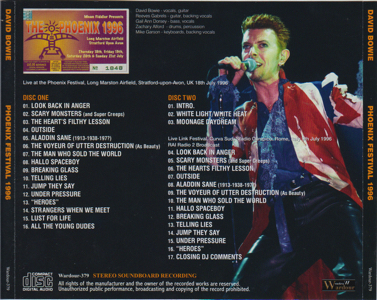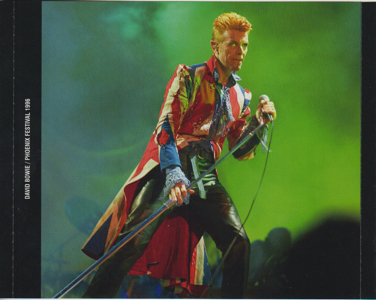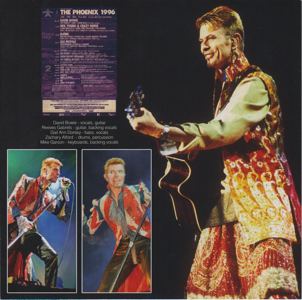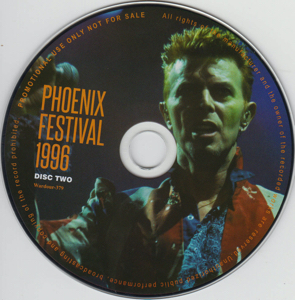 David Bowie Tour band 1996 – Outside Summer Festivals Tour & East Coast Ballroom Tour
Outside Summer Festivals Tour was a concert tour by David Bowie. Following on from the Outside Tour which ended in February 1996, the tour opened at Nippon Budokan in Tokyo, Japan on 4 June 1996. With a slimmed-down tour band from the previous tour, this tour visited to Japan, Russia and a string of performances on the European Summer festivals circuit.
Personeel
• David Bowie: vocals
• Reeves Gabrels: guitar, backing vocals
• Gail Ann Dorsey: bass guitar, vocals
• Zachary Alford: drums
• Mike Garson: keyboards, backing vocals
 
 
  
Notes.
I have left the CD splits as they are on the silver originals, although you may want to move the first 3 tracks off CD 02 into CD 01 and renname for each show in your personal archives (this is what I do, as I prefer complete shows in folders instead of CD breaks).
The Phoenix show is superb and a really nice recording (the DVD Broadcast version from ITV is also included on the trackers and it is in LPCM too) and the Rome show is taken from the RAI Radio 2 Broadcast version so again is of very good quality.
(Visited 573 times, 1 visits today)