David Bowie 2004-01-25 Seattle ,Paramount Theatre – Vancouver Bunny –
Sound Quality Rating
101. Intro.flac
102. Rebel Rebel.flac
103. New Killer Star.flac
104. Reality.flac
105. Fame.flac
106. Cactus.flac
107. All the Young Dudes.flac
108. China Girl.flac
109. I've Been Waiting for You.flac
110. Days.flac
111. A New Career in a New Town.flac
112. Breaking Glass.flac
113. Be My Wife.flac
114. Always Crashing the Same Car.flac
115. The Man who Sold the World.flac
116. Hallo Spaceboy.flac
117. Sunday.flac
201. Under Pressure.flac
202. Life On Mars_.flac
203. Panic In Detroit.flac
204. Ashes To Ashes.flac
205. White Light WHite Heat.flac
206. I'm Afrraid of Americans.flac
207. "Heroes".flac
208. Five Years.flac
209. Suffragette City.flac
210. Ziggy Stardust.flac
Label : No label
Audio Source : Audience recording
Lineage : DAT tape
Taping Gear : Audio Technica 853's mic. -> SP Battery Box (16hz-no rolloff) -> Sony M1 DAT (44.1khz)
Taper: Basshead02
Recording Location: Floor Right Row 12
Total running time : 2:02:26
Sound Quality : Good. Equals record or radio/TV apart from a slight noise and some dullness.
Attendance : Unknown
Artwork : Yes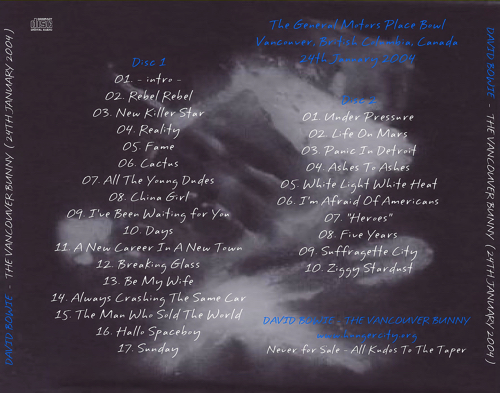 Another great show back to back nights
Fairly similar setlist but it comes of the stage a lot bigger than it did in Seattle. I think Seattle was my favorite of the two but they both have their own highlights. This was in a stadium that was cut down to be a smaller version of itself with some big curtains up. Made it more intimate than most shows at that venue. During this tour there was a fan in the audience who dressed up each night as a bunny and went to a bunch of Bowie stops on that tour (10 maybe?). He makes some comments to her on various nights of the tour which is pretty funny. She happens to be a Vancouver native (Lollipop Shoved!). After this show in Vancouver, she stood stage left as everyone filed out and someone from Bowie's camp tried to get her backstage. The local promoter (I wanna say it was Clear CHan) would not let him bring more people back that werent preapproved.
After Bowies management failed to convince the promoter to change their mind, Bowie himself came out and started screaming at their reps. He said I am making you guys millions of dollars, you cant tell me what to do, this is my last tour with you guys etc… It was awesome!! Seeing someone so oldschool trying to still connect with fans is sweet. Bowie is one of my musical heroes, hope to see many more years of his music, live or otherwise.
Bowie never has trouble filling in his tour roster, but this is the perfect balance of his old to their new. Gail Ann Dorsey, Earl Slick and a slew of other great players. Cactus shows that dirty Bowie that feels so much like Tin Machine.
The Life on Mars is one of the best ive heard. Halo Spaceboy!!! You forget that Bowie is in his late fifties!..I could go on, but its all worth a listen.
David Bowie Tour band 2003-2004 A Reality Tour
A Reality Tour was a worldwide concert tour by David Bowie in support of the Reality album. The tour commenced on 7 October 2003 at the Forum Copenhagen, Denmark, continuing through Europe, North America, Asia, including a return to New Zealand and Australia for the first time since the 1987 Glass Spider Tour. Bowie retired from performing live in 2006, making this tour his last.
The tour grossed US$46 million, making it the ninth-highest-grossing tour of 2004.
The Tour band
• David Bowie – vocals and acoustic guitar
• Earl Slick – lead guitar
• Gerry Leonard – guitar, backing vocals
• Gail Ann Dorsey – bass guitar, vocals
• Sterling Campbell – drums, percussion
• Mike Garson – keyboards, piano
• Catherine Russell – backing keyboards/backing vocals
Start date 11 June 2002
End date 23 October 2002



.
(Visited 343 times, 1 visits today)