David Bowie 2004-01-24 Vancouver ,General Motors Bowl Dome – Lend Me Your Sunglasses –
Sound Quality Rating
101. Intro.flac
102. Rebel Rebel.flac
103. New Killer Star.flac
104. Reality.flac
105. Fame.flac
106. Cactus.flac
107. She'll Drive The Big Car.flac
108. All The Young Dudes.flac
109. China Girl.flac
110. I've Been Waiting For You.flac
111. Days.flac
112. A New Career In A New Town.flac
113. Always Crashing In The Same Car.flac
114. The Man Who Sold The World.flac
115. Hallo Spaceboy.flac
116. Sunday.flac
201. Under Pressure.flac
202. Life On Mars_.flac
203. Panic In Detroit.flac
204. Ashes To Ashes.flac
205. White Light White Heat.flac
206. I'm Afraid Of Americans.flac
207. "Heroes".flac
ENCORE
208. The Loneliest Guy.flac
209. Blue Jean.flac
210. Hang Onto Yourself.flac
211. Five Years.flac
212. Suffragette City.flac
213. Ziggy Stardust.flac
Label : No label > From The Hunky Geordie Tapes – From The 100& British Archives –
Audio Source : Audience recording – Soundboard
Lineage : Sony M1 DAT
Taping Gear : Audio Technica 853's mic > SP Battery Box (16hz-no rolloff) > Sony M1 DAT (44.1khz)
Taper: Basshead02
Recording Location: Floor Right Row 12
Total running time : 2:19:16
Sound Quality : Good. Equals record or radio/TV apart from a slight noise and some dullness.
Attendance : Unknown
Artwork : Yes
This was a great show, and such an awesome touring band.
Bowie never has trouble filling in his tour roster, but this is the perfect balance of his hold to their new. Gail Ann Dorsey, Earl Slick and a slew of other great players.
Cactus shows that dirty Bowie that feels so much like Tin Machine.
The Life on Mars is one of the best ive heard. Blue Jean I had never heard live.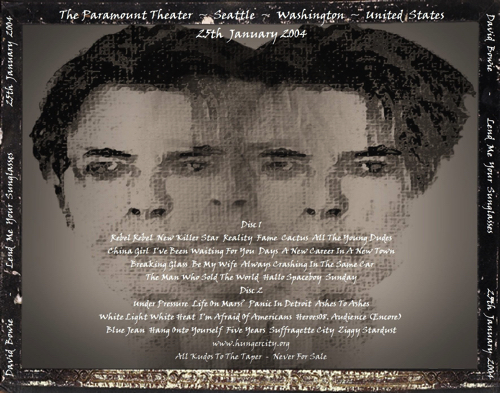 David Bowie's final Vancouver show, 2004
by Steve Newton
David Bowie's hardcore fans in Vancouver have had it pretty good over the years, as the late music legend has played here numerous times during the course of his illustrious career.
He played here in '76 on his Isolar Tour, in '83 on the Serious Moonlight Tour, in '87 on the Glass Spider Tour, in '90 on the Sound+Vision Tour, and in '97 on the Earthling Tour. (He also played the Commodore as part of hard-rock band Tin Machine in '91).
His final Vancouver show was at GM Place in 2004 as part of The Reality Tour.
Here's my review:
Boy, talk about goin' through ch-ch-ch-ch-changes. Although he's always been one of the most charismatic rock stars of all time, David Bowie hasn't always been able–or willing–to connect with a live audience. I recall seeing him at the Pacific Coliseum on the Station to Station tour of '76, when he was all cold and detached, fully into the Thin White Duke persona.
But at GM Place last Saturday (January 24), Bowie came off as the affable old hipster next door. Whether dedicating a tune to the bunny suit–wearing woman in the front row or acknowledging the presence of the orange-haired Ziggy Stardust clone hamming it up near the soundboard, he built a solid bond with the near-sellout crowd of 12,000. When you factor in that friendly vibe with Bowie's near-flawless vocals, brilliant band, and smartly executed show, you wind up with one of the finest old-school rock gigs the Canucks' home rink has ever hosted.
The choice of material didn't hurt, either. He opened with "Rebel Rebel", the riff-driven single off 1974's Diamond Dogs, and the hits just kept on comin', covering the 30-plus years between "The Man Who Sold the World" and "New Killer Star", the first single from his smashing new disc, Reality. "Ashes to Ashes" featured the keyboard wizardry of long-time Bowie sideman Mike Garson, who embellished it with a few touches of the same manic, off-the-wall piano work he recorded on Aladdin Sane three decades ago. My fave selection of the night was easily "All the Young Dudes", the glam-rock anthem Bowie lent to buddy Ian Hunter back in '72 to help salvage the career of Hunter's then-struggling combo, Mott the Hoople.
The 57-year-old rocker did his thing on a cool-looking faux-granite stage, his movements broadcast from unusual angles on a row of video screens. There was little to be seen in the way of costume changes, the ever-slim singer spending most of the time in a black T-shirt and runners. Looking even more the black-clad rocker was shades-wearing guitarist Earl Slick who, along with Garson, has been playing with Bowie on and off since the '70s. (Bowie sings on a track he cowrote with the veteran sideman for his impressive new solo CD, Zig Zag.)
I was hoping to hear Slick's ominous, feedback-laced intro to "Station to Station", but it never transpired, and anyone expecting to hear echoes of Stevie Ray Vaughan in his "China Girl" solo had to settle for his decidedly nonbluesy approach. But the Les Paul–toting picker couldn't help but pay tribute to Bowie's former guitarist, Mick Ronson, during the six-song encore that included four cuts from the 1972 glam-rock masterpiece, Ziggy Stardust.
David Bowie Tour band 2003-2004 A Reality Tour
A Reality Tour was a worldwide concert tour by David Bowie in support of the Reality album. The tour commenced on 7 October 2003 at the Forum Copenhagen, Denmark, continuing through Europe, North America, Asia, including a return to New Zealand and Australia for the first time since the 1987 Glass Spider Tour. Bowie retired from performing live in 2006, making this tour his last.
The tour grossed US$46 million, making it the ninth-highest-grossing tour of 2004.
The Tour band
• David Bowie – vocals and acoustic guitar
• Earl Slick – lead guitar
• Gerry Leonard – guitar, backing vocals
• Gail Ann Dorsey – bass guitar, vocals
• Sterling Campbell – drums, percussion
• Mike Garson – keyboards, piano
• Catherine Russell – backing keyboards/backing vocals
Start date 11 June 2002
End date 23 October 2002



.
.
(Visited 203 times, 1 visits today)