David Bowie 2004-02-21 Sydney ,Entertainment Centre – Simon Says Quicksand –
Sound Quality Rating very good. Equals record or radio/TV apart from a slight noise and some dullness.
101. Intro.flac
102. Rebel Rebel.flac
103. New Killer Star.flac
104. Afraid.flac
105. fame.flac
106. Cactus.flac
107. Panic In Detroit.flac
108. Pablo Picasso.flac
109. All The Young Dudes.flac
110. China Girl.flac
111. A New Career In A New Town.flac
112. The Loneliest Guy.flac
113. The Man Who Sold The World.flac
114. Hallo Spaceboy.flac
115. Sunday.flac
116. Band Introduction.flac
117. Under Pressure.flac
118. Life On Mars.flac
201. Looking For Water.flac
202. Quicksand.flac
203. Days.flac
204. Let's Dance.flac
205. White Light White Heat.flac
206. Ashes To Ashes.flac
207. I'm Afraif For Americans.flac
208. "Heroes".flac
209. Bring Me The Disco King.flac
210. Five Years.flac
211. Hang On to Yourself.flac
212. Ziggy Stardust.flac
Bonus track:
213. Gail Ann Dorsey – Annendale Hotel 2004-02-19 .flac
214. Outtro – Gail Ann Dorsey – Annendale Hotel 2004-02-19.flac
Label : A Biff & Bear production for Downunder Discs
Audio Source : Audience recording
Lineage : Unknown
Taping Gear : Unknown
Taper: Unknown
Recording Location: Unknown
Total running time : 2:26:55
Sound Quality : very good. Equals record or radio/TV apart from a slight noise and some dullness.
Attendance : 12.500
Artwork : Yes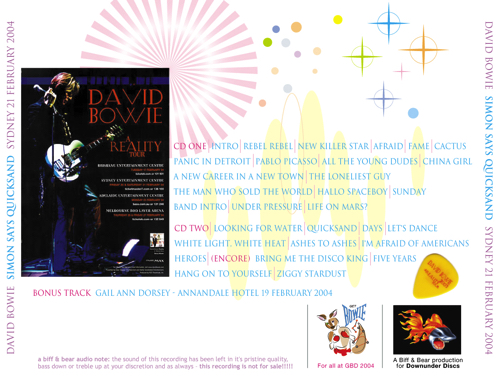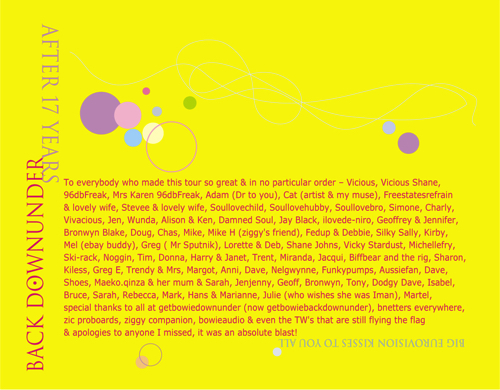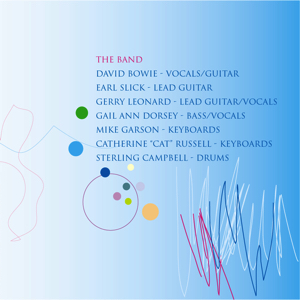 Info: Bowie DownUnder
This night was similar to the first in that it started with 'Rebel Rebel' and 'New Killer Star',however, those lucky enough to witness both concerts, may have begun noticing the band's ability to add and drop songs from only the third song in.
Following 'Afraid' (from 2002's Heathen), Bowie then played 'Fame' and then 'Cactus' which drew the announcement:
"That was a song about a dress. You wait until I start the songs about the women".
He then followed with:
Panic in Detroit * from 1973's Aladdin Sane
Pablo Picasso * the Jonathan Richmond cover from 2003's Reality*,
All The Young Dudes 1972 single written for Mott The Hoople,
China Girl *, from 1983's Let's Dance
(* = brand new to the downunder portion of the tour)
Someone in the audience then captured Bowie's attention:
"There's a goth girl ….. look I've got a goth girl in the audience. Hi darling. How you doing?
Got the teeth? ….. Oh yes I see you have."
During the band intro, Bowie kept the professor joke running from the previous night. Now Catherine Russell was introduced as a leading professor in Quattrocento Italian history!
Bowie then played 'Under Pressure' with Gail Anne substituting for Freddy Mercury (a momentous task but she does extremely well at this).
Seventeen songs in came the biggest surprise of all …. and with Mike Garson's introduction of two alternating notes on a vibraphone, we heard the the debut of 'Quicksand' on the Reality tour.
The song 'Days' was then followed with another surprise:
"We haven't done this for weeks. I mean weeks! Seriously, that's a long time for us".
Then in a lower tone (and perhaps in recognition of the original video and the recent Aborigine riots in Redfern):
"I see …. this one's got a lot to do with Sydney".
The band then launched into an extremely powerful version of 'Lets Dance'.
Bowie then played the Velvet Underground's 'White Light, White Heat' which he described as being from "a million years ago".
Before commencing the next song he announced "this is not quite a million years old but it ….. (points to the sky) …. starts up there" . Queue 'Ashes to Ashes'.
" I heard a really good version of that song 'Ashes to Ashes' – kinda hip hop by an Australian artist, I think her name was Danielle Spencer. It was really very good".

As it so happens, Danielle Spencer and her husband Russell Crowe were spotted keenly observing from the stalls.
As of 2009/10, Danielle has gone on to release a second album titled Calling All Magicians, produced by none other than legendary Bowie producer, Tony Visconti.
"I would also like to very much thank Something For Kate for doing such an excellent job in Australia. (mock Australian accent…) A really good band. We're gonna keep 'em for the rest of the tour".
Two more songs to finish up the main part of the concert – 'I'm Afraid of Americans' and the 1977 classic 'Heroes'. Before leaving the stage, DB announced:
"We've had a wonderful, great pleasure being here in Sydney. Some of the band have never been here before and they've had the most excellent time".
Returning for the four song encore – audiences were in for something quite different….
Pianist Mike Garson now back in the limelight as Bowie launches into 'Bring Me The Disco King' backed by Sterling Campbell's shuffling jazzy beat.
This potentially foretelling piece of music ("soon there'll be nothing left of me….nothing left to release") was played for the first and only time on the AUS/NZ tour – something quite special whether audiences knew it or not.
Finally, an unstoppable all-Ziggy trilogy to finish things up: 'Five Years', 'Hang On To Yourself' and the closer 'Ziggy Stardust'.



David Bowie Tour band 2003-2004 A Reality Tour
A Reality Tour was a worldwide concert tour by David Bowie in support of the Reality album. The tour commenced on 7 October 2003 at the Forum Copenhagen, Denmark, continuing through Europe, North America, Asia, including a return to New Zealand and Australia for the first time since the 1987 Glass Spider Tour. Bowie retired from performing live in 2006, making this tour his last.
The tour grossed US$46 million, making it the ninth-highest-grossing tour of 2004.
The Tour band
• David Bowie – vocals and acoustic guitar
• Earl Slick – lead guitar
• Gerry Leonard – guitar, backing vocals
• Gail Ann Dorsey – bass guitar, vocals
• Sterling Campbell – drums, percussion
• Mike Garson – keyboards, piano
• Catherine Russell – backing keyboards/backing vocals
Start date 11 June 2002
End date 23 October 2002



(Visited 466 times, 1 visits today)