David Bowie 2003-09-08 London ,Hammersmith ,Riverside Studios (Warm up show) (Edited 1 CD Version) –
Sound Quality Rating
01. New Killer Star.flac
02. Pablo Picasso.flac
03. Never Get Old.flac
04. The Loneliest Guy.flac
05. Looking For Water.flac
06. She'll Drive The Big Car.flac
07. Days.flac
08. Fall Dog Bombs The Moon.flac
09. Try Some Buy Some.flac
10. Reality.flac
11. Bring Me The Disco King.flac
12. Hallo Spaceboy.flac
13. Fantastic Voyage.flac
14. Hang On To Yourself.flac
15. Modern Love.flac
16. Cactus.flac
17. Afraid.flac
18. New Killer Star.flac
Label : Bowiestation
Audio Source : Audience
Lineage : DAT recording
Taping Gear : Unknown
Taper: Unknown
Recording Location: Unknown
Total running time : 1:16:05
Sound Quality : Noise ,dull ,but still good listened to
Attendance : 300 members of BowieNet and Bob Geldof and Kristeen Young
Artwork : By Mossgarden
Note: This is an edited version with music only. All talking has been edited out to fit on 1 CD. Fade in/outs between all tracks.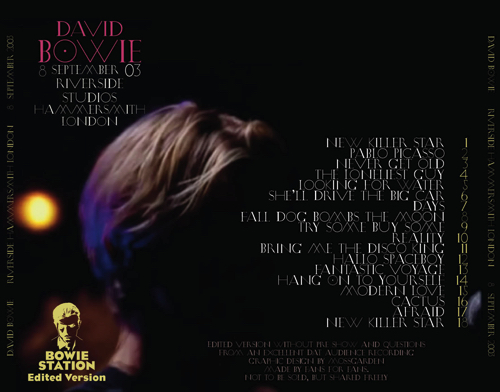 David Bowie Tour band 2003-2004 A Reality Tour
A Reality Tour was a worldwide concert tour by David Bowie in support of the Reality album. The tour commenced on 7 October 2003 at the Forum Copenhagen, Denmark, continuing through Europe, North America, Asia, including a return to New Zealand and Australia for the first time since the 1987 Glass Spider Tour. Bowie retired from performing live in 2006, making this tour his last.
The tour grossed US$46 million, making it the ninth-highest-grossing tour of 2004.
The Tour band
• David Bowie – vocals and acoustic guitar
• Earl Slick – lead guitar
• Gerry Leonard – guitar, backing vocals
• Gail Ann Dorsey – bass guitar, vocals
• Sterling Campbell – drums, percussion
• Mike Garson – keyboards, piano
• Catherine Russell – backing keyboards/backing vocals
Start date 11 June 2002
End date 23 October 2002



.
(Visited 1,413 times, 1 visits today)