David Bowie 2004-02-07 Los Angeles , The Wiltern Theater – Live At The Wiltern –
Sound Quality Rating Good. Equals record or radio/TV apart from a slight noise and some dullness.
01. Intro.flac
02. Rebel Rebel.flac
03. Pablo Picasso.flac
04. New Killer Star.flac
05. Fantastic Voyage.flac
06. I've Been Waiting For You.flac
07. Reality.flac
08. Looking For Water.flac
09. Fame.flac
10. Cactus.flac
11. Battle For Britain (The Letter).flac
12. China Girl.flac
13. Y.M.C.A. [snippet].flac
14. A New Career In A New Town.flac
15. The Loneliest Guy.flac
16. The Man Who Sold The World.flac
17. Slip Away.flac
18. Under Pressure.flac
19. Life On Mars?.flac
20. Be My Wife.flac
21. Days.flac
22. Hang On To Yourself.flac
23. Ashes To Ashes.flac
24. I'm Afraid Of Americans.flac
25. "Heroes".flac
Encore
26. Blue Jean.flac
27. White Light White Heat.flac
28. Five Years.flac
29. Suffragette City.flac
30. Ziggy Stardust.flac
Label : No label
Audio Source : Audience recording
Lineage : Unknown
Taping Gear : In Ear monitor
Taper: Benchboy
Recording Location: Unknown
Total running time : 2:10:38
Sound Quality :
Attendance : Unknown
Artwork : Yes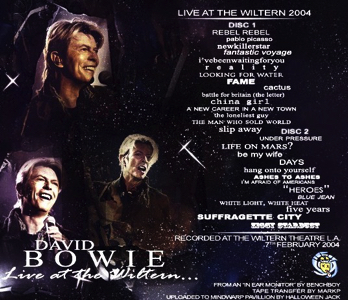 Blue Jean live on A Reality Tour with a mash-up of footage from live shows. Wiltern Theatre LA, 7th February 2004
REVIEW:lepermesiah (absolute beginner ) 02/08/04:
Hallo Spaceboys & Girls!
Just got back from DB's show @the Wiltern in L.A. The show was pretty good (We had like $500 loge seats-woo-hoo)but they didn't perform a lot of my top faves, oh well. We caught about 10 mins. of Macy on her last nite of the tour (this was Dave's last U.S. gig b4 heading off 2 New Zealand, Ozzyland etc). I wish we could've switched this date with those lucky scotsman-they're getting what I think is the 1st reformed Pixies show for openers!!! I'd take a Glasgow kiss on the forehead for that one! The Wiltern is a great sounding, historic 3500 seat venue for those not in the area. If u ever get a chance to see Bowie here-don't miss him-it was a very intimate setting. They opened w/ the revamped Rebel, Rebel, (historical fact, on this day 2/7/74, they released the Rebel, Rebel promo clip) needless to say it rocked, place went wild, etc. Here's the full set list:
"Heroes" started off sounding pretty anemic, with Bowie sounding really subdued, the crowd was less than enthused, I don't even know if they knew it was Heroes at 1st, but 1/3 way in, they kicked it into high gear & the crowd got into to it. In case u were wondering who did Freddie Mercury's part in Under Pressure, it was bassist Gail Dorsey-& she kicked ass! She really nailed it. Next best thing to having Fred (RIP) there. The sound was great, very clear for that type of envioronment, the bass was insufficient however. We we're directly across from Slick.
My one caveat musician wise, is they didn't have Mark Plati. This was glaringly apparent on Ashes to Ashes which I've seen him play bass on. He plays it just like the record-even better. Nothing against Gail-she's a bass-monster, but she doesn't play it rite on that song, she's to layed back. It needs that percussive finger-popping sound made famous on the studio version. (Anybody know why he was canned?) I have no idea why they're playing A New Career In A New Town, this was one of the big "bathroom break" songs. Word to the wise Bo-meister, when we come to see u, sometimes laying down HUNDREDS of $ 4 the privledge, we're paying to hear your VOCALS! To the tiny minority in the audience who equate instrumentals with his good songs, congrats, hizzah-hizzah no get out of here u knuckle heads I mean it. I have to say, I wasn't thrilled with the setlist. Having seen the list from the 1st 50 shows, it was pretty weak. If I had got to pick the songs to hear that they played previously this tour I would have dropped the following:
2, 6, 7, 10, 11, 12, 13, 15, 18, 19, 26, and substituted:
Changes
Fashion
Panic In Detroit
Sound And Vision
Starman
Loving The Alien
The Jean Genie
Afraid
Breaking Glass
5:15 The Angels Have Gone
New Killer Star
I think the biggest surprise is that he omitted the last 2 songs. I mean c'mon, 5:15 is the best song he's written in years-we we're really bummed, my gal-pal came expecting to hear that one in particular! Also, New Killer Star is the best song on Reality it ROCKS, & it's up for "Best Male Performance: Rock Category" the following night, & they played it the previous Wiltern show. To sum up, I know when u go to see the ageing rock aristocracy, you have to put up with a certain amount of what I call "post-genious" material from whatever cd they're flogging at the time. But he didn't offcially tour the U.S. with Heathen which really is a much better album than Reality. Oh well, I guess I'm a little red because if we had to hear new tunes it would have been so much more satisfying if they at least skipped the lame ones. I mean was it really necessary to subject us to Pablo Picasso, Reality, & Looking For Water? And what happened to Slow Burn, Afraid & Everyone Says Hi? all 3 blow away that bloated, boring, 6-min.+ song Slip Away. That's one thing I like about the Stones, they never make u sit thru more than 2 songs of they're latest cd's. Forgive me if this sounds jaded, I'm deeply grateful I got 2 see him again! It helps wipe out the memory of the only time I've seen him b4: the "Glass Spider" Fiasco-err, tour I mean. Oh, & a young girl got up & hugged the Bowster for a couple of secs. b4 being pummeled by security & thrown back n2 the crowd (I kid, I kid). P.O.I., We we're sitting exactly the same distance away from Corey Feldman in relation to where we were sitting 2 years ago when we saw him at the MACCA show @the Pond in Anaheim! Get this "Mr. Hollywood" & his wife got up & left AS BOWIE PLAYED 5 YEARS!!!
If u ever have the "extreme pleasure" of meeting him, ask him why he found it necessary to leave a Bowie show during an all-time classic song-& tell him he missed Suffragette City &
Ziggy Stardust 'cause he was 2 cool 2 stick around! That dick always has better tix than us… Oh, & he stepped on my foot on the way out. His hair plugs looked a lot better this time….
"Politics is war without bloodshed"
David Bowie Tour band 2003-2004 A Reality Tour
A Reality Tour was a worldwide concert tour by David Bowie in support of the Reality album. The tour commenced on 7 October 2003 at the Forum Copenhagen, Denmark, continuing through Europe, North America, Asia, including a return to New Zealand and Australia for the first time since the 1987 Glass Spider Tour. Bowie retired from performing live in 2006, making this tour his last.
The tour grossed US$46 million, making it the ninth-highest-grossing tour of 2004.
The Tour band
• David Bowie – vocals and acoustic guitar
• Earl Slick – lead guitar
• Gerry Leonard – guitar, backing vocals
• Gail Ann Dorsey – bass guitar, vocals
• Sterling Campbell – drums, percussion
• Mike Garson – keyboards, piano
• Catherine Russell – backing keyboards/backing vocals
Start date 11 June 2002
End date 23 October 2002



(Visited 1,289 times, 1 visits today)