David Bowie 2004-05-19 Milwaukee ,Milwaukee Theatre – Keep The House Rocking –
Sound Quality Rating
101. Rebel Rebel .flac
102. Cactus .flac
103. Sister Midnight .flac
104. New Killer Star .flac
105. All The Young Dudes .flac
106. Fashion .flac
107. China Girl .flac
108. The Loneliest Guy .flac
109. The Man Who Sold The World .flac
110. Sunday.flac
111. Heathen (The Rays) .flac
112. Hallo Spaceboy .flac
113. Under Pressure .flac
114. Station To Station.flac
215. Ashes To Ashes.flac
216. Quicksand .flac
217. The Supermen.flac
218. Modern Love .flac
219. Pablo Picasso .flac
220. White Light, White Heat.flac
221. I'm Afraid Of Americans .flac
222. "Heroes".flac
Encore
223. Hang On To Yourself.flac
224. Suffragette City .flac
225. Ziggy Stardust.flac
Label : No label
Audio Source : Audience recording
Lineage : Unknown
Taping Gear : Sony PCM-M1 portable DAT recorder -> DPA 4060(Core Sound HEB) mic. set
Taper: Unknown
Recording Location: Unknown
Total running time : 2:12:14
Sound Quality : Good. Equals record or radio/TV apart from a slight noise and some dullness.
Attendance : Unknown
Artwork : By Saloca 2004 (Photos at Erik 2004)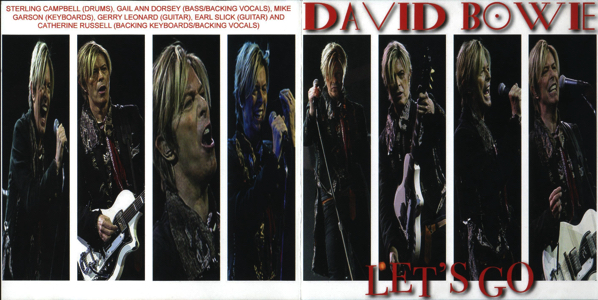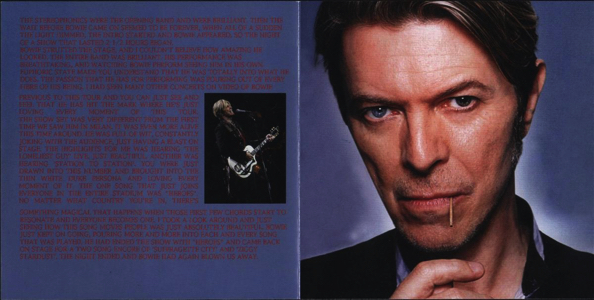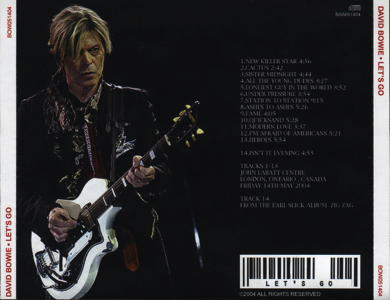 Review by Tony Bonyata
On his recent stop through Milwaukee during the second leg of his extremely well-received Reality Tour David Bowie proved that some things just keep getting better with age.
Clad in shabby / chic buccaneer attire with a head of hair that even an 18-year old would kill for, the 57-year old rock legend has somehow managed to successfully cheat both time and age, Looking even younger and more fit than the last time he performed in Wisconsin (and that was fourteen years ago), Bowie wowed the sold-out crowd at the Milwaukee Theatre with songs from his illustrious forty-year career (he did, after all, cut his first single "Liza Jane" way back in '64).
David Bowie Bowie's return to the stage was to promote his latest album Reality, of which, surprisingly, only three numbers were performed. The singer and his six-piece quartz synchronized rock band tore through two upbeat rockers from that album ("New Killer Star" and a cover of Jonathan Richman's "Pablo Picasso" complete with Spanish guitar flourishings) before unveiling the sparse, barren number "The Loneliest Guy," where the singer's vulnerable, yet hypnotic vocal delivery coldly hovered above Mike Garson's foreboding piano and guitarist Gerry Leonard's unsettling sonic ambience. Likewise, two of the numbers performed from his previous album Heathen, "Sunday" and "Heathen (The Rays)," which ended with a splendid solo from longtime Bowie guitarist Earl Slick, continued in a similar slow, but intoxicating vein.
Offsetting these newer and decidedly more remote numbers David also treated his fans to many major hits, cover songs and unearthed gems. Stepping on the gas, Bowie and company ran through obvious crowd-pleasers such as the show opener "Rebel Rebel," "Fashion," "Ashes To Ashes" and "Under Pressure," which showcased the breathtaking talents of bassist Gail Ann Dorsey superbly tackling the acrobatic vocal skills of the late Freddie Mercury.
Other welcome Bowie concert staples were present as well, "Heroes" started off as a rawer, more stripped down version before Slick's guitar eventually injected a power station full of energy into the number. Prior to the band's pounding version of the Velvet Underground's "White Light White Heat" Bowie proudly admitted "I've been doing this song ever since 1967 and I'll probably always do it." And why not, when it – like the performer himself – just keeps sounding better on every tour.
Although the 'man who fell to earth' may have somehow side-stepped the whole aging process, his audience, on the other hand, didn't afford such luxuries. The streaks of lightning-bolt grease paint on the faces of the glam boys and glitter girls that worshipped Bowie's alter-ego Ziggy Stardust in the early '70s had now given way to streaks of gray. Crow's feet and hair color aside, the one thing that's been constant with his fans throughout the years, however, is their hip quotient. In fact, you'd be hard-pressed to find any well-established rock act with a cooler, more creative lot than Bowie.
Thankfully, Bowie kept many of these older fans in mind as he ran through lesser-known beauties such as "Quicksand," "The Supermen," "The Man Who Sold The World" and a deliciously funked-up Euro-trash take on "Sister Midnight" – a song that (along with the more familiar "China Girl" performed that night) he co-wrote with Iggy Pop back in '77 for Iggy's The Idiot album.
Showcasing his Ziggy-era, the performance was highlighted by the slashing glam anthem "All The Young Dudes" before the band climaxed with a blistering three-song encore from, quite arguably one of the strongest albums in Bowie's whole dresser, The Rise and Fall of Ziggy Stardust and The Spiders from Mars. While Slick delivered fiery leads that humbly paid homage to original Spiders' guitarist Mick Ronson on the revved-up "Hang Onto Yourself" and high-octane rocker "Suffragette City," it was the song "Ziggy Stardust," and, more importantly, the singer's own outstanding vocal strengths and captivating stage presence that perfectly capped off the evening.
David Bowie Tour band 2003-2004 A Reality Tour
A Reality Tour was a worldwide concert tour by David Bowie in support of the Reality album. The tour commenced on 7 October 2003 at the Forum Copenhagen, Denmark, continuing through Europe, North America, Asia, including a return to New Zealand and Australia for the first time since the 1987 Glass Spider Tour. Bowie retired from performing live in 2006, making this tour his last.
The tour grossed US$46 million, making it the ninth-highest-grossing tour of 2004.
The Tour band
• David Bowie – vocals and acoustic guitar
• Earl Slick – lead guitar
• Gerry Leonard – guitar, backing vocals
• Gail Ann Dorsey – bass guitar, vocals
• Sterling Campbell – drums, percussion
• Mike Garson – keyboards, piano
• Catherine Russell – backing keyboards/backing vocals
Start date 11 June 2002
End date 23 October 2002



(Visited 232 times, 1 visits today)