David Bowie 2004-04-27 Austin ,The Backyard Amphitheater – The Backyard –
Sound Quality Rating
101. Rebel Rebel.flac
102. New Killer Star.flac
103. Battle for Britain (The Letter).flac
104. Cactus.flac
105. Fashion.flac
106. All the Young Dudes.flac
107. China Girl.flac
108. Modern Love.flac
109. Fame.flac
110. The Loneliest Guy.flac
111. The Man Who Sold the World.flac
112. Hallo Spaceboy.flac
113. Sunday – Heathen (The Rays).flac
114. Introductions.flac
115. Under Pressure.flac
201. Days.flac
202. The Supermen.flac
203. Reality.flac
204. Ashes to Ashes.flac
205. Quicksand.flac
206. I'm Afraid of Americans.flac
207. "Heroes".flac
208. Crowd.flac
Encore
209. Slip Away (with The Polyphonic Spree).flac
210. Hang on to Yourself.flac
211. Five Years.flac
212. Suffragette City.flac
213. Ziggy Stardust.flac
Label : No label
Audio Source : Audience recording
Lineage : SP Premium Slimline Cards
Taping Gear : AT ES943/C mic. (SP Premium Slimline Cards) -> SP Battery Box -> Sony D7 digital audio tape recorder
Taper: Unknown
Recording Location: Dead center, about 30′ from the stage
Total running time : 2:19:51
Sound Quality : Good. Equals record or radio/TV apart from a slight noise and some dullness.
Attendance : Unknown
Artwork : Yes
Flaws:
– Crowd noise is a bit high during Rebel Rebel (But who can complain? What an opening song!)
– There were some shorts or something happening with my recording equipment sporadically. This caused a dropout in "Cactus" that was partially fixed by boosting the volume via GoldWav. I also noticed a boost in the treble (again, like a minor short "fixed itself") after "Slip Away."
– I forgot the clips that I was going to use to attach the mics to my hat, so the mics were kind of stuck behind my ears, wedged against my glasses frames. As a result, there is some occasional noise from adjusting the mics.
Don't let all of this scare you, though….the recording came out *great*!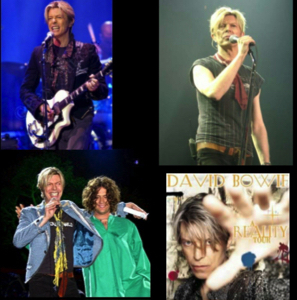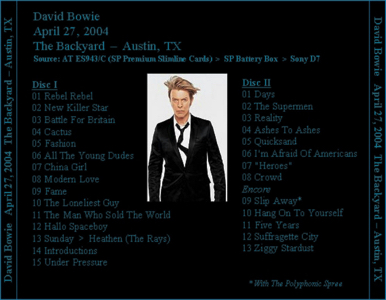 Review
The Backyard, April 27 "This ain't rock & roll … this is genocide!" Murder is right. On the eve of its 30th anniversary reissue, Diamond Dogs' opening exhortation translated into two hours and 20 minutes of hard, uncompromising rock & roll from David Bowie under the half moon at the Backyard. Call it the Serious Half-Moonlight tour. Stepping center stage in an outfit nicked from Pirates of the Caribbean (or Adam Ant), the ageless 57-year-old didn't waste much time on his opener, Diamond Dogs' clanging "Rebel Rebel." Instead, he let longtime sideman and Texan Earl Slick, who's been with Bowie since 1974's Dogs, and Dubliner Gerry Leonard do all the gnashing of teeth – with guitars. "So … Austin," drawled Bowie. "You crazy motherfuckers. How ya doing?" The 5,000 strong that had sold out the show faster than a falling starman went canine. "New Killer Star" from last year's Reality followed, and between that album and its superb predecessor, Heathen, a lush throwback to Bowie's late-Seventies Low, they provided almost an entire LP's worth of set list.
The raging "Battle for Britain," off 1997's drum and bass overload Earthling, kicked into Trent Reznor gear, giving way to "something you know," sing-along "All the Young Dudes," an impression of our Congress Avenue bats ("What secrets Austin has …"), and Let's Dance twofer "China Girl" and "Modern Love." The singer was boyishly playful all evening. Nirvana was reached on "The Man Who Sold the World" and with another stomp-time guitar overload, "Hallo Spaceboy," whose white-light cacophony made one appreciate that this sound and vision was built for bigger arenas.
The tolling buoy bells of Heathen's "Sunday" and its 9/11-inspired title track ("steel on the skyline, sky made of glass") set up "Under Pressure," with bassist Gail Ann Dorsey inhabiting the late Freddie Mercury's vocal part like a specter. Bowie's backing sixpiece was as tight as his last facelift. Ziggy Stardust-era "The Superman," the ripping "Reality," "Ashes to Ashes," and Hunky Dory's acoustic-lined "Quicksand" brought the performance to a head. "If anyone sees Daniel Johnston, give him my love," quipped Bowie before a heavy metal "I'm Afraid of Americans" and the chugging, T-Rex echoed "Heroes" ended the main set. Reiterating one last time that this was no hits tour – he retired those many tours ago – Heathen's "Slip Away" kicked off the encores with the evening's openers, Dallas' Polyphonic Spree, exchanging their whites for multicolored robes and choral duty.
Polyphonic frontman Tim DeLaughter got the opportunity of a lifetime singing a verse while Bowie sat Cheshire-like on the lip of the stage. "Now put all those dresses back in my wardrobe," Bowie ordered upon their exodus, then strapped on "Hang on to Yourself," introduced as concerning a "fag limey Kabuki alien." "Suffragette City" and "Ziggy Stardust" rocked goodnight to the quartet of former Thin White Duke aliases. Santo & Johnny's languid "Sleep Walk" came on with the lights, a perfect lullaby to the dream from which Austin had just woken.
David Bowie Tour band 2003-2004 A Reality Tour
A Reality Tour was a worldwide concert tour by David Bowie in support of the Reality album. The tour commenced on 7 October 2003 at the Forum Copenhagen, Denmark, continuing through Europe, North America, Asia, including a return to New Zealand and Australia for the first time since the 1987 Glass Spider Tour. Bowie retired from performing live in 2006, making this tour his last.
The tour grossed US$46 million, making it the ninth-highest-grossing tour of 2004.
The Tour band
• David Bowie – vocals and acoustic guitar
• Earl Slick – lead guitar
• Gerry Leonard – guitar, backing vocals
• Gail Ann Dorsey – bass guitar, vocals
• Sterling Campbell – drums, percussion
• Mike Garson – keyboards, piano
• Catherine Russell – backing keyboards/backing vocals
Start date 11 June 2002
End date 23 October 2002



(Visited 418 times, 1 visits today)