David Bowie 2003-10-07 Copenhagen ,The Forum (Master Tolvis Incomplete).
Sound Quality Rating
01. Intro.flac
02. New killer star.flac
03. Afraid.flac
04. Fame.flac
05. Cactus.flac
06. Battle for Britain.flac
07. Fall dog bombs the moon.flac
08. Breaking glass.flac
09. Reality.flac
10. Changes.flac
11. The man who sold the world.flac
12. Hallo spaceboy.flac
13. Under pressure.flac
14. Sunday.flac
15. Bring me the disco king.flac
Label : No label
Audio Source : Audience recording
Lineage : Off Master
Taping Gear : Sony TCM-mic
Taper: Tolvis
Recording Location: Unknown
Total running time : 1:13:15
Sound Quality : Good. Equals record or radio/TV apart from a slight noise and some dullness.
Attendance : 8.000
Artwork : None
Incomplete : The battery died after 73 minutes, but as luck would have it another person taped the show in it's entirety
My (taper Tolvis) first and only Bowieshow. The battery died after 73 minutes, but as luck would have it another person taped the show in it's entirety. This was the tour premiere and I enjoyed the show very much.
My (taper Tolvis) old MD-recordings were often quite good as I used a Sony TCM-mic aswell, but I always found them lacking in the low end so this is a newly remastered version where I beefed the lows a bit aswell as removing the shrillest highs.
The old version has been circulated before but I did not keep it since this is the one to listen to.
==================
David Bowie opened his ?A Reality World Tour' with a two and a half hour show packed with surprises at the Forum in Copenhagen, Denmark last night. He played an incredible 27 songs including material from the pan European no 1 album Reality plus a selection of songs from throughout his career.
The tour, which lasts for seven months, reaches 16 countries and hundreds of thousands of people, will feature an ever-changing set list. Bowie is looking to change the songs he?s performing every night to make the shows more organic and real for the fans. With this in mind, Bowie is taking the groundbreaking step of inviting every ticket holder to join him on a ?Virtual Reality? tour of the entire world. Each person who attends the shows has a code on their tickets and once this has been entered on Bowienet (www.davidbowie.com) it entitles the ticket holder to follow the entire world tour online with exclusive footage and audio from all of the stops along the way from Denmark to Denver and from Tokyo to Glasgow.
Those present last night would have witnessed a dramatic start to the show utilising one of the biggest LED screens ever taken on tour, which kicked into life revealing David and his musicians in animated form. The band then kicked in with a spectacular version of ?New Killer Star?, the lead off track from the hit album Reality. Next up was Afraid, followed by the classic Fame co-written with John Lennon.
David was wearing Victorian Biker, deconstructed look, and sounding on top form. He was totally relaxed with the crowd, even stopping to congratulate one couple on their 25th wedding anniversary! Behind him a black and white split screen added to the drama of the moment, and the screens high above the stage gave it the feel of a boxing match. The crowd were on their feet from early in the show, and it stayed that way right through to the very end.
Bowie and his crack band continued to mix together classics such as Rebel Rebel, Changes – which he introduced as ?that David Essex song? – and a brilliant Under Pressure with Gail Ann Dorsey sharing vocals, to fan favourites such as Fantastic Voyage as well as tracks from Heathen. Live it was the songs from Reality that provided the real highlights of the night. The forthcoming single Never Get Old and the epic Bring Me The Disco King featuring some incredible keyboard work from Mike Garson were received ecstatically by the sell-out crowd as modern classics.
A storming version of the album?s title track saw the enormous LED screens coming into their own once more showing an extraordinary psychedelic graphic and "CCTV" footage of the band provided by tiny "lipstick" cameras hidden around the stage.
Other highlights included an awesomely powerful I?m Afraid Of Americans with great animation imagery playing behind the band and a fantastic finale including "Heroes" which received a thunderous ovation, a rocking Hang On To Yourself, Let?s Dance and a show stopping Ziggy Stardust. Bowie was clearly moved by the response and told the audience how in these difficult times it felt very important to him that he and his band were able to be there singing for them .
The tour continues through Europe throughout October and reaches Bowie?s homeland of the UK in mid November. From there he proceeds to the USA in December and will include prestigious shows at New York?s Madison Square Garden and the Legendary Shrine Auditorium in Los Angeles.
————————————————————————————————————-
Tonight's Stockholm show did include the nightly set changes as promised in the press release… and this is how it went:
So that means that Afraid, Fall Dog Bombs The Moon, Reality, Changes, The Man Who Sold The World and She'll Drive The Big Car were dropped for tonight's show, while Loving The Alien and Days were new additions to this evening's set.
David made mention of Copenhagen resident Link Wray during tonight's show, whose Rumble is occasionally played by David and the band during rehearsals. He also mentioned what a big fan Pete Townshend is of the king of instrumental cool. In fact Pete has said of Link Wray: "He is the King; if it hadn't been for Rumble, I would have never picked up a guitar."
I did speak with David about Mr Wray yesterday and he explained that the man is having a tough time of things in Copenhagen… Perhaps his agent should have a listen to Killer In The Home by Adam and The Ants and see if he's owed any royalties!
A more light-hearted moment during tonight's show was during Rebel Rebel when David sang the immortal line: "You've got your mother in a whirl, she's not sure if you're a boy or a squirrel." Personally, I was pleased to learn this as it meant that I hadn't been hearing things during rehearsals in Brussels… well, you know how it is, some people hear what they want to hear.
I look forward to Friday's set list from Helsinki with keen anticipation. Stay tuned to BowieNet for more pictures and stuff from David Bowie's A Reality World Tour.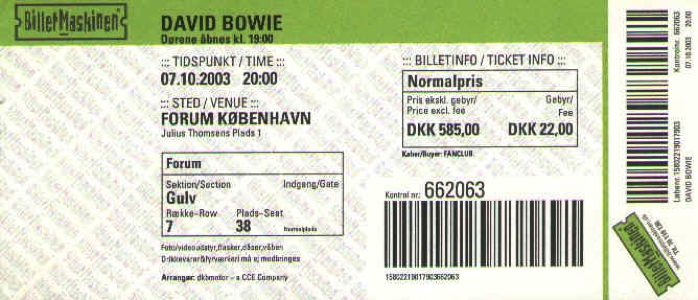 David Bowie Tour band 2003-2004 A Reality Tour
A Reality Tour was a worldwide concert tour by David Bowie in support of the Reality album. The tour commenced on 7 October 2003 at the Forum Copenhagen, Denmark, continuing through Europe, North America, Asia, including a return to New Zealand and Australia for the first time since the 1987 Glass Spider Tour. Bowie retired from performing live in 2006, making this tour his last.
The tour grossed US$46 million, making it the ninth-highest-grossing tour of 2004.
The Tour band
• David Bowie – vocals and acoustic guitar
• Earl Slick – lead guitar
• Gerry Leonard – guitar, backing vocals
• Gail Ann Dorsey – bass guitar, vocals
• Sterling Campbell – drums, percussion
• Mike Garson – keyboards, piano
• Catherine Russell – backing keyboards/backing vocals
Start date 11 June 2002
End date 23 October 2002



(Visited 137 times, 1 visits today)