David Bowie 2004-06-05 Holmdel N.J. ,PNC Arts Center – 40 Years To Reality – SQ 8,5>-9
01 – Intro.flac
02 – Rebel Rebel.flac
03 – Cactus.flac
04 – Sister Midnight.flac
05 – New Killer Star.flac
06 – Panic In Detroit.flac
07 – Never Get Old.flac
08 – Fame.flac
09 – All The Young Dudes.flac
10 – China Girl.flac
11 – The Loneliest Guy.flac
12 – The Man Who Sold The World.flac
13 – Heathen (The Rays).flac
14 – Hallo Spaceboy.flac
15 – Under Pressure.flac
16 – Ashes To Ashes.flac
17 – Liza Jane.flac
18 – Station To Station.flac
19 – I'm Afraid Of Americans.flac
20 – "Heroes".flac
21 – Encore Cheer.flac
22 – Slip Away.flac
23 – The Supermen.flac
24 – White Light White Heat.flac
25 – Reality.flac
26 – Hang On To Yourself.flac
27 – Diamond Dogs.flac
28 – Suffragette City.flac
29 – Ziggy Stardust.flac
Label:
Audio Source: audience > Taper Rider > sp-cmc-8 minimic > spsb6s-24
Total running time: 2:16:19
Note: Excellent quality audience recording – I'd give it SQ 8,5-9
Attendance: . . . . . . .
Artwork: Yes.
THE SHOW WAS FANTASTIC BOWIE'S PERFORMANCE WAS @ ITS BEST. TRAC 17 D-2 IS A SPECIAL NUMBER DONE FOR THE CELIBRATION OF ITS 40 YEAR BIRTHDAY.AND DURRING TRACK 12 D-1 DAVE GETS A LITTLE UPSET WITH A SECURITY GAURD UP IN THE FRONT, AND HAS HIM EJECTED FROM HIS POSSITION. CLASSIC. THIS IS THE LAST SHOW OF THE NORTH AMERICA TOUR. AND ONE OF BOWIE'S FINEST.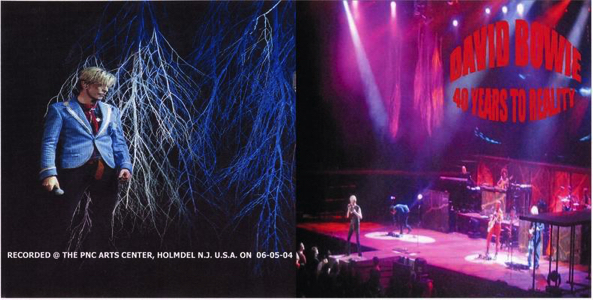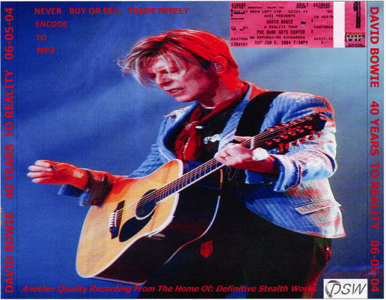 (Visited 295 times, 1 visits today)