David Bowie 2003-11-05 Antwerp ,Sportpaleis – Antwerpen – (Olivier Bodart MiniDisc master) –
Sound Quality Rating
101. INTRO.wav/flac
102. REBEL.wav/flac
103. NEW KILLER STAR.wav/flac
104. FAME.wav/flac
105. CACTUS.wav/flac
106. AFRAID.wav/flac
107. REALITY.wav/flac
108. CHINA GIRL.wav/flac
109. THE MAN WHO SOLD THE WORLD.wav/flac
110. HALLO SPACEBOY.wav/flac
111. SUNDAY.wav/flac
112. UNDER PRESSURE.wav/flac
113. ASHES TO ASHES.wav/flac
114. THE MOTEL.wav/flac
201. LOVING THE ALIEN.wav/flac
202. THE LONELIEST GUY.wav/flac
203. CHANGES.wav/flac
204. I'M AFRAID OF AMERICANS.wav/flac
205. "HEROES".wav/flac
206. HEATHEN (THE RAYS).wav/flac
207. BRING ME THE DISCO KING.wav/flac
208. SOUND AND VISION.wav/flac
209. FANTASIC VOYAGE.wav/flac
210. FIVE YEARS.wav/flac
211. HANG ON TO YOURSELF.wav/flac
212. SUFFRAGETTE CITY.wav/flac
213. ZIGGY STARDUST.wav/flac
Label : Savage Jaw – SJDBA001A
Audio Source : Audience recording
Lineage : Off master
Taping Gear : MiniDisc
Taper: Olivier Bodart
Recording Location: Unknown
Total running time : 2:11:08
Sound Quality : Good. Equals record or radio/TV apart from a slight noise and some dullness.
Attendance : Unknown
Artwork : Yes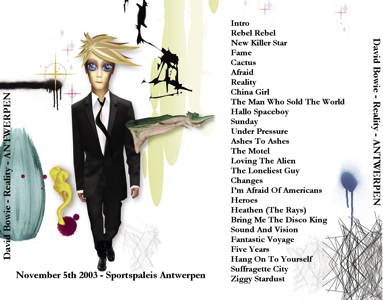 David Bowie Tour band 2003-2004 A Reality Tour
A Reality Tour was a worldwide concert tour by David Bowie in support of the Reality album. The tour commenced on 7 October 2003 at the Forum Copenhagen, Denmark, continuing through Europe, North America, Asia, including a return to New Zealand and Australia for the first time since the 1987 Glass Spider Tour. Bowie retired from performing live in 2006, making this tour his last.
The tour grossed US$46 million, making it the ninth-highest-grossing tour of 2004.
The Tour band
• David Bowie – vocals and acoustic guitar
• Earl Slick – lead guitar
• Gerry Leonard – guitar, backing vocals
• Gail Ann Dorsey – bass guitar, vocals
• Sterling Campbell – drums, percussion
• Mike Garson – keyboards, piano
• Catherine Russell – backing keyboards/backing vocals
Start date 11 June 2002
End date 23 October 2002



5 november 2003, Sportpaleis (sorry only Dutch
Matthieu Van Steenkiste – 11 november 2003
Zal 2003 te boek staan als een belangrijk muziekjaar? Voorlopig ziet het er niet naar uit. In elk geval wordt het het jaar dat talloze rockmonumenten een nieuwe cd afscheidden en die middels een tournee ook in België kwamen promoten. Tenzij Iggy Pop ons alsnog met een verrassingsconcert op Oudejaar komt wegblazen, wint David Bowie de competitie Waardig Ouder Worden Op De Planken met glans van generatiegenoten Cale en Reed.
Met het nieuwe Reality heeft Bowie één de beste platen uit de nadagen van zijn carrière onder de arm om naar het Sportpaleis af te zakken, en hij put er dan ook onbeschroomd uit. Na een trefzeker openend "Rebel Rebel" gaat het gezwind naar single "New Killer Star" en ook de titelsong wordt in dat openingskwartier de zaal in geslingerd.
Wat onmiddellijk opvalt: de klankbalans is fabuleus. Gail Ann Dorsey bassolo's zijn loepzuiver, de snare drum knalt als een zweepslag. Het is eigenlijk een — maar al te vaak geschonden — basisrecht, en gelukkig krijgt Bowie's liveband het respect dat ze verdient.
Bowie slaagt er in zonder nostalgie uit zijn verleden te putten. Het levert aangepaste, nieuwe versies van "Heroes", "China Girl" en "Ashes To Ashes" op. Uit een recenter verleden, dat van 1. Outside, brengt hij het dreunende "Hallo Spaceboy", maar helaas ook het héél wat mindere "The Motel".
Het concert stokt even en met "The Loneliest Guy" wordt iets te traag verder gegaan. Dat trage kwartier maakt hij vol met een al even slepend "Loving The Alien". Gelukkig wordt die dip gecounterd met "Under Pressure", waarin Dorsey naar gewoonte de partij van Freddy Mercury op zich neemt. Het is een eerste hoogtepunt.
Bowie gaat daarna verder op degelijkheid met een vrolijk "Changes", "Afraid Of Americans" en een drastisch anders beginnend "Heroes". Het is echter wachten op de lange bisronde voor Bowie opnieuw echt geweldig wordt. Daarvoor duikt hij allereerst nog éénmaal Reality in met het slepende "Bring Me The Disco King", om vervolgens alle registers open te trekken voor een toegift van nóg zes nummers.
Het afsluitende salvo is ronduit groots. Met "Five Years" begint de voormalige Thin White Duke aan een graai van vier opeenvolgende nummers uit The Rise And Fall Of Ziggy Stardust And The Spiders From Mars, het meesterwerk uit 1972 dat hem tot een icoon van de glamrock maakte. "Hang On" vliegt er stevig in, "Suffragette City" is daarna de bom die dit concert nog nodig had. Ongelofelijk hoe die "Wham Bam Thank You, Mam"-kreet nog steeds werkt en 'nazindert wanneer Bowie een song later dramatisch de slotzin van "Ziggy Stardust" én het concert aanheft: "Ziggy played guitar".
Spraken we van nadagen? Artiesten die zo'n concert afleveren zijn nog ver verwijderd van hun einde. Op een leeftijd dat hij in België al lang aan brugpensioen toe zou zijn, levert Bowie een concert af dat de top tien van dit jaar haalt. Net als Patti Smith en onze eigenste Chevalier Arno slaagt hij er in om dat vitale gevoel dat rock en roll is telkens opnieuw op te wekken. Toen de Rolling Stones zo oud waren, waren ze al een karikatuur van zichzelf en dàt is het verschil.
.
(Visited 536 times, 1 visits today)