David Bowie 2004-06-18 Oslo ,Norwegian Wood Festival – Panic In Oslo –
Sound Quality Rating
– 01. INTRO.flac
– 02. REBEL REBEL.flac
– 03. FAME.flac
– 04. BATTLE FOR BRITAIN.flac
– 05. CACTUS.flac
– 06. SISTER MIDNIGHT.flac
– 07. NEW KILLER STAR.flac
– 08. ALL THE YOUNG DUDES.flac
– 09. REALITY.flac
– 10. CHINA GIRL (take 1).flac
– 11. CHINA GIRL (take 2).flac
– 12. LIFE ON MARS.flac
– 13. MODERN LOVE.flac
– 14. AFRAID.flac
– 15. THE MAN WHO SOLD THE WORLD.flac
– 16. CHANGES.flac
– 17. THE LONELIEST GUY.flac
– 18. HALLO SPACEBOY.flac
– 19. BAND INTRODUCTION.flac
– 20. UNDER PRESSURE.flac
– 21. ASHES TO ASHES.flac
– 22. THE SUPERMAN.flac
– 23. QUICKSAND.flac
– 24. BE MY WIFE.flac
– 25. PANIC IN DETROIT.flac
– 26. WHITE LIGHT WHITE HEAT.flac
– 27. I'M AFRAID OF AMERICANS.flac
– 28. "HEROES".flac
ENCORE"
– 29. SUFFRAGETTE CITY.flac
– 30. ZIGGY STARDUST.flac
Label : MZR90C Records
Audio Source : Audience recording
Lineage : Unknown
Taping Gear : Unknown
Taper: By Sven Eliassen
Recording Location: Unknown
Total running time : 2:19:37
Sound Quality : Noise ,dull ,but still good listened to
Attendance : 7.000
Artwork : Yes (All photo's cover Sven Eliassen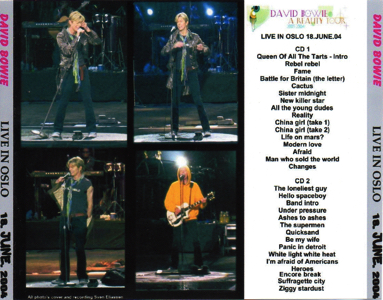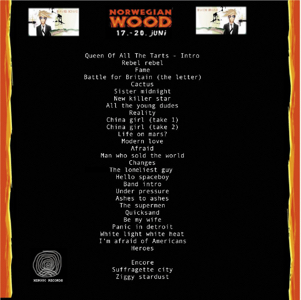 This is what David says at the end of the song Battle of Britain

Halfway through his third song at a Norwegian music festival in Oslo, an object came flying out of the crowd and hit David Bowie in the eye.
It was a lollipop, probably sent as a message of adoration since Norwegians call the hard candy "love on a stick."
Bowie wasn't seriously injured and within moments, he was facing the crowd of 7,500. Swearing at the unknown culprit, Bowie said he had only one good eye. The other had been damaged in a childhood fight.
"Lucky you hit the bad one," Bowie said, demanding to know who threw the lollipop. No one at the weekend event came forward.
Bowie grumbled about the person or persons responsible hiding in the crowd. Then, regaining his composure and sense of humor, the 57-year-old singer said he was going to punish the audience by making the concert extra-long.
Later, Bowie continued to joke about the incident. He threw one of his guitar picks into the crowd, then asked if he'd hit someone in the eye.
"Oh, maybe I have to hide in the band," he joked.



David Bowie Tour band 2003-2004 A Reality Tour
A Reality Tour was a worldwide concert tour by David Bowie in support of the Reality album. The tour commenced on 7 October 2003 at the Forum Copenhagen, Denmark, continuing through Europe, North America, Asia, including a return to New Zealand and Australia for the first time since the 1987 Glass Spider Tour. Bowie retired from performing live in 2006, making this tour his last.
The tour grossed US$46 million, making it the ninth-highest-grossing tour of 2004.
The Tour band
• David Bowie – vocals and acoustic guitar
• Earl Slick – lead guitar
• Gerry Leonard – guitar, backing vocals
• Gail Ann Dorsey – bass guitar, vocals
• Sterling Campbell – drums, percussion
• Mike Garson – keyboards, piano
• Catherine Russell – backing keyboards/backing vocals
Start date 11 June 2002
End date 23 October 2002



(Visited 1,249 times, 1 visits today)