David Bowie 2003-11-10 Nice ,Le Palais – Nice concert Tonight –
Sound Quality Rating very good. Equals record or radio/TV apart from a slight noise and some dullness.
– 01 REBEL REBEL.flac
– 02 NEW KILLER STAR.flac
– 03 REALITY.flac
– 04 FAME.flac
– 05 CACTUS.flac
– 06 AFRAID.flac
– 07 CHINA GIRL.flac
– 08 THE MAN WHO SOLD THE WORLD.flac
– 09 HALLO SPACEBOY.flac
– 10 BAND INTRODUCTION.flac
– 11 UNDER PRESSURE.flac
– 12 ASHES TO ASHES.flac
– 13 THE MOTEL.flac
– 14 BE MY WIFE.flac
– 15 SOUND & VISION.flac
– 16 BREAKING GLASS.flac
– 17 "HEROES".flac
– 18 SUFFRAGETTE CITY.flac
– 19 ZIGGY STARDUST.flac
Label : BootXPress Records
Audio Source : Audience recording
Lineage : Unknown
Taping Gear : Unknown
Taper: Unknown
Recording Location: Unknown
Total running time : 1:19:06
Sound Quality : very good. Equals record or radio/TV apart from a slight noise and some dullness.
Attendance : Unknown
Artwork : Yes
THE CONCERT IS COMPLETE AND HAD ITS SETLIST SHORTENED BECAUSE BOWIE HAD TROUBLES WITH HIS VOICE (LARYNGITIS).
HE BEGAN TO HAVE PROBLEMS DURING "CHINA GIRL" AND HIS VOICE TOTALLY DISAPPEARED IN "THE MOTEL" !! HE CONTINUED THRU THE SHOW AND STILL MANAGED TO DELIVER A GREAT SHOW.
It is no wonder that by the time Bowie got to Nice in France his voice was beginning to suffer and halfway through China Girl it finally snaps. "Thank you very much, excuse my voice" he says before loudly gargling causing the audience to laugh. Despite clearly being a little distressed he delivers a beautiful 'Man who Sold the World' in an arrangement faithful to the original album version.
Bowie continues to struggle "I'll try to sing this one but my voice is very, very bad so I'll, I'll try…it's called 'Le Motel' " .Then later he says " Well I don't know what to do here. As you can hear my voice is starting to go….we're going to have to change the set list around here cos, er, I gotta kinda get some songs that I gotta be careful now. Okay? Ca Va? Comprend?, I'll fix it…do it" We then get a faithful version of ' Be my Wife' from the Low album. "This is gonna be a strange concert, what's next I wonder?" He says before 'Sound and Vision' After this Bowie is pretty much silent between songs and he really tries to and succeeds in giving the French audience a good show in spite of his problems but after 20 songs he has had enough and so we are left with one of the shortest shows of the tour.
Bowie finishes with a final "Thank you very much" and a nervous laugh, palpably relieved to reach the end of the concert.
The CD features a beautiful picture disc and excellent artwork. The tray inlay is printed on both sides and the cover insert is four sided featuring contemporary images from the tour. The 'Reality' tour is under-represented on pressed disc so I have to recommend a 'Nice Concert Tonight' until a better European show is released that will hopefully give a more accurate representation of what was a fantastic tour.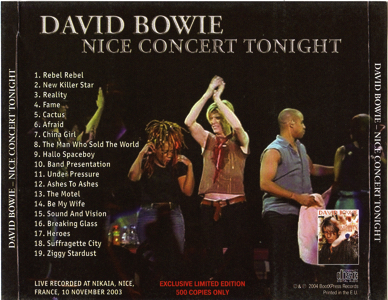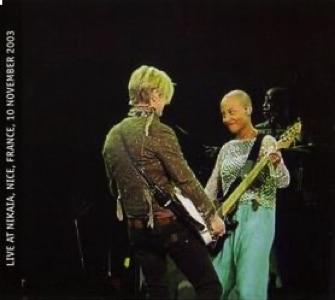 David Bowie Tour band 2003-2004 A Reality Tour
A Reality Tour was a worldwide concert tour by David Bowie in support of the Reality album. The tour commenced on 7 October 2003 at the Forum Copenhagen, Denmark, continuing through Europe, North America, Asia, including a return to New Zealand and Australia for the first time since the 1987 Glass Spider Tour. Bowie retired from performing live in 2006, making this tour his last.
The tour grossed US$46 million, making it the ninth-highest-grossing tour of 2004.
The Tour band
• David Bowie – vocals and acoustic guitar
• Earl Slick – lead guitar
• Gerry Leonard – guitar, backing vocals
• Gail Ann Dorsey – bass guitar, vocals
• Sterling Campbell – drums, percussion
• Mike Garson – keyboards, piano
• Catherine Russell – backing keyboards/backing vocals
Start date 11 June 2002
End date 23 October 2002



(Visited 476 times, 1 visits today)