David Bowie 2002-09-29 Munich ,Olympia halle – Heathen Munchen –
Sound Quality Rating
01. Life On Mars, 5:30
02. Ashes To Ashes, 6:01
03. Look Back In Anger, 4:20
04. Survive, 4:48
05. Breaking Glass, 2:36
06. Cactus, 3:03
07. China Girl, 4:40
08. Slip Away, 6:14
09. Absolute Beginners, 6:58
10. Alabama Song, 5:39
11. Speed Of Life, 3:02
12. Be My Wife, 3:36
13. Fame, 4:15
14. I'm Afraid Of Americans, 5:26
15. 5.15 The Angels Have Gone, 6:32
16. I've Been Waiting For You, 3:48
17. Afraid, 3:40
18. Fashion, 4:22
19. Rebel Rebel, 3:43
20. Heroes, 5:54
21. Heathen (The Rays), 8:34
Encore:
22. Sunday, 7:25
23. Moonage Daydream, 5:32
24. A New Career In A New Town, 3:44
25.. Everyone Says 'Hi', 4:29
26 Sound And Vision, 4:02
27. Hallo Spaceboy, 5:31
28. Let's Dance, 6:48
29. Ziggy Stardust, 4:23
Label : No label
Audio Source : Audience recording (close to a soundboard for quality)
Lineage : Unknown
Taping Gear : Unknown
Taper: Unknown
Recording Location: Unknown
Total running time : 1:11:23
Sound Quality : Good. Equals record or radio/TV apart from a slight noise and some dullness.
Attendance : Unknown
Artwork : Yes
Note: A little heavy on bass but otherwise an excellent recording: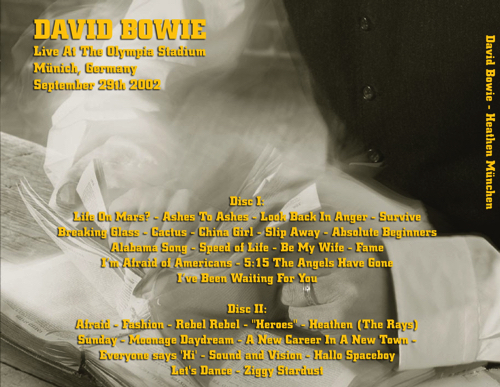 Review David Buckley – September 2002
This was Bowie at his finest. From the moment he strolled onto the stage at 8.20, in what was the best suit I have ever seen, to the unforgettable ending of ?Ziggy Stardust? 150 minutes and 29 songs later, he sang brilliantly and clearly. It was the best Bowie concert I?ve ever been to.
Why? Well, because for starters the balance in the repertoire was perfect. Although totally different musically, the set list reminded me oddly of the Serious Moonlight tour, with the balance of new and old, of well-known, and esoteric. So, tonight we had a good selection of hits (no ?Under Pressure? on this tour ? hurray!), we had eight tracks from Heathen, one of my favourite Bowie albums ever, and we had the curios too. I?d never heard ?Speed Of Life? or ?New Career? live before. I adored ?Be My Wife?. I thought the bravura version of ?Alabama Song? was unstoppable, and the crash bang wallop slab of avant-garde rock that is ?Look Back In Anger? as hard-hitting as could be. Of course, having three guitarists helped fill out the sound, which, on some other tours, had (to these ears at least) lacked the power and the intricacy needed to project the disparate range of songs Bowie has recorded. There was brilliant Mike Garson too, whose playing is, quite simply, a bit mad, and Gail, who made ?Absolute Beginners? a real lovey-dovey treat.
Of course, the enthusiastic and surprisingly youthful audience lapped everything up; songs from Heathen (possibly a bigger hit here in Germany than in the UK) were given a grand reception, and the big hits greeted with abandon. The David I saw in 1990, who looked at times like he?d trade singing his pop hits for a round of root canal treatment sans anaesthetic, now seemed so pleased to be singing the re-worked ?Rebel Rebel?, a fantastic ?Sound And Vision? (probably my favourite single ? ever), an astonishing opening duo of ?Life On Mars?? and ?Ashes To Ashes?, and a floor-shuddering ?"Heroes"? and ?Ziggy Stardust?. On top of that, he looked impeccably turned out and tuned in, and on top cheery form. He informed us that he?d spent the afternoon in the Park? (Englischer Garten actually David. Did you go to the Chinese Tower?), asked the front three rows their names, kept on introducing Sterling Campbell in a running joke, and was jollity itself when constantly forgetting what year he?d recorded which song.
The good-natured banter and impeccable timing took me back to ?Jazzin For Blue Jean? and Bowie?s light comedic flair, and, more recently, to the version of Bowie as stand-up comedian portrayed by Phil Cornwall on Stella Street. Sadly not available for panto this year, at one point he finished a new song with the words "Well, that was another one from Heathen. You can find all the other hits on there too – ?Space Oddity?, ?The Jean Genie?, ?Let?s Dance?" Ho ho! -how he made us laugh, – no mean feat in a culture not exactly regarded as the home of humour. As they say, a German joke is no laughing matter.
So, I have to say, I loved it. It was my first Bowie concert for five years, and the first-ever gig for my 13-year-old, Louise. She wore her Heathen T-shirt with pride to school the next day. I just hope mine still fits me after the Oktoberfest … A night to remember.



David Bowie Tour band 2002 Heathen Tour
The David Bowie Heathen Tour was a 2002 concert tour in support of the album, Heathen, and was also notable for the performances of all songs from the 1977 Low album.
Start date 11 June 2002
End date
23 October 2002
The Tour band
• David Bowie – vocals, acoustic guitar, harmonica
• Earl Slick – lead guitar
• Mark Plati – rhythm guitar, acoustic guitar, bass guitar, backing vocals
• Gail Ann Dorsey – bass guitar, rhythm guitar, clarinet, vocals
• Sterling Campbell – drums, percussion
• Mike Garson – keyboards, piano
• Catherine Russell – keyboards percussion backing vocals



(Visited 552 times, 1 visits today)