David Bowie 2002-07-14 Nîmes ,Les Arènes (off Master) – Mistral & Fireworks + Nimes 2002 –
Sound Quality Rating
101 – Sunday.flac
102 – Life On Mars.flac
103 – Ashes To Ashes.flac
104 – Cactus.flac
105 – Slip Away.flac
106 – Starman.flac
107 – China Girl.flac
108 – I Would Be Your Slave.flac
109 – Applauses.flac
110 – I've Been Waiting For You.flac
111 – Afraid.flac
112 – Changes.flac
113 – Be My Wife.flac
114 – Stay.flac
115 – Fame.flac
116 – Breaking Glass.flac
117 – I'm Afraid Of Americans.flac
201 – 5.15, The Angels Have Gone.flac
202 – "Heroes".flac
203 – Heathen (The Rays).flac
204 – A New Career In A New Town.flac
205 – Fashion.flac
206 – Everyone Says 'Hi'.flac
207 – Hallo Spaceboy.flac
208 – Let's Dance.flac
209 – Suite.flac
210 – Ziggy Stardust.flac
Bonus Tracks
211 – Space Oddity (Milton Keynes 1990-08-05).flac
212 – Rebel Rebel (Milton Keynes 1990-08-05).flac
213 – Blue Jean (Milton Keynes 1990-08-05).flac
214 – Under Pressure (Live '95).flac
215 – Moonage Daydream (Live '95).flac
216 – Survive (Live'99).flac
217 – Rock'n Roll Suicide (LA 1974-09-05).flac
Label : Owl Keep Swinging – OKS 001 – P 2005
Audio Source : Master recording
Lineage : Unknown
Taping Gear : Unknown
Taper: Unknown
Recording Location: Unknown
Total running time : 02:35:21
Sound Quality : Good. Equals record or radio/TV apart from a slight noise and some dullness.
Attendance : Unknown
Artwork : Yes
The extra tracks on cd2 were on the original cd AS I RECEIVED IT as fillers for the cd.
I met the guy who recorded this while waiting outside 'Les ArËnes' in the afternoon : he asked me if I was interested in having a copy from the show he was about to record !!!
I was very happy when I received it a week later (by mail not from a torrent, of course), for this is a great recording !
Now that I had the Cds, I had to do the artwork for it, and it took again two years to do so (the year I bought my PC !). I've included it now in the torrent, it's quite a simple one as it was one of my very first, but better than nothing…
I also added my photos from the night, some NEW REWORKED ones compared to old ones, scans of newspapers, one of my ticket, and a personal review I did the next days after the show : I translated almost everything between yesterday and today into English just for you.
Sorry about my English which may not always be very accurate, but I think it will help you to imagine what a special night when reading it anyway.
As you my know, July 14th is also a special day in France for it celebrates the 1789 French Revolution. That day always ends with fireworks at night : that moment happened just after 'Heathen' as Bowie had just left the stage before the encores.
That's a pity the guy didn't recorded only seconds from it for the recording stops just at that moment…
It was a very windy evening too, you'll just have to look on David's hairs in my photos !
He himself mentions the famous so-called 'Mistral' wind during the show, a funny moment…
So fireworks, and Mistral, you've got everything now to listen to the show…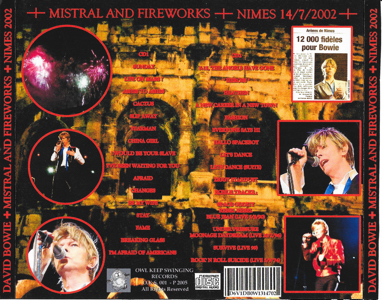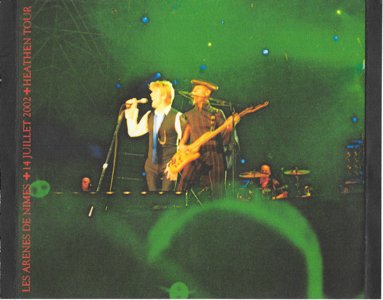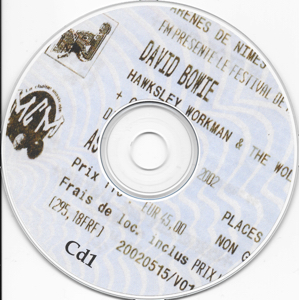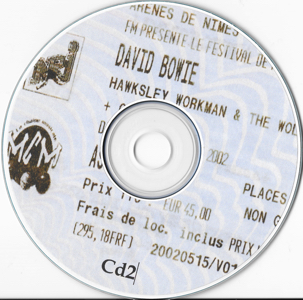 11h00am : Arrival at Nimes, Les ArËnes, this Sunday July 14th, 2002, (a special day in France for it's the 1789 French Revolution commemoration) for this long time awaited 'Heathen' show.
At that time some 30 persons are already waiting : I talk with some italian Bowie freaks (wearing Bowie T-shirts, well I also wear the old Glass Spider Tour one, a trifle too small 15 years later !), some french fans of course, old faithfuls and newbies who want to know anything about Bowie…
1h30pm : With two friends of mine we join the queue divided into two parts. The place, an antic Roman amphitheatre, is really impressive : surely a great place to attend a concert !
The weather isn't as good as one could have expected, not the usual summer day we usually have in the south of France at that period. In fact it's rather stormy and there's a lot of wind (the famous so-known 'Mistral').
We finally sit, spending our time talking again and again about… Well… David Bowie, of course !
Conversations about the Olympia show from July 1st : even if the french press praised the show, some fans criticise the fact that this show was much too short compared to others early in the tour.
They also wish Bowie had chosen another song than 'Stay' as the opener, as 'Sunday' or 'Heathen'… I personally liked David's choice to begin with 'Stay' as I love this song very much…
In the meantime, some around are desperately looking for a ticket : they sometimes find one, but I don't want to know its price…
4h30pm : Some people suddenly stand up, without even knowing why because there is not any single reason for it at that moment ! But that's a kind of signal, and everyone will stand up now for the next 1h30.
Then, a bit later, a guy asks me if I'm interested in having a recording of the show, telling me he' s personaly about to record it. You bet I say "Yeah, of course, great !". He lets me his adress, adds mine in his small notebook and that's done…
6h00pm : Opening of the doors : there is no rush and security guys are quite relax : I can see the famous guy with his recorder taking advantage of it to enter very relax too. I don't know where he hid it, but another guy who used to do the same thing with a video recorder told me he put it inside his pants !
Entering now in 'Les ArËnes', we can take advantage of that beautiful place, very moving to be here, Bowie in a Roman amphitheatre (as in Frejus in 1983, do you remember ?)…
At the immediate left side a stand sells t-shirts, posters, well Bowie stuff, and at the right all you need to satisfy your thirst with beer or Pepsi…
In front of us, the stage, with no special scenery at all (no, no glass spider anymore or the so) : we manage to get as close as possible from it…
7h30pm : Hawksley Workman & The Wolves is the first band to play, whom I had never heard of to be honest… It's a very surprising band, Hawksley Workman uses voice effects and moves onstage in a very inventive and theatrical way.
Sometimes it's even so surprising that the crowd can't help laughing ! He uses wooden sticks with puppet heads, sings thru a megaphone, uses a bottle of wine as percussion… I thought then "Well, that's an interesting band"…
During one of their song, Gail Ann Dorsay appears from the left side of the stage to take photographs : the front rows of the crowd immediately react, yelling as loud as they can. She smiles and waves at us, a funny short moment !
When the band leaves the stage, it's a standing ovation, a really great success for them.
It's nearly 8h30pm.
9h45pm : There's a second band playing before the Bowie show, N.E.R.D., an American rock, funk, and hip hop band. Well, to be honest, at that point the crowd really begins to lose its patience, starts yelling loudly 'Bowie, Bowie' en masse, starts whistling loudly and boo at them…
Well, nothing to be really proud of. For everyone, (sorry for N.E.R.D.), the only good news is when they announce their last number, and so an unhappy band this time leaves the stage…
10h15pm : It's night now and the show can begin as lights go out : Gerry Leonard enters the stage and plays the first notes to 'Sunday'. Then this is Bowie's turn and immediately the audience goes out of their minds as he walks up serenely on stage and delicately holds the microphone. Hysteria's in the place, and his smooth voice sings a real beautiful version of the song, marvelous, a great opener ! Bowie is in high spirit and announces a few surprises for the night.
'Life On Mars', with that beautiful Mike Garson's piano intro, and 'Ashes To Ashes' follow leaving the crowd nearly in trance. Then 'Cactus', during which he throws his jacket to the side of the stage, being dressed now in a very Thin White Duke style…
Then 'Slip Away' he announces as being one of its prefered from 'Heathen'. The first real surprise of the night is David singing 'Starman', the intro to it being different from other versions at which point I didn't recognise the song at first ! What a shame !
'China Girl' is no surprise as it's sung over and over almost at every tour since 1983 (only missing during the 1995-97 period). I wish he had played other songs from the 'Let's Dance' album, as 'Ricochet' which I personnaly find great.
Then he play three songs from 'Heathen' : 'I Would Be Your Slave', 'I've Been Waiting For You' (with Bowie miming guitar playing) and 'Afraid'. The band is really impressive, very powerful, and the songs are played to perfection.
Then 'Changes' : as the intro starts a tremendous roar fills the arena and Bowie can't help smiling at it. It ends slowly with Mike Garson's synthesizer with same roars as in the beginning from the crowd, at which point Bowie is himself impressed and applauds in its turn !
Second surprise of the night, 'Be My Wife', which Bowie hadn't played since the Sound & Vision Tour : this version is much closer to the original than it was at the time. As always dates aren't David's friends as he can't exactly tell when he wrote 'Stay', was it 75 or 76 ?
Sure, it was written in 75 but the 'Station To Station' album was released January 23rd, 1976…
Earl Slick can be self assured in this one, he plays a great version of this song in this tour.
'Is it any wonder' : to that question the answer is "no" for 'Fame' is at once recognizable with this intro announcing the song since 1997. As Bowie sings "What's your name ?" thousands of fingers points to him.
Second number from 'Low', 'Breaking Glass' is welcome, a longer version is played tonight, the original one being only 1'42 long. 'I'm Afraid of Americans' is played in the NIN version, Bowie doing some mime during the song as if he opened his breast to take his heart still beating, then throwing it to the crowd… A very powerful version, a crowd killer !
Let's breathe for a while with '5:15, The Angels Have Gone', for next comes "Heroes", another crowd mover during which everyone is stand up and clap along en masse… 'Heathen' closes the show in a very moving way, Bowie leaving slowly the stage as the band ends the song…
Then it's to the band to leave : each member stop playing its part and leaves in turn.
The 12000 people yell as loud as they can, absolutely everyone on the stairs stamp their feet in rhythm and yell "Bowie, Bowie". But suddenly the lights completely go down and one of the most beautiful fireworks I've seen in my life begins immediately, for as I told you before July 14th is special day in France, and it usually ends with fireworks. But this time it's really beautiful as it takes place just beside 'Les ArËnes' so everyone can see it to full advantage, the old Roman Arena revealing itself in a black shadow as colours explode behind…
A moment never to forget…
Then Bowie returns for the encores, wearing a red jacket this time. The first one is 'A New Career In a New Town' in which he plays mouth organ. I've always loved this number and didn't think he'd play it tonight, an incredible version !
For second encore David announces 'Everyone Says 'Hi" but the band goes on with… 'Fashion' ! Great intro by Gerry Leonard… Some instinctively dance on it… Then finally 'Everyone Says 'Hi' : some people seem to dislike this song at the front of the stage, I don't know why and certainly don't want to for it's, I think, one of David's best song ever ! A most beautiful song…
Third encore,'Hallo Spaceboy', a powerful number, but I miss Reeves Gabrels for that song (sorry Earl !)… What… ? A fourth encore ? Ok, we' ll take it… The number starts slowly with a guitar intro : "'Put on your red shoes…". Then all the band joins in and bursts into 'Let's Dance', a very long version of it… In my opinion a trifle too long and if I shoud say something else, a true saxophone is missing in the band… But David's still there and I don't care in the end !
We need something really special for the end of the show, the fifth encore (!), I mean 'Ziggy Stardust'… He holds the microphone with passion, and then this is the end "And Ziggy Played…" No, Mr David Bowie played tonight and I can tell you it was a great, a great show never to forget.
Traduction for newspaper (excerpts) :

"Hawkley Workman did he play a prophet in his last album 'The Delicious Wolves'? The young 25 year's old canadian prodigy played the first part of David Bowie Live at 'Les ArËnes', NÓmes, one of the only two french dates after the Olympia show at he beginning of the month.
The third title of his album summarizes everyone's state of mind before the opening of the gates : You, Me and the weather'…
12000 privileged worried, looking a sky which could fall on their head at any moment in that day of national holiday. That could compromise their unique and exceptional rendez-vous given by Mister Bowie with fans coming from everywhere in France(…).
Nothing could spoil that celebration, neither the rain nor gusts of wind. A fairly calm night, not any 'ola' before 10pm : the temperature began to rise at last.
At 10:15pm, David Bowie (who arrived at 7pm with his musicians) could now enliven everyone offering two hours of a show so long awaited for a 30 years 'best of', from Ziggy Stardust to the last album 'Heathen'.
Hawkley Workman is not only often compared with Bowie himself, but with Tom Waits or the late Jeff Buckley too. He'd opened the night with a one hour set some three hours before. He's not really a stranger in France for he lives in Paris and began to be known as he played the first part of Noir Desir (a french band).(…)
Hawksley was keen to play on stage some chosen songs from his new album and from the first one too, 'For him and the girls'. As it's always the case in NÓmes, the crowd followed him with his 'dandy grunge' style and his realistic, humorous and nostalgic texts.
To follow, as a regret, we had to listen to N.E.R.D., in other words Pharrel, Chad and Shay, three Virginian ex-producers (The Neptunes) now beginning their discographic adventure with their album 'In Search Of…'.
In search of fame ? Maybe. But the crowd who's come for Bowie is doubtful in front of this gangsta rap and hip-hop band, visibly imposed by production and record industry. Had they been programed at the beginning we could have come after…
Besides they were booed and whistled at, the crowd showing its impatience and reprobation. Without that mistake and the 'Mistral', the night could have been memorable.(…)



David Bowie Tour band 2002 Heathen Tour
The David Bowie Heathen Tour was a 2002 concert tour in support of the album, Heathen, and was also notable for the performances of all songs from the 1977 Low album.
Start date 11 June 2002
End date
23 October 2002
The Tour band
• David Bowie – vocals, acoustic guitar, harmonica
• Earl Slick – lead guitar
• Mark Plati – rhythm guitar, acoustic guitar, bass guitar, backing vocals
• Gail Ann Dorsey – bass guitar, rhythm guitar, clarinet, vocals
• Sterling Campbell – drums, percussion
• Mike Garson – keyboards, piano
• Catherine Russell – keyboards percussion backing vocals



(Visited 722 times, 1 visits today)