David Bowie 2002-10-02 London Hammersmith Odeon / Carlin Apollo – The Final Night at Hammersmith 2002 – (Wardour 3CD edition wardour-190) –
Sound Quality Rating
Live At Carling Apollo, Hammersmith, London, UK 2nd October 2002
101. Introduction.flac
102. Life On Mars.flac
103. Ashes To Ashes.flac
104. Look Back In Anger.flac
105. Survive.flac
106. Breaking Glass.flac
107. Cactus.flac
108. China Girl.flac
109. Slip Away.flac
110. Absolute Beginners.flac
111. Band Introductions.flac
212. Alabama Song.flac
213. Speed Of Life.flac
214. Be My Wife.flac
215. Fame.flac
216. I'm Afraid Of Americans.flac
217. 5.15 The Angels Have Gone.flac
218. I've Been Waiting For You.flac
219. Afraid.flac
220. Fashion.flac
221. Rebel Rebel.flac
222. 'Heroes'.flac
223. Heathen (The Rays).flac
324. Encore Intro.flac
325. Sunday.flac
326. I Would Be Your Slave.flac
327. Moonage Daydream.flac
328. Changes.flac
329. Starman.flac
330. A New Career In A New Town.flac
331. Everyone Says 'Hi'.flac
332. The Bewlay Brothers.flac
333. Sound And Vision.flac
334. Hallo Spaceboy.flac
335. Let's Dance.flac
336. Ziggy Stardust.flac
BBC Live 2002: BBC Maida Vale Studio 3, London, UK 18th September 2002 [Broadcast: BBC Radio 2 on 5th October 2002] FM Broadcast
401 Introduction by Jonathan Ross.flac02 Sunday.flac
403 Look Back In Anger.flac
404 Cactus.flac
405 Survive.flac
406 5.15 The Angels Have Gone.flac
407 Alabama Song.flac
408 (chat about next song).flac
409 Everyone Says 'Hi'.flac
410 Rebel Rebel.flac
411 (chat about next song).flac
412 The Bewlay Brothers *.flac
413 (chat about next song).flac
414 Heathen (The Rays).flac
Label : Wardour 3CD edition wardour-190
Audio Source : Stereo Soundboard recording
Lineage : Unknown
Taping Gear : Unknown
Taper: Unknown
Recording Location: Unknown
Total running time : 3:43:24
Sound Quality : very good. Equals record or radio apart from a slight noise and some dullness.
Attendance : Unknown
Artwork : Yes
Note * : Denotes first time performed on tour.
33 songs !!
Announcing Ashes To Ashes:"the First Cowboy song tonight"
Absolute beginners had a great duet with Gail Ann Dorsey. At the end they danced on stage and Bowie Gave her a kiss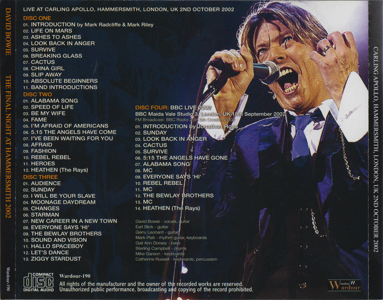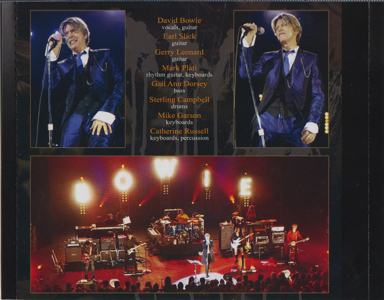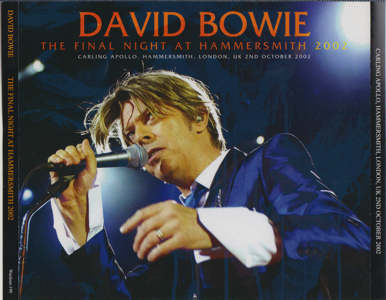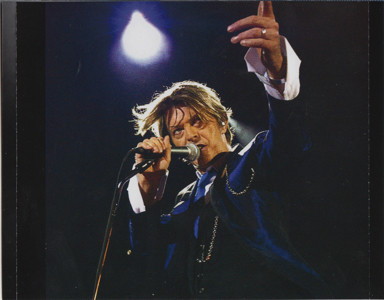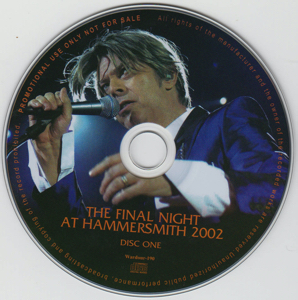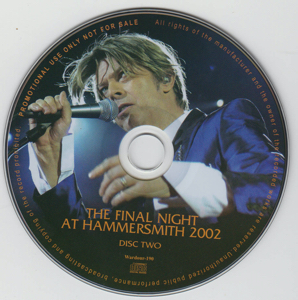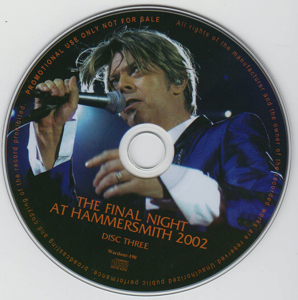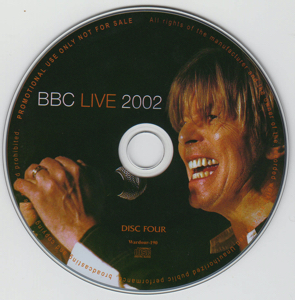 David Bowie Tour band 2002 Heathen Tour
The David Bowie Heathen Tour was a 2002 concert tour in support of the album, Heathen, and was also notable for the performances of all songs from the 1977 Low album.
Start date 11 June 2002
End date
23 October 2002
The Tour band
• David Bowie – vocals, acoustic guitar, harmonica
• Earl Slick – lead guitar
• Mark Plati – rhythm guitar, acoustic guitar, bass guitar, backing vocals
• Gail Ann Dorsey – bass guitar, rhythm guitar, clarinet, vocals
• Sterling Campbell – drums, percussion
• Mike Garson – keyboards, piano
• Catherine Russell – keyboards percussion backing vocals



(Visited 405 times, 1 visits today)